by Sondra Oster Baras
October 2, 2018
It is truly special for me to live in a Jewish country where the calendar is a Jewish one.  Jewish holidays and memorial days are marked as national holidays, with both religious and secular Jews finding meaning in these special days.  So different from the way I grew up in the US where celebrating the Jewish holidays set me apart from the general culture and we worked throughout the period, taking off days here and there for only the holiest of the holiday time.  What a damper that placed on the holiday season.
Not so in Israel.   Not only are we off for the entire Feast of Tabernacles, rather than the first and last days only, but the entire country is involved in the celebrations.  For weeks prior to the holidays, people are shopping and planning their family get-togethers.  The High Holy days of Rosh HaShana and Yom Kippur are accompanied by introspection and soul-searching in all sectors of society.
For more than 3 weeks, work places are closed more than they are open which means that a bare minimum of work gets done during that time.  And that means that major decisions and changes, both personal and professional, are deferred until after the holidays are over.  It is common for people to promise answers or to take care of less pressing needs "after the holidays."  So when the holidays are actually over, life sort of catches up with you.  The work that sat on the back burner all month is suddenly urgent.  But at the same time, we return to our normal welcome routines.
So today is "after the holidays" and everyone has settled down again.   But as I reflect on my holidays this year, I am filled with gratitude to G-d for all the blessings He has bestowed upon us and our family.  We enjoyed our children and grand-children for the holidays, and celebrated with my sisters, brother and their families, as well as with my parents.
I was also blessed to host the annual CFOIC Heartland Feast tour in my succah during the holidays.  As always, we had a bus full of wonderful people from all over the world who came together to visit with us in Samaria and share in our holiday customs.  Some of our visitors were first-timers with CFOIC Heartland, while others had been with us several times in the past.  I hope G-d will give me the energy and strength to continue hosting this visit for many years to come.
But best of all, we had a new grandson born during the Feast of Tabernacles and on Thursday we will celebrate his Brit — the ritual circumcision that brings him into the covenant of Abraham and where he will receive his name.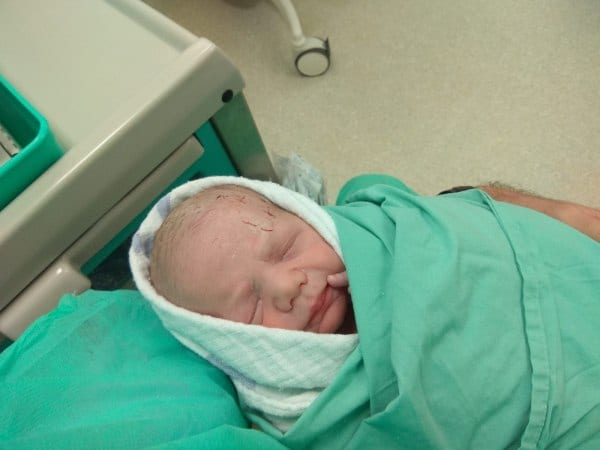 Of course, like any Jewish ritual, a Brit is accompanied by a festive meal and I have been busy together with my son and daughter-in-law and her parents, in making the plans, ordering the food, and arranging to set it all up in a festive way.  And it is so easy to get caught up in the arrangements and forget the wonder of the moment.  And wondrous it is indeed!
This is our fifth grandson and my son Yehuda's third son.  So we have enjoyed many Brit ceremonies.  But each one remains so special.  Just reflecting on the miracle that is birth — this gorgeous small little creature, so perfect and so sweet, has come into this world and will grow and develop until he will become an independent adult.  We are so used to the pattern that we easily forget the miracle of it all.  The miracle of G-d's creation.
But beyond the joy that we all feel in the birth of a new baby, the Brit itself has such a special significance to us as individuals and as a people.  Some 4,000 years ago, an old man named Abraham heard the call from  G-d to leave his home and go forward to the Land of Israel.  Some years after his arrival in the land, G-d commanded him to circumcise himself as an act of covenant between him and G-d, an act of covenant that would be repeated by his descendants forever.  At the original covenant with Abraham, G-d changed Abraham's name from Abram to Abraham.  And today, a central part of every Brit ceremony is the naming of the baby.  When the baby is named, the person leading the ceremony calls out: "And his name in Israel will be called . . " and then recites the new baby's name for the first time.  This is not just the personal name of the child but a name in Israel, a name that creates his national identity and brings him into the covenant of Abraham.
"And I will establish my covenant between me and you and your offspring after you throughout their generations for an everlasting covenant, to be God to you and to your offspring after you. And I will give to you and to your offspring after you the land of your sojournings, all the land of Canaan, for an everlasting possession, and I will be their God." (Genesis 17:7-8)
When G-d established His covenant with Abraham through circumcision, He identified the content of the covenant as a promise of children who would become a nation connected to G-d for eternity and a promise of the land of Israel for that nation.  An everlasting possession.
For centuries my people entered their sons into this covenant, despite their physical distance from the Land of Israel, through the long years of exile. In doing so, they expressed their undying faith in the truth of G-d's promise and waited patiently for its fulfillment.  Today, the covenant is being fulfilled once more.  And as my grandson enters into this covenant, in the heart of Biblical Israel, just a few kilometers from where Abraham first entered the land, I thank G-d for all that He has done for us.