[:en]Dear Friend,
As many people around the world condemn Israel for living in Judea and Samaria, you have stood with us.  You understand the deep Biblical significance of the mountains of Israel and through your support, you have demonstrated love and devotion specifically to the people of Biblical Israel.  All of us at Christian Friends of Israeli Communities want to thank you for helping the people who are settling the Land of Israel.
It is our pleasure to send you a condensed version of our current community projects book.  Each page contains a brief description of a community and its most pressing needs.  The booklet is divided into three types of projects that you are helping to support:
Children and Youth (such as playgrounds, daycare centers, after-school programs, at risk teens, programs for special-needs children, and many more)
Emergency and Security (such as emergency medical equipment, surveillance cameras to prevent terrorist infiltrations, walkie talkies, and many more)
Community Development (such as financial support for needy families, senior citizens programs, therapy and counseling services, new immigrant services, and many more)
As you review the enclosed booklet, we hope you will feel enormous satisfaction in knowing you are an important part of these communities! You were there to ensure that emergency equipment was installed in communities so that lives would be saved.  You were there to support needy families as they celebrated the holidays.  And you were there to ensure that every child, regardless of his or her hardship, would have the programming and care they so desperately need.
If you would like to receive the complete project book, please request it via the enclosed response card or you can view a digital version at www.cfoic.com/projects.
Sincerely,
Sondra Oster Baras
Director, Israel Office
P.S. , if there is a specific project in the enclosed booklet that touches your heart, you can earmark your donation by noting your preference on your check or the enclosed response card.  Thank you for supporting the people of Judea and Samaria.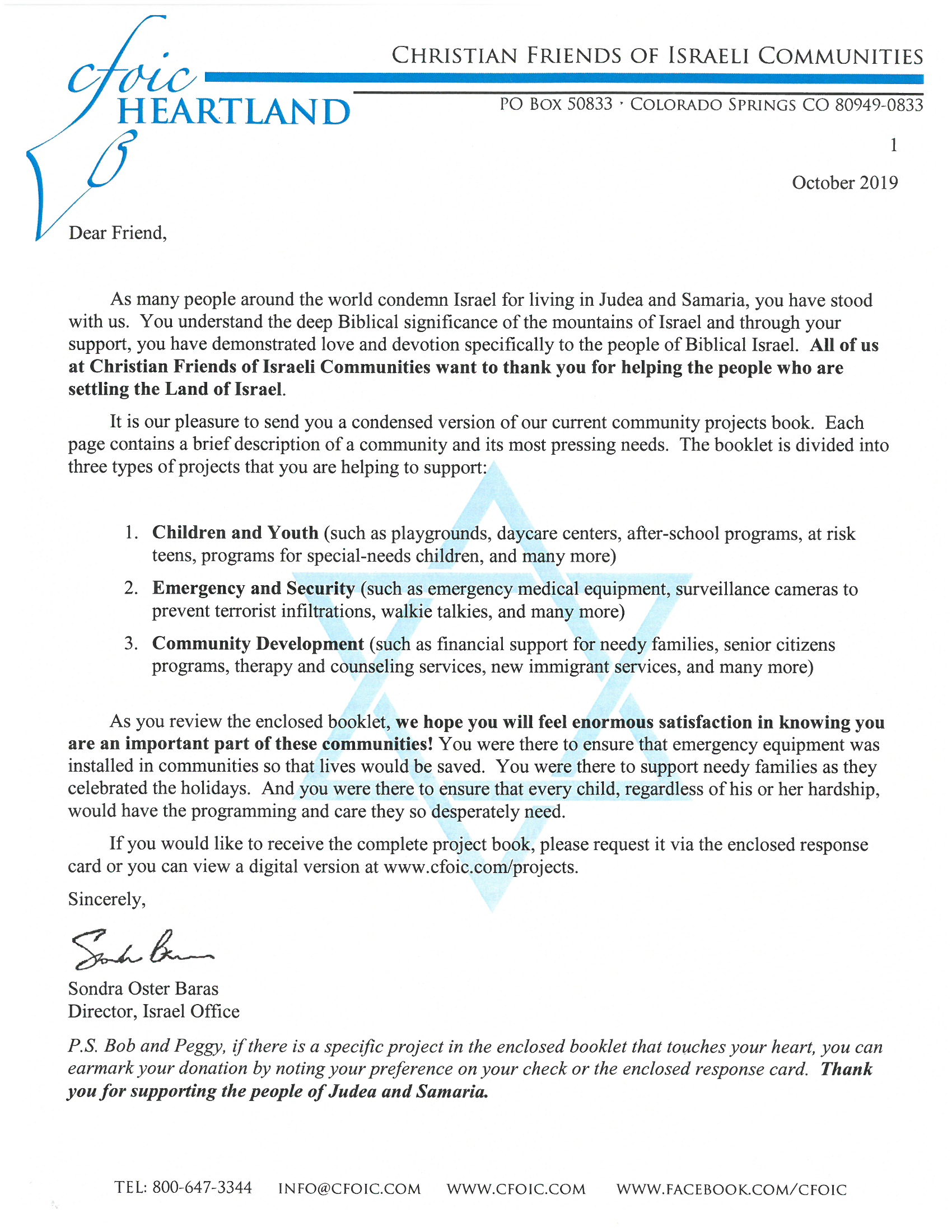 [:de]Während ich diesen Brief schreibe, haben wir gerade unsere erste CFOIC Heartland Reise unter der Leitung unserer ehrenamtlichen australischen Vertreterin Joy Heylen begrüßt. Seit Jahren leitet unser US-Direktor Kim Troup CFOIC Heartland Reisen nach Israel, die in der Regel zwischen 8 und 10 Tagen dauern. Und sie plant derzeit ihre nächste Tournee für März 2020. Alle diese Touren sind auf Englisch, aber vielleicht möchten Sie für 2020 Ihre eigene CFOIC Heartland Reise auf Deutsch initiieren – wir würden gerne mit Ihnen daran arbeiten.
Unsere aktuelle Tour dauert 14 Tage und bietet den Teilnehmern eine erstaunliche Ein­blicke in Teile Israels, welche die sonst üblichen Reisen nicht bieten. Von der aktuellen Reise mit den Freunden aus Australien war einer der besten Kommentare zu dieser Reise von Joy nach nur zwei gemeinsamen Tagen: "Wir leisten mit solchen Reisen gute Arbeit, um mehr glühende biblische Zionisten für dich zu schaffen!" Und darum geht es wirklich!
In wenigen Wochen werden meine Kollegen bei CFOIC Heartland und ich viele Gruppen treffen, die zum Laubhüttenfest ins Land kommen. Wir werden unsere eigene eintägige Tour in Judäa durchführen und ich werde diese Gruppe in der Laubhütte meines Sohnes und meiner Schwiegertochter in Efrat zu Gast haben. Ich selbst werde auch eine Gruppe in meiner eigenen Laubhütte in Karnei Shomron begrüßen.
Es ist eine Menge Arbeit und es nimmt uns einen Teil unserer Urlaubszeit mit Familie und Freunden. Aber wir machen es trotzdem, einfach weil es wichtig ist. Und es ist gerade deshalb wichtig, weil wie Joy feststellte, wir dabei Menschen in biblische Zionisten verwandeln. Wir helfen wunderbaren Christen aus aller Welt, die biblische Bedeutung der Siedlungsbewegung und die Gründe, warum wir diesen wichtigen biblischen und strategischen Bereich Israels nicht verlassen, zu verstehen.
Ihre Unterstützung für unsere Arbeit ist entscheidend, gerade heute. Wir gehen davon aus, dass in Kürze der Plan von Präsident Trump für den Nahen Osten vorgestellt wird. Es ist wichtig, dass er vor dem Hintergrund einer breiten Unterstützung der jüdischen Präsenz in Judäa und Samaria präsentiert wird. Ich hoffe, wir können weiterhin auf Ihre Unterstützung für diese wichtige Sache zählen. Danke, dass Sie sich in dieser kritischen Zeit für Israel einsetzen!
Herzlichst,
Sondra Oster Baras
Director[:nl]Terwijl ik deze brief schrijf, hebben we zojuist onze eerste CFOIC-Hartland tour welkom geheten met onze Australische vertegenwoordiger, Joy Heylen. Jarenlang heeft onze direkteur in de Verenigde Staten, Kim Troup, onze Hartland reizen geleid naar Israël, met een duur van meestal 8-10 dagen. En ze is nu bezig om haar volgende reis te plannen in Maart 2020. Al deze reizen zijn in het Engels maar je kutn natuurlijk ook mee met Ds.Henk Poot. Hij geeft leiding aan een Hartland-reis van 12-22 Oktober komend jaar. Voor verdere informatie kunt u altijd kontakt met hem opnemen (swanpoot@ziggo.nl) of met het kantoor van Christenen voor Israël in Nijkerk.
Onze huidige reis is er een van 14 dagen en die geeftt de deelnemers een prachtig beeld van die delen van Israël die geen enkele andere reis aandoet. Veel deelnemers zijn nog niet eerder in aanraking geweest met CFOIC-Hartland. Sommigen hebben bijeenkomsten bijgewoond tijdens ons jaarlijkse bezoeken aan Australië. Misschien wel een van de beste toelichtingen op deze reis, kreeg ik van Joy, nadat we pas twee dagen samen waren: 'We zijn bezig met een geweldige 'job' om meer vurige Bijbelse zionisten voor jou te maken.'En dat is inderdaad waar het allemaal om draait!
Over een paar weken zullen mijn collega's en ik weer veel groepen ontmoeten die naar het Land komen om het Loofhuttenfeest te vieren. We zullen ons eigen een-daagse trip in Judea aanbieden en ik zal een groep uitnodigen in de Loofhut van mijn zoon en schoondochter in Efrat. We zullen ook groepen ontmoeten in andere dorpen in Judea en Samaria. Zelf zal ik ook een groep in mijn eigen loofhut uitnodigen in Karnei Shomron.
Het is veel werk en het trekt zeker een spoor in onze tijd met het gezin en de onze vrienden tijdens de feestdagen. Maar we doen het omdat het zo belangrijk is. En het is belangrijk voor de reden die Joy noemde – we veranderen mensen in Bijbelse zionisten. We helpen prachtige christenen uit heel de wereld om de Bijbelse betekenis te begrijpen van de mensen die hier zijn gaan wonen en van het feit dat we dit belangrijke Bijbels en strategische gebied van Israël niet mogen opgeven.
Uw steun voor ons werk is een noodzaak, zeker momenteel. We gaan ervan uit dat het plan voor het Midden-Oosten van president Trump spoedig bekend genmaakt zal worden. Het is belangrijk dat het openbaar wordt tegen de achtergrond van een brede steun voor de Joodse aanwezigheid in Judea en Samaria. Dank u dat u achter Israël staat in deze belangrijke tijd!
Hoogachtend,
Sondra Oster Baras
Directeur[:]