Every now and then, we get to witness something truly miraculous. Recently I was able to experience one such miracle, a miracle that you, and other donors of CFOIC Heartland, directly helped to bring about. It is a story that I can't help but share.
Your funds, donated just last year, literally saved lives a few weeks ago here in a small Samarian community called Rechalim. Rechalim is totally surrounded by hostile Arab villages, so as you can well imagine, their security needs are overwhelming. When we first started working with Rechalim, they had no decent communications equipment, no security cameras, no fire equipment. At the time, there were also very few families, and so vulnerable on that lonely hilltop.
They turned to us for help, first for cameras, then for communications equipment, then for fire extinguishers, and then for sophisticated cameras. And thanks to you, and others like you, we were able to provide them with the equipment they requested.  We learned just how effective that equipment has been.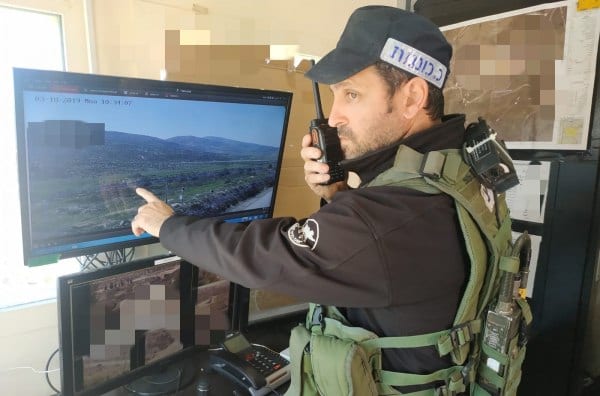 Just a few weeks ago, the thermal imaging camera that you helped purchase saved the lives of countless residents from hostile terrorists. It was a Friday night – the eve of Shabbat – when the terrorists were discovered, just two blips on a screen in Rechalim's security booth. On the regular surveillance cameras they were invisible, but because of the newly-installed thermal imaging camera, Rechalim's security team were able to put an immediate stop to a terrorist infiltration and possible attack. The people of Rechalim were protected because of you.
Rechalim sent us video footage of the actual almost-infiltration taken from the very camera you donated for their protection, and when I watched it my heart was in my throat. Seeing how close those terrorists came to breaking into the community, and possibly committing awful acts of terror, endangering lives – I was overcome with gratitude to the members of our CFOIC Heartland family. You saved countless lives that night, and the residents of Rechalim are unbelievably grateful to you.
You are the guardian angels that watch over God's people, the protectors of the settlers of Zion. You are actively ensuring the fulfillment of prophecy, and I cannot thank you enough for everything you have done, and everything you continue to do for the People of Israel. God has truly blessed us with your friendship and support. From the bottom of my heart, thank you.
Shalom,
Sondra Oster Baras
Director, Israel Office
CFOIC Heartland
www.cfoic.com
Here is a video of the actual footage from the security camera in Rechalim.