October 2010
The Shabbat morning services were coming to a close and I peeked through the partition separating the men's section of the synagogue from the ladies' section. I wanted to see which little boy was being given the traditional honor, this week, of leading the concluding "Anim Zemirot",????? ?????? the Hymn of Glory. And I was just in time to see my son Elitzur stepping up to the podium! Kuti took off his prayer shawl, wrapping and positioning the fabric carefully on Elitzur's shoulders, draping the folds so they wouldn't fall off his narrow shoulders. I could tell that Kuti's heart was bursting with the same pride I was feeling. I don't care how many times I see this. It doesn't matter that I saw my son Avraham doing this and my son Netanel. There is something about watching my seven year old stand up with assurance and pride to lead a full congregation…
Elitzur's just a little boy… my baby. He still forgoes fork and knife to eat with his hands, any chance he gets; he still calls out from the bus stop, asking me to help him cross the street; he still brings home pockets full of rocks, sticks and marbles and considers them treasures; he still gets a kick out of jokes with bathroom noises in the punch line!
But when he steps up onto the stool at the synagogue podium, in order to reach the prayer book, he becomes a cantor, a leader of men, and his voice rings out sure and strong and so terribly sweet, as he raises his voice in prayer to G-d.
When each of my sons started learning how to read, I would print up a booklet with the words of the Hymn of Glory. I would make sure the print was large and easy to make out, because new readers need all the help they can get! It's a wonderful feeling to take a new skill, like reading, and immediately use it in the service of G-d. Sure, we would read books from the library, directions for games on the computer screen, even the outside of cereal boxes … anything to encourage reading. But what a joy to show a child that reading can also be a way to get closer to G-d, through prayer.
The "Anim Zemirot" Hymn of Glory is sung responsively, with the first verse read aloud by the young prayer leader, the second verse recited by the congregation in unison, and so on. So we would practice and practice, till the words and the tune were coming out of the ears of everyone in the family! I remember my son Avraham would "force" his first grade teacher to listen to him singing his part, getting him and the class to play the congregation.
Until they were ready. The Hymn of Glory is traditionally a child's first induction into playing the role of cantor in the synagogue. Everyone in the congregation finds it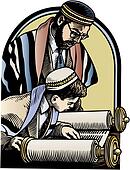 adorable to listen to the little boys who step up to sing this hymn; and everyone waits patiently, grinning, as these little boys slowly and carefully make out the words of old. Yet I still never let my sons "step up to the plate" until they were very ready. After all, these are still holy words of prayer, a piece of our tradition, liturgy that has been passed down through generations. I didn't want my boys to mangle or mess up too badly!
And the Shabbat one of my sons sang the Hymn of Glory for the first time was a real occasion. Everyone in the family would try to show up for the premier performance. The velvet curtain of the Holy Ark would swing open and he would begin, our hearts fluttering with encouragement and anticipation. We'd grin to each other at the girlish high soprano voice, wondering how he could possibly stay on pitch, when he started on such a high key. Each of us would mouth the words to ourselves, breathing more easily as each of the more difficult verses flowed smoothly and surely out of their mouths. And then it was over and he would step down, the men of the congregation good-naturedly offering firm handshakes to this little boy who had now joined the fold.
The hymn is an alphabetical acrostic of 31 lines, each line consisting of two half-lines which rhyme. The hymn is attributed to Judah HeHasid, a medieval German scholar and kabbalist. Through the generations, rabbinical authorities have deemed this hymn so holy and sublime, that it should only be recited on Shabbat and Jewish holidays. The restriction was to ensure that it did not become overly familiar and mundane. The ark is opened, in deference to the holiness of the hymn, and the congregation stands. The hymn is honored, too, by its prominent place at the close of the Shabbat morning service.
The liturgy of the morning service is made up of many different moods and purposes. As in so many of our prayers, there are myriads of requests: We beg to be healed from sickness; we ask for sustenance and livelihood; we yearn for the Redemption. And here, as we are about to close our prayer books and leave the synagogue, we turn around and say—G-d, you are glorious and wondrous and we want to sing you our praises and honor you! I love this prayer. It just feels so good to say "I love You" with no ulterior motives, no hidden agenda. I find that the sacredness of language of the Hymn of Glory does not detract from the fact that this hymn is simply a love song, celebrating the magnificence and strengths of G-d, and telling Him that we long to bask in His loving kindness. And it's so appropriate that this hymn is traditionally led by a child. Who better to sing out in pure adulation than a child?
The metaphors are bold and vivid, poetic and powerful. And I'd like to share some of the verses with you:
"I shall compose pleasant psalms and weave hymns, because for You shall my soul pine. My soul desires the shelter of your hand, to know every mystery of Your secrets. Each time I speak of Your glory, my heart longs for Your love. Therefore I shall speak about You, about Your glories. Your name I shall honor with loving songs. They named Your powerful deeds: "Your greatness," "Your strength." They made parables about You and symbolized You in a myriad of visions of You, yet here You are, One in all the different forms."
At one point the song now begins a discussion of G-d in human terms, so out of respect, it changes to third person.
"Aged on judgment day and virile of the day of battle, like a man of war whose powers are many. He shall glory in me for He favors me, and He shall be for me a crown of pride. For grace and for glory the pride of His splendor; His nation crowns Him with its prayers. When He holds His treasured people as a crown in His hand, we are like a royal tiara, the pride of His splendor. His splendor is upon me and my splendor is upon Him, and He is near to me when I call Him. He desires His people, He will glorify the humble; enthroned upon praises, He dwells among their praises. Your chief word is "truth"; You have called it out since the beginning. In each generation people search You out and find meaning. I humbly place before You my songs, so that my joy will draw me near to You. May my praise be a crown for Your head, my prayers be accepted like incense. May my blessing rise up upon the head of the Sustainer—Creator, Giver of life, mighty Righteous One. Please nod to acknowledge my blessing; take it for Yourself as You took from the incense of old. May my prayer be sweet to You, for my soul shall pine for You."
May our prayers always be sweet and readily accepted by G-d and may Elitzur and all of the children of Israel continue to find joy and comfort as they raise their voices in prayer.
The elevated mood lasts through the Kaddish and one more song. The men fold up their prayer shawls and everyone returns their prayer books to the book shelves, and we walk out of the synagogue still smiling from the sense of religious rejoicing. And I think of the last verses of the Hymn of Glory, taken from Chronicles and Psalms: "Yours, G-d, is the kingdom, and the sovereignty over every leader. Who can express the mighty acts of G-d? Who can declare all His praise?"
Shalom,
Shira Schwartz
Christian Friends of Israeli Communities