By: Sondra Baras
Tuesday, March 6, 2018
Binyamin Netanyahu is one of the most talented prime ministers that Israel has ever had.  He is brilliant, an amazing strategist, a statesman who is admired around the world.  He was the best Finance Minister Israel ever had and single-handedly reversed the Israeli economy, enabling it to take advantage of the incredible talents the Israeli work-force has to offer and laid the foundations for the strong and growing economy that Israel has enjoyed for more than a decade.
From a political point of view, Netanyahu is a conservative.  Although Netanyahu did formally endorse the 2 State Solution in his famous Bar-Ilan speech in the early days of the Obama administration, in the course of that speech, he redefined the word "state" such that it basically referred to an autonomy.
While expressing willingness for territorial compromise, Netanyahu also insisted that the Arabs recognize Israel as a Jewish State, something that they will never be able to do.  There are those, therefore, that believe that Netanyahu was never really in favor of the 2 State Solution but endorsed it as part of a realpolitik strategy to shift the pressure onto the Palestinians.  Under the Obama Administration, this approach did not succeed.  Under the Trump Administration, things are changing radically.
Just a few weeks ago, I was privileged to be invited to a luncheon with the Prime Minister on his historic visit to Karnei Shomron.  At that time, he expressed his unqualified support for Judea and Samaria and expressed his own strong emotional attachment to the hills and valleys of this central, Biblical, and historical part of the country. While I believe that Netanyahu should formally reject the 2 State Solution, I do believe that he is operating under the assumption that that option is dead.  And that is a very good thing.  Just yesterday, at the Annual AIPAC conference in Washington, Minister of Education Naftali Bennett announced that the 2 State Solution is no longer relevant.  While Bennett is the head of a party to the right of Netanyahu's Likud, Bennett's clear statement probably represents an opinion that Netanyahu would adopt but for various international political considerations.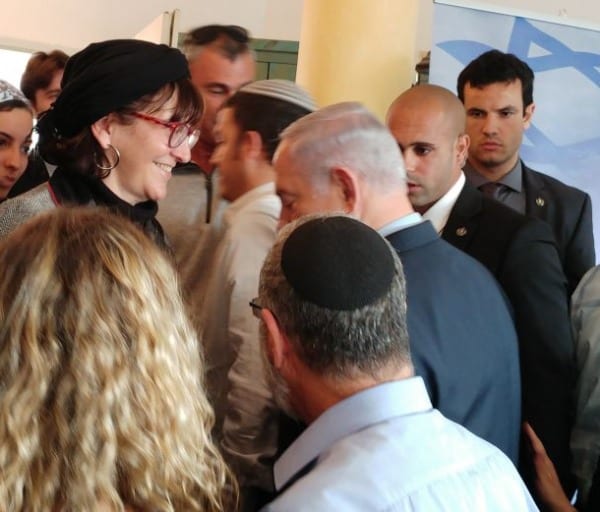 But despite broad support in the country for Netanyahu's political positions and despite even broader admiration for his amazing talents, Netanyahu has been the target of an unprecedented attack on the part of a significant portion of the Israeli media and of the small but very vocal Israeli left.  For some years now, but especially in the past year or so, certain public figures in Israel cannot hide their deep disdain and even hatred for Bibi.  It is astounding and it is sad.
But today, and in recent months, a new reality has been created.  The police have been involved in ongoing investigations of corruption and wrongdoing at the highest levels of government, including and in some cases, focusing on Netanyahu.  There are those who connect these investigations with the pathological hatred of Netanyahu that has been expressed in some quarters.  But while these accusations are extremely troubling, I do believe that the police have the integrity and are exercising the necessary caution in investigating all of these charges.
I am deeply disturbed by these charges and hope and pray that they will be found to have no foundation.  It is too early to tell.  But while Netanyahu continues to handle complicated diplomatic and strategic issues with aplomb, his domestic situation is deteriorating.  While his support in the polls remains high and is climbing higher in certain circles, as parts of the Israeli public identify the investigations with the ongoing political attacks against Netanyahu, recent revelations in the media point to a growing involvement of Netanyahu in problematic transactions.
Netanyahu has served as Israeli's prime minister longer than any other person in our short history.  He has been at the center of enormous power and has done great things for Israel.  But 2 years ago, during the last election campaign, as hatred against him grew, I felt that it was time for him to step down.  That there was something unhealthy about the same person sitting at the helm for so long, that such enormous power creates fissures in the country, opportunities for corruption and an arrogance that is dangerous for any leader.
I hope that Netanyahu will be found to be innocent of any criminal wrong-doing.  But it is already clear that he has become too wrapped up in the trappings of power, too addicted to material possessions.  I am reminded of Samuel's fears when the Nation asked for a king (I Samuel 8:11-18).  Samuel was concerned that power would corrupt the purity of a king's decisions and actions, that he would abandon his G-d-given obligations and G-d, in turn, would abandon the nation.
I yearn for a leader that is truly a man of faith, a man that puts the interests of his country above his own personal interests, a man that disdains the material and strives for the good and the pure.  This may well be a utopian dream.  But it is a dream I cling to.