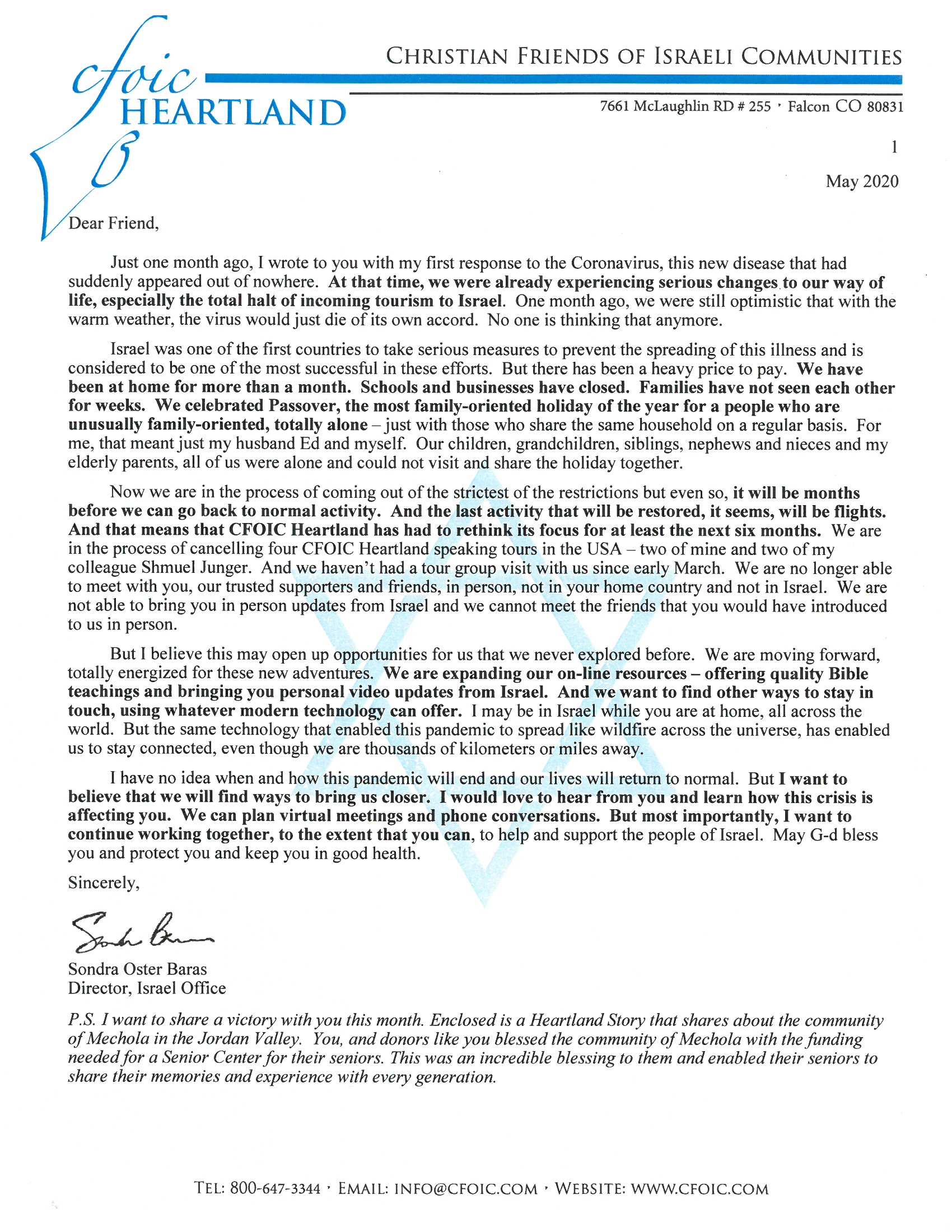 Dear Friend,
Just one month ago, I wrote to you with my first response to the Coronavirus, this new disease that had suddenly appeared out of nowhere.  At that time, we were already experiencing serious changes to our way of life, especially the total halt of incoming tourism to Israel.  One month ago, we were still optimistic that with the warm weather, the virus would just die of its own accord.  No one is thinking that anymore.
Israel was one of the first countries to take serious measures to prevent the spreading of this illness and is considered to be one of the most successful in these efforts.  But there has been a heavy price to pay.  We have been at home for more than a month.  Schools and businesses have closed.  Families have not seen each other for weeks.  We celebrated Passover, the most family-oriented holiday of the year for a people who are unusually family-oriented, totally alone – just with those who share the same household on a regular basis.  For me, that meant just my husband Ed and myself.  Our children, grandchildren, siblings, nephews and nieces and my elderly parents, all of us were alone and could not visit and share the holiday together.
Now we are in the process of coming out of the strictest of the restrictions but even so, it will be months before we can go back to normal activity.  And the last activity that will be restored, it seems, will be flights.  And that means that CFOIC Heartland has had to rethink its focus for at least the next six months.  We are in the process of cancelling four CFOIC Heartland speaking tours in the USA – two of mine and two of my colleague Shmuel Junger.  And we haven't had a tour group visit with us since early March.  We are no longer able to meet with you, our trusted supporters and friends, in person, not in your home country and not in Israel.  We are not able to bring you in person updates from Israel and we cannot meet the friends that you would have introduced to us in person.
But I believe this may open up opportunities for us that we never explored before.  We are moving forward, totally energized for these new adventures.  We are expanding our on-line resources – offering quality Bible teachings and bringing you personal video updates from Israel.  And we want to find other ways to stay in touch, using whatever modern technology can offer.  I may be in Israel while you are at home, all across the world.  But the same technology that enabled this pandemic to spread like wildfire across the universe, has enabled us to stay connected, even though we are thousands of kilometers or miles away.
I have no idea when and how this pandemic will end and our lives will return to normal.  But I want to believe that we will find ways to bring us closer.  I would love to hear from you and learn how this crisis is affecting you.  We can plan virtual meetings and phone conversations.  But most importantly, I want to continue working together, to the extent that you can, to help and support the people of Israel.  May G-d bless you and protect you and keep you in good health.
Sincerely,
Sondra Oster Baras
Director, Israel Office
P.S.  I want to share a victory with you this month. Enclosed is a Heartland Story that shares about the community of Mechola in the Jordan Valley.  You, and donors like you blessed the community of Mechola with the funding needed for a Senior Center for their seniors. This was an incredible blessing to them and enabled their seniors to share their memories and experience with every generation.