By: Tessy Agassi
During the past six months, ever since I started working at CFOIC Heartland, I have met extraordinary people and visited amazing communities. It has been a true pleasure and an eye- opening experience for me to play a part in the wonderful relationship that has been created between our Christian friends and the people of Judea and Samaria. As a resident of Samaria for the past four years, I feel blessed to be able to live my life, build a home and raise my children in this very special area of our beautiful country.
Before moving to Leshem, in Samaria, I have lived my whole life in a large city and I knew that the move to a small community would take a bit of getting used to. I wondered how I would manage without a supermarket or a shopping mall close by. But in all my thoughts and dreams, I never feared the Arab population living in the surrounding villages. Maybe I was too naïve, or maybe I just didn't know enough about the area, but I truly believed that everything would be fine.
After we moved and whenever I was asked if I am frightened living in Samaria, I would always respond that thank God my family is safe and that living in Samaria is no more dangerous than living in Jerusalem. Four years later, I look at things differently. Today I realize that I live with a  constant sense of fear buried somewhere in the back of my mind. We put our trust in God and do our best to protect ourselves, but the truth is that even though it seems peaceful in our area, our Arab neighbors will probably never stop trying to harm us.
The peaceful atmosphere is actually a product of the very hard work of the Israeli army and the various security teams working within the communities. The attention to detail and the desire to improve our quality of life is so great that our security teams have truly created a sense of security and tranquility.  But they have worked very hard to achieve that.
Most of the communities in the area have the same security structure. Each community has its own man in charge of security who is literally on call 24/7.  Additional support is provided by the volunteer rapid response teams that assist in case of an emergency. All of these volunteers and their professional security chiefs are heroes, people who put the safety of others ahead of their own.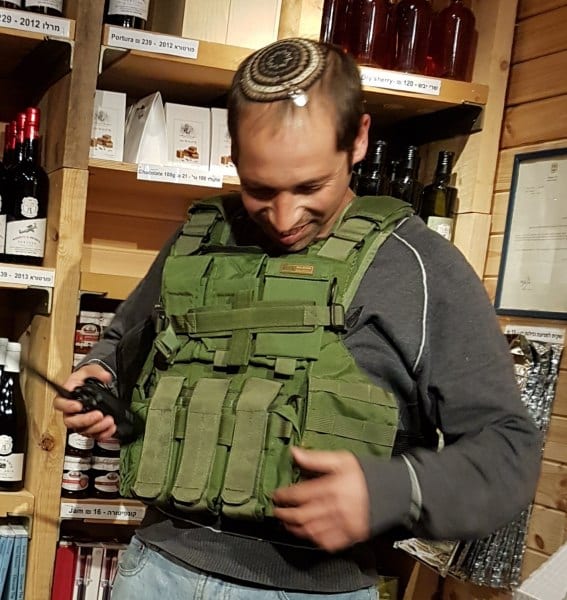 One of the communities that I have personally had the pleasure of visiting quite often is Rechalim. Like so many other communities, they started with nothing and built their way up with hard work and dedication. It wasn't easy — they encountered many obstacles and have overcome great challenges throughout the years, security, being the main one. Only this past year, there were three attempts to infiltrate the community that were foiled by the security team. They accomplish so much because they are so devoted, but without the appropriate equipment they would be putting themselves in unnecessary danger.
Unfortunately, emergency and security measures are extremely expensive but they are vital.  That is why Rechalim continues to reach out to you, requesting your help and support in purchasing surveillance cameras and other vital equipment.  And when you are able to provide them with what they so desperately need, you are helping them create a safe home environment for the families and children of Rechalim. Join them and support the heroes who are devoting their lives to settling the biblical heartland.