By: Kim Troup
Wow! I can't believe we are already in the middle of November.  Where does the time go?  In America, November is a holiday month because of Thanksgiving — a national holiday that is dedicated to celebrating the blessings in our lives.  It is a day characterized by a large turkey dinner, too much food, family gatherings, and football.
It is a time to reflect on everything we have to be thankful for.  As I look around me I'm overwhelmed by the goodness of God.  There are so many things to be thankful for.  This week as I've been praying for the safety of those in Israel, who are being bombarded by constant rocket attacks.  I'm especially thankful for our freedom and our security.  I'm thankful for the miracles that we've seen come out of Israel, when so many could have been hurt but miraculously so many escaped just seconds before a rocket fell on their home, or on a bus full of soldiers.
I am also so thankful that I know people like you, who are joining with me to pray for Israel's safety and protection, who are praying for Prime Minister Netanyahu – may he have the wisdom to know how to handle this latest attack by Hamas.  Israel needs friends like you more than ever before.  I'm confident that Netanyahu and the Israeli government will do what is necessary to protect their people.  I thank God that they have the freedom and the ability to do so!  Just 71 years ago they didn't have a right to defend themselves and there was a terrible loss of life.  Today, we thank God every day for His promises which are coming true before our very eyes, for Israel is once again a sovereign nation, the fulfillment of ancient prophecies.
Wherever you are in the world, I want you to know how thankful we are for you.  Your prayers, your love, your commitment to the Bible, your visits, and your donations are making a difference every day in Israel.  You are a self-appointed, unpaid, volunteer ambassador for Israel everywhere you go and the Israelis I talk to are so grateful that they have friends like you.  When they hear the media bashing Israel, it warms their heart to know that you aren't moved by the voices of those around you, that you are standing firm on God's word.  You know the TRUTH regarding Israel and you aren't moved by the negative PR that you see and hear.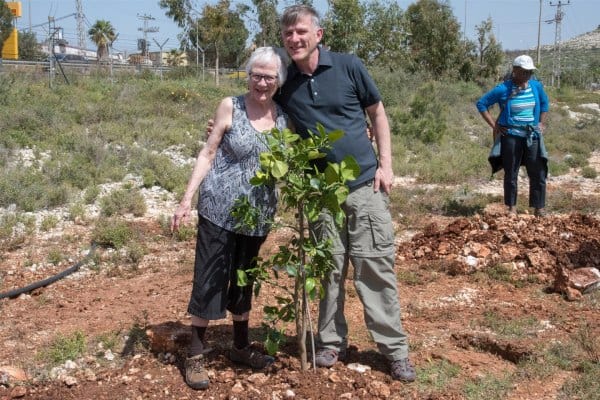 Even if you don't have a national day of Thanksgiving (or if you are Canadian and you've already celebrated Thanksgiving day) I pray that you take a day to look around you, count your blessings, and simply thank God for all that He has done and all that He is going to do.  I pray your holidays are filled with love and laughter, good times shared with loved ones, good food and friendship.  May the Lord bless you and keep you, may His face shine upon you and be gracious to you and may the Lord lift up his countenance upon you and give you peace (shalom).