July 6, 2021
Sondra Oster Baras
Today, at our Second Annual CFOIC Conference of Communities, we handed out over a million dollars to more than 30 communities and several regional councils for security and community needs.  These are funds that you, our trusted friends and supporters, have contributed during these past few months.  Some of you donated small sums, whatever you could manage to give.  And some of you donated larger sums.  But all of you took part in this.  YOU deserve our thanks.
Last year, we planned to hold a conference of communities for the first time ever.  It would be a time for community representatives to gather together and share experiences, to update CFOIC staff on their newest projects, their gravest concerns and their proudest moments.  But most of all, it would be a time of fellowship, between us and the many communities we represent, and between each of the communities and each other.  But, just before the conference was supposed to be held, COVID forced us to go virtual. Our first annual conference was on zoom.
This year, we rejoiced as the COVID restrictions in Israel were eased and we were once again able to gather together.  We worked hard to prepare for the conference, the first one where we would meet in person.  We invited the mayors and community leaders from each community that we work with and nearly all of them were able to come.  Dozens of leaders gathered in Karnei Shomron, many of them meeting with us in person for the first time in more than a year.  The atmosphere was electric.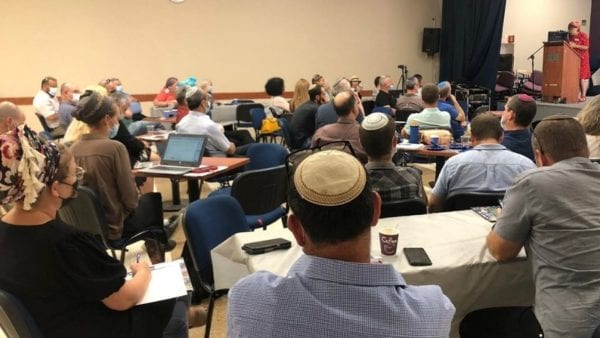 Community representatives participated in the Second Annual CFOIC Conference of Communities in Karnei Shomron on July 6, 2021, where CFOIC Heartland distributed more than $1 million of your donations for community needs!
Mayor Yigal Lahav of Karnei Shomron and Mayor Hananel Durani of Kedumim, joined me in a panel discussion regarding the challenges facing the communities with regard to social and communal needs, with the focus on COVID.  Kedumim was the first community to be established in Samaria in modern times and Hananel shared the special challenges they face as their original pioneer settlers are now in their 70's and 80's.  With the restrictions of COVID, young volunteers were banned from visiting the elderly in person and they had to be creative.  
Karnei Shomron is one of the fastest growing communities in Judea and Samaria today but that brings with it many challenges.  Yigal noted the challenges with regard to the senior population but also shared the innovative programs that Karnei Shomron is running to help the youth and especially youth at risk. 
Joe Burnley of the Bet Hagai Youth Village introduced the audience to the wonders that Bet Hagai is working with troubled youth.  Bini Kaspi and Moti Feldman of Enav inspired us all with the initiative of their high school students to create a park and picnic area in a forest on the edge of Enav, even as they struggled to keep up with their classes on zoom.
Anat Zafrir, introduced the unique work of the Samaria Family Assistance Program, providing food vouchers, summer camp programs, and a variety of vital items to needy families all over Samaria.  Anat encouraged all regions to adopt this model and create similar programs in their regions.
CFOIC Heartland Director Sondra Oster Baras distributes more than $1 million of YOUR donations for vital emergency and community needs to communities in Judea and Samaria.  
There was a feeling of comradery in the room.  Everyone there had dedicated their lives to settling Judea and Samaria.  All heard the call of prophecy and risked everything to build their lives in this Biblical, yet controversial area of Israel.  An isolated community in Samaria may be only vaguely aware of a community in Judea.  They have never met one another nor shared experiences and ideas. 
But that is what the Second Annual CFOIC Conference was able to accomplish today.  People met and shared from across Biblical Israel and bonded like never before.  Everyone emerged from that conference knowing, in a personal way, that we are all part of an amazing movement — a movement of restoration and return. That we are all players in our own small way but together, we have created a revolution!
The message that came across loud and clear, as each speaker shared his experiences, is that so much of what they have been able to accomplish is thanks to you.  You have supported senior citizens, troubled youth, and children with special needs.  A community may come up with an idea and share it with us.  We then tell you about it and it becomes a reality.  And that reality was multiplied exponentially today, as each community shared their ideas with the others.  At the end of the day, I was bombarded by community representatives who told me how they now had new ideas of how to strengthen their community and hoped that we could help them.  I am sure I will be turning to you in the coming months and sharing these new ideas with you, seeking your help.
Thank you for all you have done for us all these years.   I was able to convey your love and support to everyone at the conference today and they asked me to convey to you their unbelievable appreciation for all you have done for them.  You are connected to one another and that, in and of itself, is a beautiful thing.  Thank you!
Shalom from Samaria,
Sondra
Sondra Oster Baras
Director, Israel Office