Acts of kindness do not exist in a vacuum – they transform the world. Believing in a child, helping him become a better version of himself, can set in motion a chain reaction of success, gratitude and more giving that, step by step, will make the world a better place. 
Yochanan Eliyahu was born in India to an affluent Jewish family. Following Israel's independence, most of India's Jewish community emigrated to Israel. But it was not an easy decision – those leaving India had to leave all of their property and money behind. Determined to fulfill Biblical prophecy, Yochanan's family arrived in Israel with nothing but the clothes on their backs. They settled in a poor, agricultural community, populated by new immigrants like themselves, struggling to make a living and raise their families in this new, foreign country. 
There were so many challenges, a new language, a new culture, strenuous farm work, and financial struggles. Homelife was harsh. Yochanan's father became depressed and started drinking, and his parents, like most in their town, had to work long hours to make ends meet. There were no after-school activities. Most children simply roamed the streets unsupervised. Life was about survival. 
Like most teens from his town, Yochanan was sent to an agricultural boarding school. Academics did not interest him. He was a talented athlete and gifted in math, but he was wild and defiant. For a while, the school tolerated his delinquent behavior, but eventually the school lost patience and he was expelled. Ashamed, he did not tell his parents. Instead, he applied to a pre-military academy all on his own, aced the math entry exam and gained admittance with a full scholarship. 
At the academy, Yochanan found a nurturing environment, supportive teachers who cared about and believed in him, close friends, and the structure he so desperately needed. He began putting down roots in his new home country – he finally felt he belonged! Excelling in his studies, Yochanan enjoyed the rewards of his efforts and felt deeply grateful for the opportunities bestowed upon him by his homeland. After graduation, he enlisted in the air force, determined to give back to the country that had given him so much. He rose quickly in the ranks and served with distinction for thirty years.
As he travelled and relocated frequently throughout his military career, Yochanan deepened his connection to his new homeland. He recalls, "I was keenly aware of the formidable, ongoing security challenges Israel faces from outside its borders and from within, and I knew the only way to defend Israel from within is by strengthening Jewish presence in sparsely populated regions." Retirement from the army paved the way towards new opportunities to defend his county, this time as a civilian.
Yochanan became a successful businessman. When he retired from his business career at 65, physically fit, with plenty of energy, Yochanan was not ready to slow down and enjoy a leisurely retirement. He and his wife Yael, also a retired army officer, wanted to put down roots in a sparsely populated community where they could contribute significantly to the Jewish people. In 2016, while touring the Hebron Hills region, Yochanan and Yael visited Eshkolot, a tiny rural community, surrounded by many hostile Arab towns and villages. They immediately fell in love with the raw desert beauty and felt right at home in this down-to-earth pioneering community, rooted in the Biblical values of integrity and giving. They moved to Eshkolot, and as soon as they were settled in their new home, the couple began looking for ways to help the community.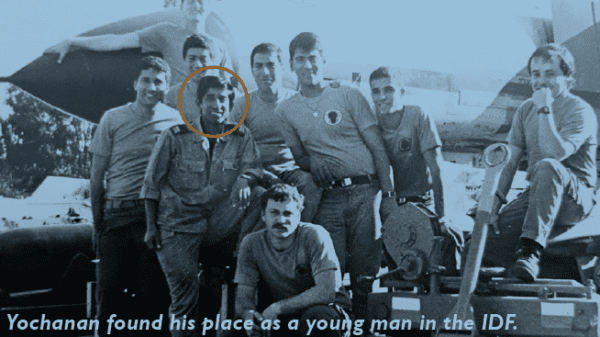 Yochanan and Yael both have master's degrees in education. Paying it forward for the kindness Yochanan received in his youth, the couple opened a free learning center in their home for struggling youth. Focusing exclusively on youth with learning disabilities and ADHD, they teach math, Bible studies and English, while mentoring teenagers in learning and life skills, encouraging students to become contributing members of society. Additionally, Yochanan and Yael were the guiding force behind Eshkolot's new Children and Youth center, which was built and furnished with the generous support of CFOIC Heartland donors.
The dedicated couple successfully created new avenues of involvement for the children and teens of this small, isolated community, while giving them a sense of purpose, pride, and belonging. And there is no sign that the two are slowing down. Yochanan, now on Eshkolot's governing board, is steering the community's development, including a new seniors center, while Yael teaches exercise classes and leads support groups.
Yochanan is so grateful for CFOIC Heartland donors' support for Eshkolot: "You have given our youth a strong foundation to become the next soldiers and contributing members of Israeli society."