Will you help the elderly stay warm this winter?
Did you know t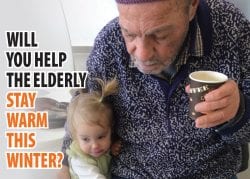 hat the winter can be a particularly challenging time for the elderly? Heating during the winter months is crucial, literally a matter of life or death for the Elderly. The harsh cold can put them at risk for disease and other complications. Heating prices in Israel have risen, and it is not unusual to meet senior citizens who do not heat their home because they simply cannot afford to. Some are even without proper clothing or blankets to offer extra warmth during this harsh season. For several years now the Samaria Regional Council has turned to CFOIC Heartland to help the elderly population of Samaria get through the cold winter months. Throughout the years your assistance has provided blankets, radiators, and heaters to those who need it most. This year is no exception! Please join us in helping the elderly of Samaria stay warm this winter!
Stand up for Israel!
Brenda and Phil Lewis
Brenda and Phil Lewis are the most pleasant people you'll ever meet. Bren, as she calls herself, is so sweet, and Phil has a great sense of humor, but that does not detract from the importance of their mission. The Lewis' relationship with CFOIC Heartland began not long after their first trips. In May 2004 they were on a trip to Israel with Revelation TV and CFOIC Heartland's Israel Director Sondra Baras spoke to their group. "It was before the Gush Katif Disengagement and Sondra spoke about the dangers of pulling out of the region," Brenda recalls. "Sondra is very dynamic, but it's what she was saying. A light went on. I had a moment where I realized this was important."
Pioneers in our day
Mali and Yaakov Sztrigler: It's a Family Affair!
The Sztriglers do not have special-needs c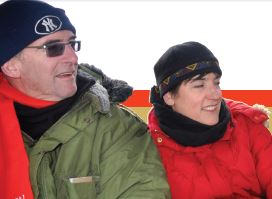 hildren of their own, but the Heart of Benjamin children became a part of their family. Yaakov volunteered whenever he could, spending time with the children and their families. And as soon as she was old enough, the Sztrigler's eldest daughter became a Heart of Benjamin volunteer. "These children are special, not because they have special needs, but because their happiness and love is so pure," explains Yaakov. Mali believes that Heart of Benjamin's location in Ofra is what has enabled it to flourish. "Just as we believe having a strong sense of community is important for raising our children, the spirit of community cooperation in Ofra has been essential to the success of Heart of Benjamin."
 Give Thanks!
We would like to thank you, from the bottom of our hearts, for the generous donations you continue to contribute for the "Heart of Benjamin." Your friendship and
the deep concern for the children you help are warmly felt by us here. Your most recent donation is yet another example of your continuous dedication and support for our work over the years. Thanks to you we have been able to provide countless activities for the special-needs children from all over the Benjamin Region suffering from chronic and genetic diseases, brain damage and paralysis, and a host of other physical, educational and social challenges. It is a real privilege for us to be able to accomplish all this, and it is, in large part, thanks to your wonderful donors.
With all our heart,
Shlomit Kahn Yehuda Dinar
Director Chairman of the Board