Tuesday, January 5, 2016
I was chatting with Kim Troup yesterday by phone and she mentioned to me that the news coming out of Israel was just consistently bad — terrorist attack after terrorist attack, a massive manhunt to apprehend the terrorist who murdered two people in a Tel Aviv night club and a third later on that same evening.  Calls to boycott Israel.  It was just too much, she complained.
And while I am still the news junky I always was and have been well aware of all these news items. I had to admit that I was in a great mood.  Because my personal news has been just amazing these past few months.  And then Kim asked me to write about it.  "We need to hear good news from Israel," she told me.  So here I am, giving you my good news, sharing with you the joy in my life, and hoping it will give you cheer, lift your spirits and give a sense of perspective as to what G-d is doing in this Land.
As most of you probably know, my youngest son had a baby in October and we have been enjoying our newest grandson immensely.  Shortly after Aviad was born, my second youngest became engaged to a lovely young woman, Ellie Strauss.  And their wedding is in two weeks.  I am in seventh heaven!
But to top it all off, my oldest son Donny came by on Friday afternoon with his girlfriend to announce that they had decided to get married.  And their wedding will probably be in less than three months!
So G-d has blessed me so richly these past months.  Weddings, new babies!  It is fabulous.
I thought I'd share a bit with you about what a Jewish wedding is all about.  I know it's different from what so many of you experience and hope this will bring a smile to your face.
For more information about Jewish weddings, watch this Facing the Divide episode all about Jewish weddings!
The wedding is not just a one-night event.  It goes on for more than a week!  After the wedding, there are festive family celebrations each night!  On the Shabbat before the wedding, the groom is called to the Torah to make a blessing, a small way of honoring him as he is about to embark on his new journey, even as he gives honor to the holy word of G-d.  But the entire Shabbat is a moving farewell to bachelorhood.
David has invited 5 single friends and 1 married couple to join us for that Shabbat.  In addition, all of my children will join us as well.  While we are able to house my entire family in our house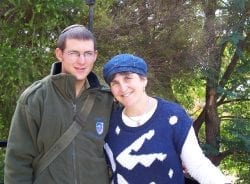 (crowded but cozy!), my neighbors and friends have all chipped in to help host some of the other guests.  David will choose the menu that he wants and I will make a great meal.  I have already started baking his favorite cakes!  Our meals will be filled with songs, jokes, good stories, and of courses blessings to G-d for our good fortune.
The wedding is Monday night but David will not be left alone that entire day.  A close friend of his will be with him all day, arriving early in the morning and then driving him later in the day to Jerusalem, where they will pray at the Kotel (Western Wall.)  He will then get dressed and arrive at the wedding hall with this friend.
The bride and groom will not have seen each other for a week — it makes the moment of their first sighting just before the ceremony so special!  When arriving at the wedding hall, care will be taken that they don't catch a glimpse of one another.  Ellie will be sitting in one part of the hall with her sisters, mother and grandmother, receiving her girlfriends and guests, many of whom will sing and dance for her.  And in another room, my son David will sit at a table where he will share a Biblical thought with his friends and family, following which the rabbi will have him sign the Ketuba or bridal contract.  This is an ancient document that obligates the groom to care for his wife — quite advanced at the time it was created.
The groom and the men around him will pray the evening service and then the music will begin.  Musicians will play festive songs as all the men at the wedding dance and sing David, accompanied by my husband Ed and Ellie's grandfather, to see the bride.  And all the women are waiting with the bride, eager to catch a glimpse of the two seeing each other for the first time in a week.  David will approach his beloved Ellie, will cover her face with the bridal veil, blessings, prayers and romantic words will be exchanged and then Ed and I will walk David to the Chuppah (marriage canopy.)  And we will be accompanied in our walk by all the men dancing and singing.
Once we arrive at the chupah and take our places there, the young men will return and dance Ellie,accompanied by her mother, and surrounded by all the women, to her place under the chupah.  The rabbi will pronounce the blessings and say a few words of congratulations, another rabbi will read the marriage contract, and then 7 different family members and spiritual mentors will come up to the chupah to bless the new couple.  Finally, David will break a glass to commemorate the destruction of Jerusalem nearly 2,000 years ago as we all sing the words to Psalm 137:5-6.  Even as we celebrate our greatest joy, we remember Jerusalem.  And then the ceremony is over and joy bursts forward from every side.
Today, we are truly witnessing Jerusalem being rebuilt.  Who would have believed when this custom to remember Jerusalem's sorrow was established that we would be celebrating a wedding in the hills overlooking the newly built Jerusalem.  But we have not finished our journey yet.  For as long as terrorists murder Jews just because they are living in Israel, we must still remember the destruction of Jerusalem.  But even as we celebrate G-d's goodness to us, in witnessing the happiness of our children, we are able to keep the sorrow in perspective.  G-d is truly good!
Shalom,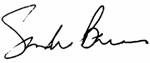 n
Sondra Baras