Support Jewish Life in the
Biblical Heartland
Your gift will ENCOURAGE the BRAVE PIONEERS of Judea and Samaria and SUPPORT THEIR GROWTH!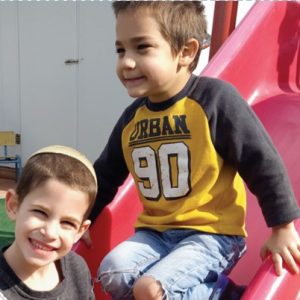 Throughout Judea and Samaria, dedicated Jewish Pioneers are coming together to create warm and vibrant communities. Their commitment and enthusiasm are inspiring, but they cannot build strong communities and attract new families without resources. Your donation will provide the building blocks for thriving community life, nurturing hearts and minds. With your gift of libraries, music programs, community centers, playgrounds, and the arts, you will enrich the lives of so many, strengthen the ties that bind neighbors, and encourage new families to settle in Biblical Israel.
Today, there are half-a-million Jews living in Judea and Samaria! Most of the communities have permanent homes, preschools, and playgrounds. Yet, there are still countless challenges to maintaining Jewish presence and developing community solidarity so far from urban centers. A new generation of pioneering communities has blossomed in recent years, and these communities are still struggling to provide social centers, libraries, afterschool enrichment programs, and playgrounds for their residents.
The smaller, more isolated communities face unique challenges, surrounded by hostile Arab villages. Jewish pioneers, who have sacrificed so much to hold on to the land, live in bare-bones conditions without many of the services usually available in urban centers.
You can directly impact the lives of these dedicated pioneers, raising them up from their harsh reality and helping them foster rich, fulfilling lives. And in so doing, you will encourage others to join these communities.
You can help build the Biblical Heartland!
If you prefer to donate via PayPal, please click this button to be taken to our PayPal donation page: