I remember the very first time Sondra took me to visit Heart of Benjamin.  She kept gushing about this program, and I wasn't really that excited.  As she explained that it was filled with special needs children, I imagined an institution that smelled strongly of urine and antiseptic, filled with children staring blankly off into space.  I couldn't fathom why she was so eager to show it to me.
When we arrived that beautiful fall day, I realized that Heart of Benjamin was using the lawn as their classroom.  This was a far cry from anything I had imagined.  In the tranquil afternoon sunshine, a large circle of children were sitting on the grass. That day was music therapy day, and every child held an instrument of some kind: triangles, tambourines, guiros, maracas, cabasas and even bongo drums.  Every musical instrument that can make a sound by banging or clanking, it was there.  The music therapist was teaching every child to sing a song for the upcoming holiday of Succot, and everyone was enthusiastically entering in.  And it was beautiful.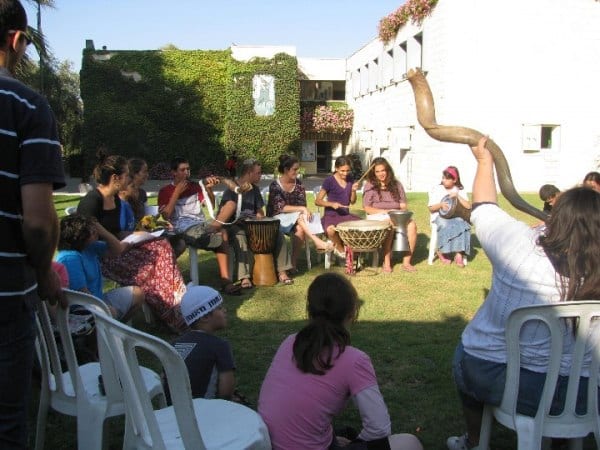 Children with every level of disability, and many kinds of special needs were all equals. They were entering in and making a joyful sound.  No one was left out, and no one was excluded because they were "different", each one to the best of their ability sang their heart out and played their instrument with all their might.  There were many volunteer helpers, teenage girls from the high school that generously shared their campus with Heart of Benjamin as a temporary location.  Every single child at Heart of Benjamin received the individual attention he or she needed.  You could see how loved they felt, how much they belonged here and what a special place this truly was.
As we left the music session, and entered the main building instead of being greeting by antiseptic smells and institutional walls, I was greeted by a giant Giraffe painted across two walls smiling down on the room below. Here I heard the dream of what Heart of Benjamin would become.  It started by seeing a need and filling it.  For families with special needs children there was a gap, a distressing gap that caused parents to agonize over the suffering their special needs child experienced because they lived in Biblical Israel, too far away from the big cities with their programs and services.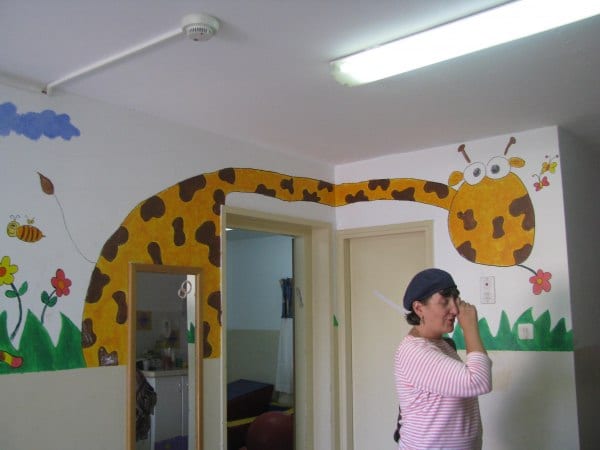 There were school programs for special needs kids, but the empty afternoons were a burden.  These children aren't capable of being left home alone or even with a babysitter.  They need specially trained caregivers.  How were parents going to be able to afford that?  Most parents struggled through, missing work so that they could be home with their child, but they longed for something that would help their child overcome the challenges they faced.  Heart of Benjamin met this need by providing an afternoon filled with special therapists.  A different therapist would come every afternoon 5 days a week, to fill the gap after school let out until the parents got home from work. One day would be music therapy, another day would be art, another day would be animal, and they would ensure that each child had the individualized attention they needed by having volunteers join the program to assist one on one with each special needs child.
And it turned into a beautiful thing.  Parents are so grateful that their children have a safe place to go in the afternoon, a place that they love going to, a place where they are able to get specialized  therapies that are beyond the scope of what the schools can provide, all in a safe environment where they know they are loved and cared for.  But that wasn't enough for Heart of Benjamin. As they walked me through the half-finished Heart of Benjamin building, they shared their dream with me that one day, they would be able to offer families weekend respites.  Because they knew families with a special needs child, never get a break, they never get a vacation.  Care and worry for their child consume 25 hours of every day, and it can be a lonely and often thankless existence that gets overlooked.  They wanted to build an entire wing that would be an overnight home.  So that children would be able to come and stay for an entire weekend, with expert therapists, trained staff and volunteers, and their parents could take a much-needed break from the constant care that is required.
As we walked through the empty shell of the building they pointed out the room where they wanted to have a daycare to be able to take care of babies and toddlers with special needs; the center of the large entry room that would be filled with sunlight from the skylights above and have imitation grass on the floor, so that when it was inclement weather, the children could still play indoors, but yet feel as if they were outside sitting on the grass as I'd seen with the music class. And so many more dreams…
Some years ago, as I walked into the completed building at Heart of Benjamin, tears came into my eyes as I realized that their dreams had really come true! Because of Christians like you, who care about special needs children and their families who are living in Biblical Israel, Heart of Benjamin is a reality! We peeked in and saw a dozen babies and toddlers receiving loving care and attention, then we were surrounded by the older kids eager to greet their visitors in the room that felt more outdoors than in, with bright sunlight streaming in and green grass on the floor. I was overcome with emotion that I had been privileged to get to be a part of this! Over the years as you've given money for Heart of Benjamin, you had a part to play in helping families with special needs children in the heart of Biblical Israel.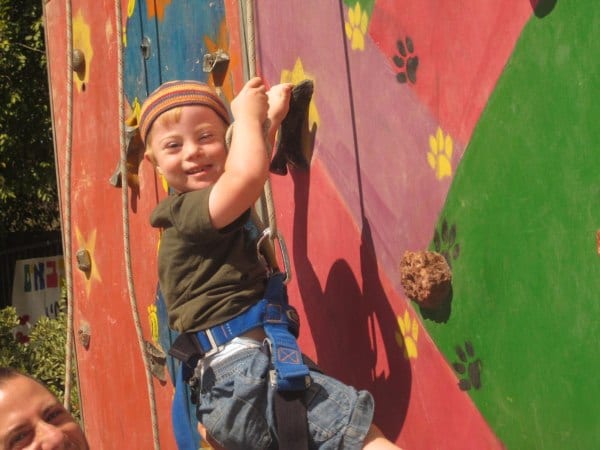 For many years now, Heart of Benjamin has run a week long Passover Camp.  The camp takes place during the week before the holiday begins when school is already out, but parents are still working a regular schedule.  Before the Camp was started, it meant that parents had to miss an entire week of work, just to stay home and care for their child, as there was nowhere for them to go.  This is a week, when school kids all over Israel have special trips planned, going to amusement parks, horseback riding, zoos, nature hikes, visiting biblical sites, learning history and bible hands on or just having a fun time. But these day trips were not an option for a special-needs child, until Heart of Benjamin came along.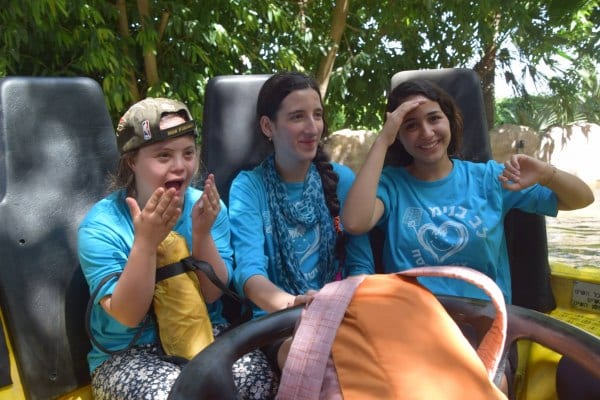 They looked at the curriculum and the types of things that every child in Israel gets the opportunity to experience during the Passover break and they said, we can do that too.  We just need lots of extra hands.  Some of these children need two volunteers to accompany them through the entire day, pushing their wheelchair, helping them eat, holding onto them as they climb into a saddle, or helping them hold a pair of shears as they harvest a cluster of grapes. Most only need a single helper, but every child has a volunteer who goes with them through the day so that they are able to experience the same things that their siblings experience; the thrill of a roller coaster, the joy of petting a horse, the awe of walking through an archaeological dig, the serenity of a beautiful nature hike.
These day trips during the week before Passover are a highlight of the year, as the children get to experience life fully.  They are getting an experience their parents don't have the resources or energy to give them.  And it is a tremendous god-send for their parents.  They are so grateful to know that their children are loved and cared for and are having the time of their life.  They aren't sitting in an institution staring blankly at the walls.
But we can't have these day camps without your help. Your donation today for the Heart of Benjamin Passover camps helps a child experience the best life has to offer.  Joy, thrill, awe, wonder, peace — these are just some of the emotions you can give a Special Needs child who lives in the heart of Biblical Israel.
 Please join me today and bless a special-needs child in Israel.  Each gift of $60 sponsors one child for one day.  There are dozens of children who need help, and 5 days filled with wonderful experiences. So please give your best gift to Israel today. Thank you for standing with the people of Biblical Israel.