Cave of Machpelah in Hebron, Israel
It started snowing on Wednesday evening and kept snowing.  On Thursday, Judea was covered in snow, in Gush Etzion and in Hebron.  I was supposed to meet a tour group in Hebron that day but it was cancelled — there was no way to get anywhere near that area.
Where I live, in Karnei Shomron, we really didn't expect any snow at all, because our altitude is so much lower, just two hundred meters above sea level.  But when we woke up on Friday morning to shouts of "it's snowing" we were excited.  But despite the initial excitement, we only got a light dusting and it had all melted within a few hours.  But we had rain for days.
A very different story in the Judean and Samaria hills of 500 meters or more.  There was heavy snow, ice, and power failures.  As Friday turned into Shabbat, there were still thousands of homes in Judea and Samaria and Jerusalem with no power and no heating because their heating was electric-based.  People living in mobile homes had inadequate insulation and they were really cold!  But despite the hardship, how can you complain when G-d has given so much rain and moisture to our parched land?
In the synagogue on Shabbat morning, our rabbi recited a special prayer thanking G-d for the deluge in rains.  Our sages wrote, close to two thousand years ago, that the blessing should be said when there is so much rain that the rain from the ground actually reaches up to touch the rain from the heavens.  What a beautiful image!  You can just picture the rain pouring down and as it splashes in the puddles, the rain from the puddle actually bounces up to meet the rain coming down!
And it was certainly that kind of rain!
Rain plays an important role in the spiritual and physical life of Israel.  From Biblical times, G-d defined this land as one that would require the grace of heaven to have rain:  "For the land that you are about to enter and possess is not like the land of Egypt from which you have come.  There the grain you sowed had to be watered by your own labors like a vegetable garden.  But the land you are about to cross into and possess, a land of hills and valleys, soaks up its water from the rains of heaven.  It is a land which the Lord your G-d looks after, on which the Lord your G-d always keeps His eye from year's beginning to year's end." (Deuteronomy 11:10-12) 
The actual Hebrew for the phrase "watered by your own labors" is more literally translated as watered by your own feet, and that use of words is really amazing.  If you think about it, in Egypt, the agriculture was watered by the Nile, with the water being provided, literally, by the ground, where your feet walk.  Not so in Israel, where we must look up to the heavens and where G-d looks down to us from the heavens.  Rain, then, represents our relationship with G-d here in the Land of Israel.
So, for us in Israel, when we see such a deluge in rain, we truly believe that G-d is shining His face upon us, that He is reassuring us that despite the howling winds and cold temperatures outside, He is there with us, watching over us and protecting us.  That despite the bitter cold and antagonism of our enemies and of those who would try to destroy us, the ongoing calls for boycott that we read about every day, that there is a warmth waiting for us, as G-d envelops us in His embrace and provides us with protection.
There is a degree of irony, though, in the fact that this storm came to us from Russia!  In recent months, we have become more and more concerned as Russia continues to side with Iran and Syria, and failing to side with Israel on the need for greater sanctions and the prevention of Iran's nuclear capability.  There has been, indeed, plenty of cold air coming to us from Russia in recent months. But, to quote Joseph in a recent Torah Portion:  "Although you intended me harm, G-d intended it for good, so as to bring about the present result—the survival of many people." (Genesis 50:20).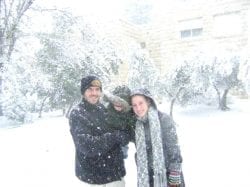 So too, as Russia and other countries sit with Iran, hemming and hawing over what should be done, G-d has sent us a furious storm with the rains that we so desperately need, to bless us, even as our northern neighbors would rather see us cursed.
But at the end of the day, it was a glorious time, to play in the snow, and enjoy the beautiful white, pure scenery on the mountains of Judea and Samaria.  Take a look at the photo on this page — my children and my grandson.  What a blessing from G-d!
May G-d bless you richly in the coming year!
Shalom,