Fall 2014
It was a brutal, punishing summer for most Israeli families. Instead of family vacations, and day trips to Israel's sandy beaches, the 2014 summer vacation was fraught with frequent trips to the bomb shelter, and characterized by conflict. For the Avitan family, the nightmare was magnified by the fact that they live in the city of Ofakim, located in Israel's south.
Ofakim, a city of 27,000 residents, and a mere 14 miles from the Gaza Strip, is indeed in close range of Hamas rocket fire. Ofakim has been hit repeatedly in recent years, there have been numerous residents wounded, and killed, and during Operation Protective Edge, this modest city became a regular target for rocket attacks.
Although the Avitan family, Nir (32), Shlomit (30), and their three school-age children, have dealt with this harsh reality on an ever-increasing basis, they have not become accustomed to it; nor should they. To make matters worse, Nir was a victim of a terrorist attack some time ago and has suffered from Post-Traumatic Stress Disorder (PTSD) ever since.
It happened four years ago: Nir was driving with a friend, when their car was shot at by a Palestinian terrorist, wounding Nir, and fatally wounding his friend. After the attack, Nir recovered from his physical wounds, but was unable to "snap out" of this feeling of imminent death. He was mentally paralyzed, anxiety ridden, unable to work. Nir's is but one of the many stories that never make it to the media.
Nir continues to be treated by psychologists, as well as a psychiatrist, on a regular basis. But throughout Operation Protective Edge, Nir's condition dramatically worsened. Nir refused to leave the bomb shelter, and fell into a constant state of anxiety, rumination, and worry about where the next rocket might land.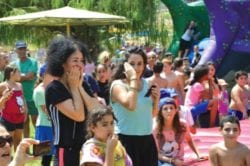 The Avitan family has no family outside of Ofakim, and while this makes for an exceptional support system within Ofakim, it became problematic when the family needed to escape the perpetual barrage of rockets at the peak of the summer's violence. As the family looked for a place of refuge, their prayers were answered by the Samaria Social Services Department. Their amazing social workers initiated a War Emergency Campaign to help the people of the south.
The residents of Samaria understand all too well what it means to live under a constant terrorism threat. They remember the violence they endured from the years of Intifada, and the terror threat that continues till today in Samaria. They felt a communal responsibility to help families like the Avitans, being rained on by rockets. Acting according to the Talmudic principle that "All Israel is responsible for one another", they saw it as their duty to offer hospitality to families from the south.
Knowing that they can count on CFOIC Heartland, the Samaria Regional Council turned to us for help. And we turned to you, our most loyal and generous supporters. In a matter of days, we managed to raise enough money to host numerous families from the south, among them, the Avitan family. In the weeks that followed, funds continued to pour in, enabling far greater support for the needs of these desperate families. Communities all over Samaria hosted families. In some cases, individual Samaria families housed and fed families from the south. In other cases, the communities hosted the families in school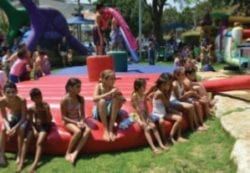 dormitories, guest houses and other local accommodations. The Samaria Regional Council sent busses to the south to pick up families and bring them to safety, arranged for families to stay at local facilities, and provided quality recreation for the children. They also hosted a full day of carnival fun for families who remained in the south, picking them up and returning them home but enabling them to have a day away. And the funds for all of this were provided by CFOIC Heartland.
The Avitan family was supposed to stay for three nights, but ended up staying for eight. They were met with such warmth and love and appreciated every minute of their stay in Samaria. It was the first time since the war began that the family was able to spend time together outdoors, and the first time in ages that Nir got a good night's sleep. "Like heaven", "outstanding people", and "thank you" are just a sampling of the words of appreciation that rolled off their tongues during their stay.
The Samaria Regional Council was equally appreciative of CFOIC Heartland. "We thank you with all our heart for the assistance you gave for this War Emergency Campaign. It is because of your generosity that we were able to help our brothers and sisters in need." There is no question — our Christian friends can be counted on in times of need. The War Emergency Campaign was made possible because CFOIC Heartland was able to mobilize at a moment's notice. Knowing we have supporters who can make that happen is what CFOIC Heartland is all about.