[:en]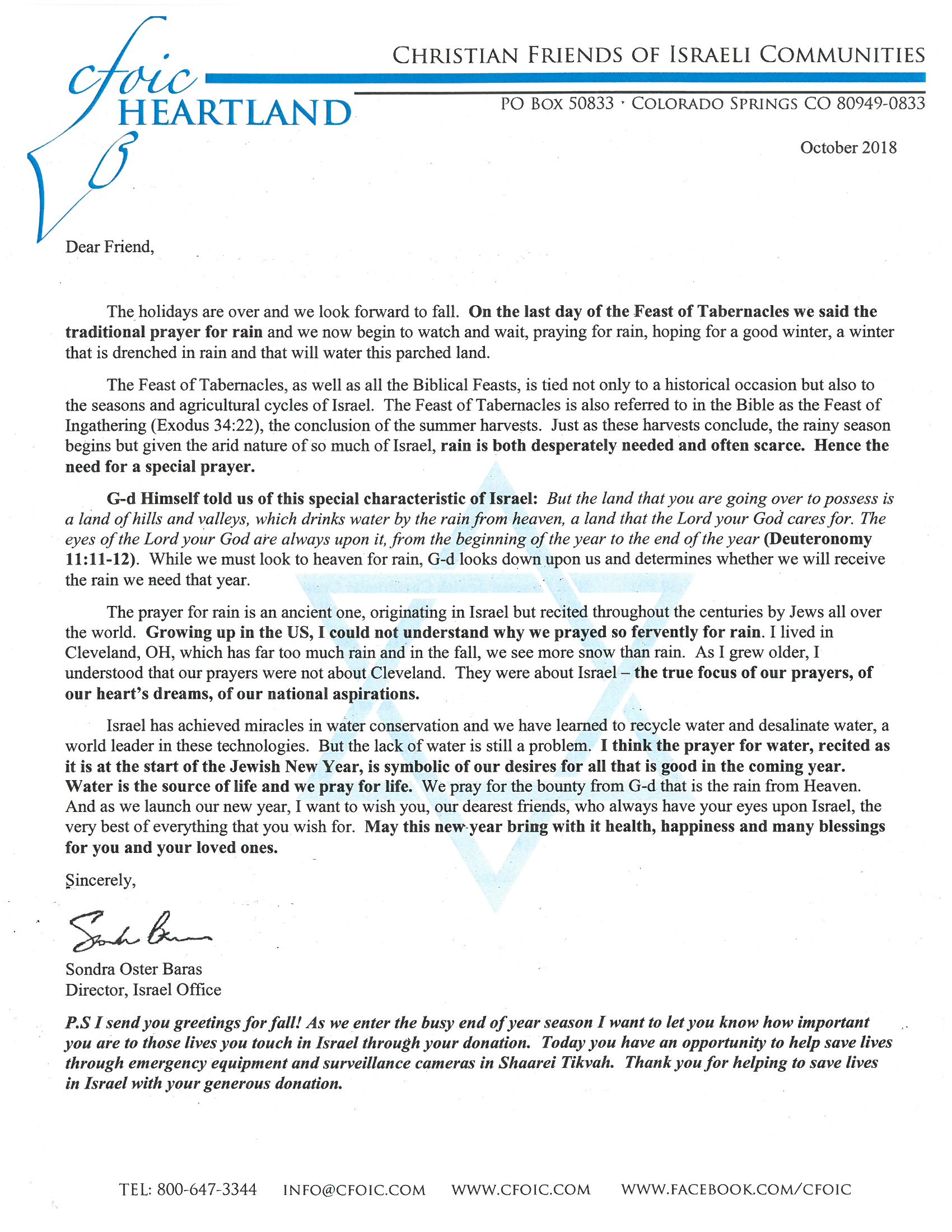 Dear Friend ,
The holidays are over and we look forward to fall.  On the last day of the Feast of Tabernacles we said the traditional prayer for rain and we now begin to watch and wait, praying for rain, hoping for a good winter, a winter that is drenched in rain and that will water this parched land.
The Feast of Tabernacles, as well as all the Biblical Feasts, is tied not only to a historical occasion but also to the seasons and agricultural cycles of Israel.  The Feast of Tabernacles is also referred to in the Bible as the Feast of Ingathering (Exodus 34:22), the conclusion of the summer harvests.  Just as these harvests conclude, the rainy season begins but given the arid nature of so much of Israel, rain is both desperately needed and often scarce.  Hence the need for a special prayer. 
G-d Himself told us of this special characteristic of Israel:  But the land that you are going over to possess is a land of hills and valleys, which drinks water by the rain from heaven, a land that the Lord your God cares for. The eyes of the Lord your God are always upon it, from the beginning of the year to the end of the year (Deuteronomy 11:11-12).  While we must look to heaven for rain, G-d looks down upon us and determines whether we will receive the rain we need that year.
The prayer for rain is an ancient one, originating in Israel but recited throughout the centuries by Jews all over the world.  Growing up in the US, I could not understand why we prayed so fervently for rain. I lived in Cleveland, OH, which has far too much rain and in the fall, we see more snow than rain.  As I grew older, I understood that our prayers were not about Cleveland.  They were about Israel – the true focus of our prayers, of our heart's dreams, of our national aspirations. 
Israel has achieved miracles in water conservation and we have learned to recycle water and desalinate water, a world leader in these technologies.  But the lack of water is still a problem.  I think the prayer for water, recited as it is at the start of the Jewish New Year, is symbolic of our desires for all that is good in the coming year.  Water is the source of life and we pray for life.  We pray for the bounty from G-d that is the rain from Heaven.  And as we launch our new year, I want to wish you, our dearest friends, who always have your eyes upon Israel, the very best of everything that you wish for.  May this new year bring with it health, happiness and many blessings for you and your loved ones.
Sincerely,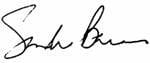 Sondra Oster Baras
Director, Israel Office
P.S.  I send you greetings for fall! As we enter the busy end of year season I want to let you know how important you are to those lives you touch in Israel through your donation.  Today you have an opportunity to help save lives through emergency equipment and surveillance cameras in Shaarei Tikvah.  Thank you for helping to save lives in Israel with your generous donation.
[:de]lieber Freund,
Die großen Feiertage sind vorbei und wir blicken dem Herbst entgegen. Am letzten Tag des Laubhüttenfestes beteten wir das traditionelle Geben für Regen und jetzt warten und hoffen wir, dass es regnet. Wir hoffen auf einen guten und regenreichen Winter, der das ausgetrocknete Land bewässert.
Das Laubhüttenfest bezieht sich wie all die anderen biblischen Feste nicht nur auf ein historisches Ereignis, sondern auch auf die Jahreszeiten und landwirtschaftliche Zyklen Israels. Das Laubhüttenfest wird in der Bibel als Erntefest, den Abschluss der Sommerernten, bezeichnet (2.Mo.34,22). Und wenn die Ernte abgeschlossen ist, beginnt die Regensaison. Wegen dem trockenen Klima in Israel wird Regen dringend benötigt und ist oft sehr knapp. Deshalb gibt es auch ein besonderes Gebet für Regen.
Gott selbst nennt und diesen speziellen Charakter Israels: "Das Land, in das du kommst, es einzunehmen … hat Berge und Auen, die der Regen vom Himmel tränkt, – ein Land, auf das der HERR, dein Gott, achthat und die Augen des HERRN, deines Gottes, immerdar sehen vom Anfang des Jahres bis an sein Ende" (5.Mo.11,10-12). Während wir für Regen zum Himmel blicken müssen, schaut Gott herunter auf uns und entscheidet, ob wir den Regen bekommen, den wir dieses Jahr benötigen.
Das Gebet für Regen ist sehr alt, entstanden in Israel, aber durch die Jahrhunderte von Juden auf der ganzen Welt gebetet. Aufgewachsen in den USA, konnte ich nicht verstehen, warum wir dieses Gebet so eifrig gebetet haben. Ich lebte in Cleveland, Ohio, wo es zu viel Regen gibt und im Herbst sehen wir dort schon mehr Schnee als Regen. Als ich älter wurde, verstand ich, dass unsere Gebete nicht für Cleveland waren. Sie waren für Israel – den wirklichen Fokus unserer Gebete, unseren Herzenstraum und nationale Sehnsucht.
Israel hat in der Wassererhaltung Wunder vollbracht und wir sind weltweit führend beim Wasserrecycling und bei der Meerwasserentsalzung. Trotzdem ist der Wassermangel immer noch ein Problem. Aber ich denke, das Gebet für Wasser, gesprochen am Start des jüdischen neuen Jahres, ist symbolisch für unsere Wünsche für alles Gute im kommenden Jahr. Wasser ist die Quelle des Lebens und wir beten für Leben. Wir bitten Gott um Großzügigkeit, das ist der Regen vom Himmel.
Und am Beginn unseres neuen Jahres möchte ich Ihnen, unseren liebsten Freunden, die ihre Augen immer auf Israel richten, das Beste von allem wünschen, was Sie sich wünschen. Möge dieses neue Jahr Gesundheit, Glück und viel Segen für Sie und alle Ihre Lieben bringen.
Mit herzlichen Grüßen,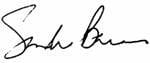 Sondra Oster Baras
Directeur[:nl]Beste Vriend,
De feestdagen zijn voorbij en we kijken vooruit naar de herfst. Op de laatste dag van het Loofhuttenfeest zeiden we het tarditionele gebed voor de regen en nu beginnen we te kijken en te wachten, hopend op regen, op een goede winter, een winter die gedrenkt is in regen en die dit verdroogde land water zal geven.
Loofhutten is als alle andere Bijbelse feesten niet alleen maar gebonden aan een bepaalde historische gebeurtenis maar ook aan de seizoenen en aan kring van landbouw die door het jaar loopt. Het feest van Loofhutten is in de Bijbel ook het feest van de inzameling (Exodus 34:22), het einde van de zomeroogsten. En net als deze oogsten hun einde nemen, begint het regenseizoen. Maar gezien de dorre natuur van een groot deel van Israël is regen ook zo nodig en  vaak zo schaars. Daarom de noodzaak van een bijzonder gebed.
G-d Zelf vertelde ons over dit bijzondere karakter van Israël: Maar het land waar u heengaat om het in bezit te nemen is een land heuvels en dalen, dat water drinkt door de regen van de hemel, een land waar de Here uw God voor zorgt. De ogen van de Here uw God zijn er voortdurend op gericht, van het begin van het jaar tot aan het einde van het jaar (Deuteronomium 11:11-12). Terwijl wij naar de hemel kijken voor regen, kijkt G-d naar beneden en beslist of we de regen zullen ontvangen die we dat jaar nodig hebben.
Het gebed om regen is een oud gebed, het is ontstaan in Israël maar wordt door de eeuwen heen door Joden in heel de wereld gebeden. Toen ik opgroeide in de VS, kon ik niet begrijpen waarom ze zo vurig om regen baden. Ik woonde in Cleveland (Ohio), dat veel te veel regen krijgt en in de herfst zien we meer sneeuw dan regen. Maar toen ik ouder werd, begreep ik dat onze gebeden niet over Cleveland gaan. Ze gingen over Israël, de echte focus van onze gebeden, van de dromen van ons hart, van onze nationale aspiraties.
Israël heeft wonderen verricht als het gaat om waterhuishouding en we hebben geleerd op het water opnieuw te gebruiken en te ontzilten, we zijn een wereldleider in deze technologieën. Maar het gebrek aan water is nog steeds een probleem. Maar ik denk ook dat het gebed om water, uitgesproken aan het begin van het Joodse Nieuwe Jaar, symbool staat voor onze wensen voor alles wat goed is in het komende jaar. Water is de bron van leven en we bidden om leven. We bidden om het geschenk van God wat de regen van de Hemel is. En als we ons nieuwe jaar binnen gaan, wil ik jullie  het beste toewensen, onze beste vrienden, die altijd hun ogen op Israël gericht hebben, het beset van alles waar jullie naar verlangen. Moge dit nieuwe jaar gezondheid, geluk en veel zegeningen voor u en uw geliefden meebrengen.
Hoogachtend,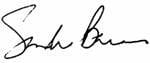 Sondra Oster Baras
Directeur[:]