[:en]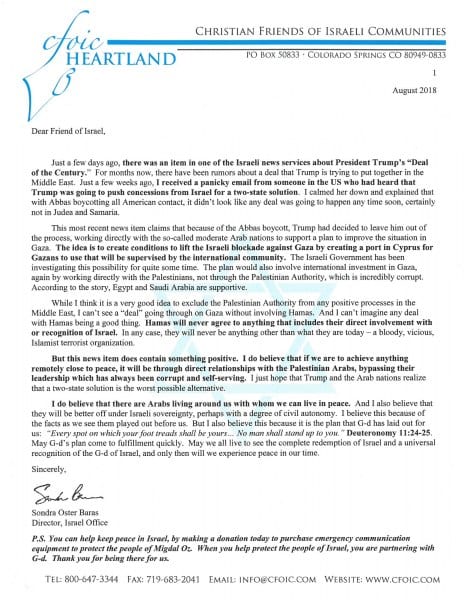 Dear Friend of Israel,
Just a few days ago, there was an item in one of the Israeli news services about President Trump's "Deal of the Century."  For months now, there have been rumors about a deal that Trump is trying to put together in the Middle East.  Just a few weeks ago, I received a panicky email from someone in the US who had heard that Trump was going to push concessions from Israel for a two-state solution.  I calmed her down and explained that with Abbas boycotting all American contact, it didn't look like any deal was going to happen any time soon, certainly not in Judea and Samaria.
This most recent news item claims that because of the Abbas boycott, Trump had decided to leave him out of the process, working directly with the so-called moderate Arab nations to support a plan to improve the situation in Gaza.  The idea is to create conditions to lift the Israeli blockade against Gaza by creating a port in Cyprus for Gazans to use that will be supervised by the international community.  The Israeli Government has been investigating this possibility for quite some time.  The plan would also involve international investment in Gaza, again by working directly with the Palestinians, not through the Palestinian Authority, which is incredibly corrupt.  According to the story, Egypt and Saudi Arabia are supportive.
While I think it is a very good idea to exclude the Palestinian Authority from any positive processes in the Middle East, I can't see a "deal" going through on Gaza without involving Hamas.  And I can't imagine any deal with Hamas being a good thing.  Hamas will never agree to anything that includes their direct involvement with or recognition of Israel.  In any case, they will never be anything other than what they are today – a bloody, vicious, Islamist terrorist organization.
But this news item does contain something positive.  I do believe that if we are to achieve anything remotely close to peace, it will be through direct relationships with the Palestinian Arabs, bypassing their leadership which has always been corrupt and self-serving.  I just hope that Trump and the Arab nations realize that a two-state solution is the worst possible alternative.
I do believe that there are Arabs living around us with whom we can live in peace.  And I also believe that they will be better off under Israeli sovereignty, perhaps with a degree of civil autonomy.  I believe this because of the facts as we see them played out before us.  But I also believe this because it is the plan that G-d has laid out for us:  "Every spot on which your foot treads shall be yours… No man shall stand up to you." Deuteronomy 11:24-25.  May G-d's plan come to fulfillment quickly.  May we all live to see the complete redemption of Israel and a universal recognition of the G-d of Israel, and only then will we experience peace in our time.
Sincerely,
Sondra Oster Baras
Director, Israel Office
P.S. You can help keep peace in Israel, by making a donation today to purchase emergency communication equipment to protect the people of Migdal Oz.  When you help protect the people of Israel, you are partnering with G-d.  Thank you for being there for us.
Liebe/r Freund,
vor ein paar Tagen gab es einen Bericht in den israelischen Medien über Präsident Trumps "Abkommen des Jahrhunderts". Seit Monaten gibt es Gerüchte über ein Abkommen, das Versucht den Nahen Osten zusammenzubringen. Vor wenigen Wochen erhielt ich von jemand aus den USA eine angstvolle E-Mail, der gehört hatte, Trump würde von Israel Zugeständnisse für eine Zweistaatenlösung fordern. Ich beruhigte die Person und erklärte, dass solange Abbas jeden Kontakt mit den USA boykottiert, eine Zweistaatenlösung nicht so schnell kommen würde.
In dem erwähnten Medienbericht hieß es, dass aufgrund des Boykotts von Abbas Trump entschieden hätte, ihn aus dem Friedensprozess auszuklammern und direkt mit den sogenannten moderaten arabischen Staaten zu verhandeln, um die Situation in Gaza zu verbessern. Die Idee ist, für die Menschen einen Hafen in Zypern zu bauen, der unter internationaler Überwachung steht und die israelische Blockade des Gazastreifens überflüssig machen würde. Israels Regierung prüft diesen Plan seit einiger Zeit. Der Plan sieht internationale Investitionen in Gaza vor, dies aber in direkter Zusammenarbeit mit den Palästinensern, ohne die palästinensische Autonomiebehörde (PA), welche unglaublich korrupt ist. Ägypten und Saudi Arabien würden dies unterstützen, so der Bericht.
Während ich denke, dass es gut ist, die PA von jedem Fortschritt im Nahen Osten auszuschließen, glaube ich, dass es kein Abkommen über den Gazastreifen geben wird ohne die Hamas. Und ich kann mir nicht vorstellen, dass ein Abkommen mit Hamas eine gute Sache wäre. Hamas wird keiner Vereinbarung zustimmen, die eine Anerkennung Israels bedeutet. Sie bleibt, was sie heute ist: eine blutige, rücksichtslose islamistische Terrororganisation.
Aber diese Nachrichten enthalten etwas Positives. Ich glaube, dass wenn wir etwas erreichen, was uns dem Frieden näher bringt, wird es durch eine direkte Beziehung zu den palästinensischen Arabern geschehen, unter Ausschluss ihrer Führerschaft, die immer korrupt und selbstbedienerisch war. Ich hoffe, Trump und die arabischen Staaten erkennen, dass eine Zweistaatenlösung die schlechteste Alternative ist. Es gibt um uns herum Araber, mit denen wir in Frieden leben können und ich glaube, dass sie es besser unter israelischer Souveränität haben, vielleicht unter einer Art ziviler Autonomie.
Ich glaube das aufgrund der Fakten, die sie uns  vor unseren Augen liefern. Ich glaube auch, dass es der Plan Gottes für uns ist: "Jeder Ort, auf den eure Fußsohle treten wird, wird euch gehören … Kein Mensch wird vor euch bestehen (5.Mo.11,24.25)  Möge Gottes Plan sich bald erfüllen. Mögen wir alle die volle Erlösung Israels und eine universelle Anerkennung des Gottes Israels miterleben. Und erst dann werden wir Frieden in unserer Zeit erleben.
Mit herzlichen Grüßen,
Sondra Oster Baras
Directeur
Beste vriend,
Een paar dagen geleden was er een onderwerp op een van de Israëlische nieuwszenders over President Trump's 'Overeenkomst van de eeuw'. Het is al maanden zo, dat er geruchten gaan over een overeenkomst die Trump probeert te sluiten over het Midden-Oosten. Nog maar een paar weken geleden kreeg ik een paniekerige email van iemand uit de Verenigde Staten die gehoord had dat Trump van plan was om bij Israël concessies af te dwingen voor een twee-staten-oplossing. Ik probeerde haar wat te kalmeren en legde uit dat zolang Abbas elk contact met de Amerikanen boycot, het er niet naar uitzag dat er wat voor overeenkomst ook binnen afzienbare tijd gesloten zou worden, zeker niet in Judea en Samaria.
Dit recente nieuwsonderwerp beweerde dat, vanwege de boycot van Abbas, Trump had besloten hem dan maar buiten het proces te laten en direct zaken te doen met de zogenaamde gematigde Arabische landen en een plan te steunen om de situatie in Gaza te verbeteren. Het idee is om voorwaarden te scheppen om de Israëlische blokkade van Gaza op te heffen door een haven voor de inwoners van Gaza te creëren in Cyprus die onder contrale zou moeten komen van de internationale gemeenschap. De Israëlische regering onderzoekt deze mogelijkheid al geruime tijd. Het plan zou ook internationale investeringen betreffen in Gaza, alweer door direct samen te werken met Palestijnen en niet via de Palestijnse Autoriteit, die ongelofelijk corrupt is. Volgens het verhaal zouden Egypte en Saoedi-Arabië het idee steunen.
Ik denk dat het een erg goed idee is om de Palestijnse Autoriteit van elk positief proces in het Midden-Oosten uit te sluiten, zie ik niet in hoe je een overeenkomst kunt sluiten over Gaza zonder Hamas daarbij te betrekken. En ik kan me gaan overeenkomst met Hamas voorstellen    die je goed zou kunnen noemen. Hamas zal nooit instemmen met iets dat haar directe erkenning van Israël met zich meebrengt. In elk geval zullen ze nooit iets anders zijn dan wat ze nu zijn: een bloedige en verdorven Islamitische terroristische organisatie.
Maar dit nieuwsonderwerp heeft toch iets positiefs in zich. Ik geloof echt als we iets wat lijkt op een vrede willen bereiken, we het moeten doen door directe contacten met de Palestijnse Arabieren, en hun leiderschap moeten omzeilen dat altijd al zo corrupt is geweest en bezig om zichzelf te dienen. Ik hoop dat Trump en de Arabische landen zullen beseffen dat een twee-staten-oplossing het meest slechte scenario is. Ik geloof dat er Arabieren zijn die in onze omgeving met wie we echt in vrede kunnen leven. En ik geloof ook dat zij beter af zullen zijn onder Israëlisch bestuur misschien met een vorm van civiele autonomie. Ik geloof dat omdat ik kijk naar de dingen die om ons heen gebeuren. Maar ik geloof het ook omdat het Gods plan is dat Hij voor ons heeft neer gelegd: 'Elke plek waar u uw voeten zult zetten, zal van u zijn….niemand zal voor u standhouden'(Deut. 11:24-25). Moge Gods plan spoedig tot vervulling komen en mogen we allen in leven zijn om de vokomen verlssoing van Israël te aanschouwen en de weeldwijde erkenning van de God van Israël. Alleen dan zullen we vrede kennen in onze dagen.
Hoogachtend,


Sondra Oster Baras
Directeur