My friend and neighbor, Lenny, is back at work this week after taking off for the week-long Passover holiday.  Lenny is the creator, owner, manager and chief baker for his bakery, here in Karnei Shomron, and Passover, with its strict and inherent prohibitions against eating leavened bread, gives him a forced vacation!  But during the weeks before Passover, his bakery was very popular in our community.  Homemakers were trying to rid their homes of every crumb of "chametz"- any and every leavened particle – and entertain (and feed) their children who were already on school break before the holiday.
The bakery was the obvious choice to feed the family, without bringing the leavened mess into the house.  Lenny offered sandwiches on bagels, whole wheat rolls, and pita, and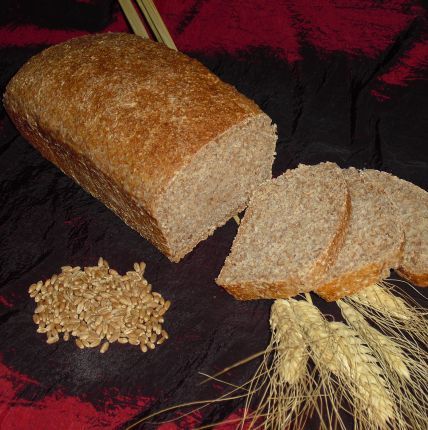 baked mushroom onion quiches and Hungarian potato sambusak. We were welcome to send the family over to eat in the gazebo, under the shade of a weeping willow, right outside their backyard bakery.  The night before the Pesach holiday began, I had already made my whole kitchen Kosher for Passover and had even started cooking for the special holiday meals.  We ordered a lovely dinner from Lenny and ate it, picnic style, on my den floor, on a plastic tablecloth which we rolled up and threw neatly in the trash.
Lenny also cleverly offered pre-Passover children's workshops.  Matzah replaces bread for the whole holiday so it was fun to focus on bread before the restrictions began.  He offered workshops exploring the secrets and mystique of French and Italian baking. Participants got to prepare and bake their own baguettes and focaccia, and then eat what they prepared.  Last summer I took my mother and children to one of his workshops titled The Circle of Life – we saw how our ancestors baked, and we learned about the birth of a bagel and donut.  We learned about the history of the uniquely Jewish bagel, learned the process of creating them and then got to take home and eat all the products we made!  The best part, though, was seeing the obvious love Lenny had for what he did.  A joy to behold!
Lenny wasn't always a baker.  He moved to Israel from Johannesburg, South Africa in 1985. Years later, he moved to Karnei Shomron with his wife and their children.  When I first met him, he was a self-made hi-tech freelancer.  For over twenty years he worked in the field, understanding that it was a good profession for providing for his family.
But he always loved baking.   His mother was a baker and caterer and to Lenny, it was the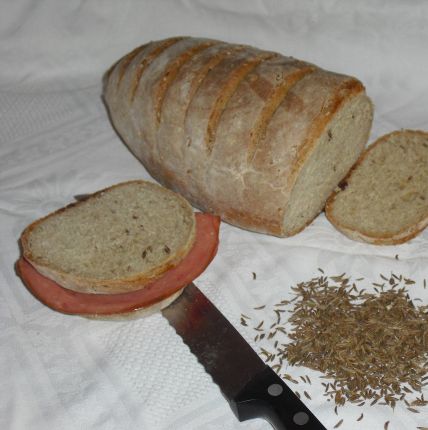 most normal thing in the world to have the house smelling wonderful from home baked goods.  He told me that he was the kid who knew how to make meringue pies and napkin creations at a very young age.  But he didn't experiment with bread baking until he was thirteen. He tells the story of when he was in sixth grade. His Talmud teacher came in one day and instead on opening the heavy volume tractate to continue their studies, he brought in baking utensils! The Rabbi proceeded to give them a lesson on how to bake whole wheat bread.  That day began Lenny's obsession with and love for bread baking and nutrition. He started running for his health and even today, nearing the age of 50, you can see Lenny jogging through the streets of Karnei Shomron and he has run in our local marathons.
At the age of 46, in the year 2008, Lenny decided it was time to leave the field of computers and follow his dream.  He knew his passion needed to be backed with some professional expertise and went to study baking at the San Francisco Baking Institute.  And then, with a lot of prayers and support from his wonderful family, he jumped right in and decided to turn his hobby into a career. He opened his own bakery in Karnei Shomron, in the garden behind his home.  This was going to be an artisan bakery where everything was hand-made, with a minimum of modern machinery.
The focus is an enormous brick oven, built by Lenny himself. He researched the type of masonry and the ways to fire the oven and constructed this masterpiece from Belgian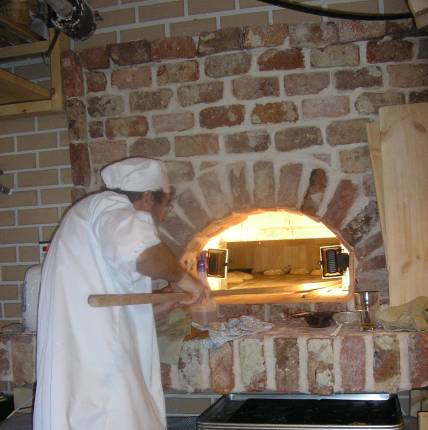 bricks, with a massive stone hearth.  Lenny prides himself on grinding the flour he uses, every day, using natural yeast, slow kneading and fermentation.  When people come in to buy things in the charming shop right outside the kitchen, he always offers to show off this work of art that combines age-old initiative and modern technology.
I envy Lenny, in a way, because his profession keeps him close to Jewish tradition and helps with the observance of the Jewish calendar.  Bread has a very special place in Judaism.  Bread, in
Judaism, represents actual sustenance, as it is the basic necessity for survival. For this reason, when sitting down to a meal with bread, we ritually wash our hands, and then recite the proper blessing before eating the bread. We wash our hands because bread is so vital to our lives… even holy. A meal with bread concludes with the Grace after Meals.  Even if we eat bread, not as a sit-down meal, one is required to wash, recite the blessing and say the Grace after Meals when finished. Bread is on such a high level, that when the blessing over bread is made, it is no longer necessary to make individual blessings over the other foods of that meal! Every Shabbat and holiday meal begins with the ritual hand washing before making the blessing over and eating the special challah loaves.
What a joy that Lenny gets to bake hundreds of challah loaves every week for people to enjoy at their Shabbat tables and for every special Jewish holiday. And last month, in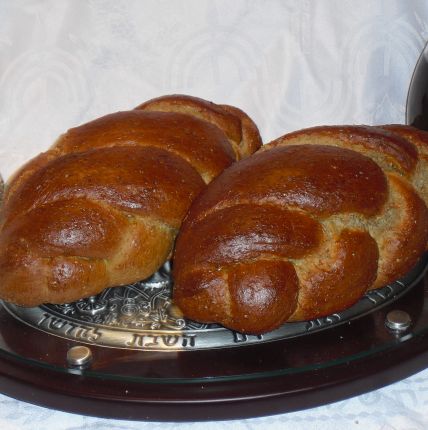 honor of the Jewish festival of Purim, Lenny baked "hamantaschen", the traditional three cornered pastries with a recipe his grandmother had brought to South Africa from Russia in 1904 and he brought to Israel! He also gets to stay close and true to Jewish tradition, even providing the many local Ashkenazi American immigrants with their beloved New York deli rye bread and bialys.
It wasn't easy. Lenny was looking forward to the simpler, slower pace, the nostalgia involved in spending your days, wrist deep in sourdough and not behind a computer screen.  But he wasn't prepared for all the business entrepreneurship needed.  He needed to speed up his process, research ingredients, and maintain a hygienic workplace. He wasn't just baking for his family any more. Their savings and capital were quickly used up and marketing became as important as production… basically, letting people know about the incredible products he had created.
Lenny's internet site is full of his interesting and original ideas about baking, and he offers articles on topics like "Jewish Bread: Legends, Facts and Myths" or "Challah Braiding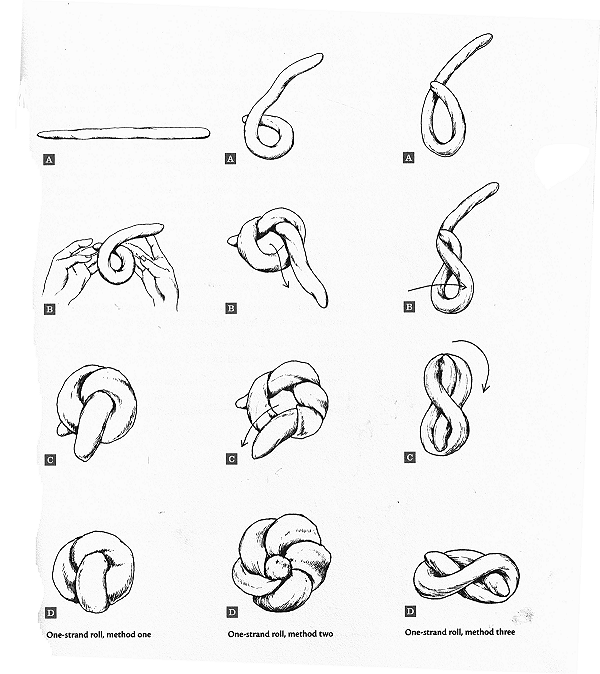 Techniques".  One of his most innovative products is his Rambam Bread, named after Rambam—Maimonides, the famous Jewish philosopher.  Rambam was a court physician to Saladin and his works on nutrition and medicine are the basis for modern medicine and a healthy way of life, even today.  Lenny read the Rambam's principles on bread and follows his guidelines, grinding the organic whole wheat flour, including the whole kernel, the wheat germ and the bran, offering his customers an authentic, low-gluten delicious healthy loaf.
Lenny is constantly reevaluating and initiating and today the bakery has really taken off.  It is a true family business in every sense of the word.  His wife, my friend Sherry, keeps the books and handles logistics.  More importantly, she graciously allows his flour sifter, challah orders and customers to overflow into her dining room.  Lenny's mother is in charge of the cookies and confectionery.  They are an incredible family, dealing with the crazy 14 hour days, the pressure of being self-employed, the invaded privacy, with poise and good cheer.  But, as Lenny says, he is always home and he gets to be with his wife and kids, being an in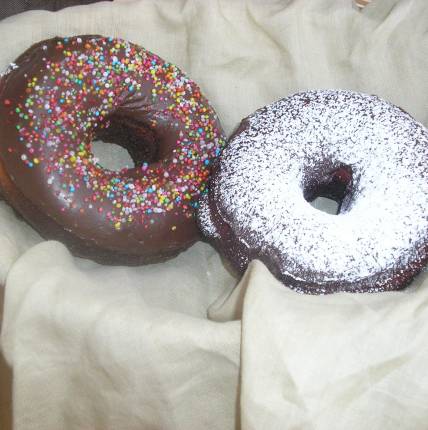 volved part of their every day.  He is exceptionally modest, and is also an extremely talented gardener, composer, builder and artist.  Lenny is one of the most soft-spoken, calm, unruffled personalities I have ever met. But he obviously has a will of steel and a stubbornness that kept him pushing for his beloved bakery to take off.  His family gets to see and appreciate a wonderful work ethic of honesty, perseverance and hard labor.  And so does the whole community of Karnei Shomron.
Shalom,