Partnering together for Israels 70th Anniversary.
Spring 2018
I cannot think of a better gift to the State of Israel on her 70th anniversary than ensuring her strong future. This is exactly what CvI Holland did this year, partnering with CFOIC Heartland to help the Bet Hagai Youth Village. Rev. Henk Poot explains: "We, the staff and leadership at CvI, decided to raise funds as a present for the State of Israel. Sondra gave me a few suggestions of what we could do and what would fit the amount of money we were considering. I chose Bet Hagai because it made a deep impression on me personally."
Henk had visited the youth village years earlier. "I remember well my first trip to Bet Hagai during the Intifada. I saw boys studying and working in the metal workshop and just outside there were blocks of cement to protect them from the nearby Arab towns." Unfortunately, the community of Bet Hagai has seen its share of tragedy. It was established in 1984 by a group of young men and women in memory of three friends who were slain by terrorists in Hebron. Determined to perpetuate the love and devotion their three friends held for the Land of Israel, they used the acronym of their friends' names for the name of the new community.
The people of Bet Hagai sought to make a significant contribution to Israeli society by reaching out to young boys and teenagers from broken homes and providing them with a loving, supportive and religious atmosphere, to give them a chance to become responsible, productive and healthy adults. They founded the Bet Hagai Youth Village, a residential facility which provides basic schooling and occupational training for at-risk boys. Mentored by rabbis, these boys study Bible and religious law, providing them with the spiritual tools they need to thrive. The youth village not only looks after the emotional and spiritual well-being of the boys, but also their physical needs.
The village encompasses six group homes with house parents. The loving staff made an immediate impression on Poot. "I admire the young couples and families who give up their privacy to make these houses into homes for the boys." These boys are often broken in spirit when they come to Bet Hagai, but the youth village enables them to enter adulthood with hope and a healing of their souls. "For a lot of young boys," continues Poot, "this is the very last chance they have, and the staff of Bet Hagai helps them get accepted into the army and streamlined into Israeli society. They do a very good job!"
About a year and a half ago, Henk and his wife Harriet visited the Bet Hagai Youth Village with CFOIC Heartland Director Sondra Baras. They were hosted by Joe Burnley, CFO of the youth village. Joe told them about the immediate needs of the youth village, especially the need to furnish and equip one of the family homes. Burnley recalls, "Help seemed far away, but the Poots were determined to make it happen." Then last May, the CvI Dutch board visited the youth village and the staff mentioned the need to refurbish the kitchen and dining room.
CvI Holland decided to help Bet Hagai, and help they did! Throughout the year, CvI Holland published the real life stories of boys from Bet Hagai in their monthly newspaper. This helped give the project a face. Henk recalls, "There was a story about a boy with a handicap who was abandoned as a very young child by his parents and who found a new home at the Bet Hagai Youth Village. The youth village also paid for any operations he needed, and thanks to their help, he is now a grown man with children himself."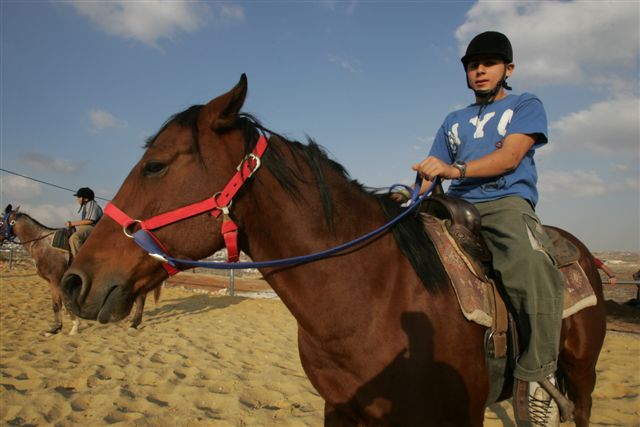 These human interest stories gave people a sense of the amazing work being done at the youth village. "We heard stories about boys who were dropped there by Social Services with hardly any clothes. There were boys who, for the first time in their lives, were experiencing orderly family meals, who learned to clean their rooms and make their beds." These monthly articles put Bet Hagai at the forefront of CvI Holland's amazing Israel work and created enthusiastic support for the project.
CvI Holland supporters were touched by the incredible stories of triumph they read about each month, and gave generously. But the children and staff of Bet Hagai were even more moved by the remarkable support provided by CvI Holland. Joe was ecstatic with the donation they received. "We are now in the midst of renovating one of the family homes, purchasing beds, closets, furniture, and we are just about to start the renovations on our kitchen and dining room. This is all thanks to an idea that Henk had a year and a half ago, and today we are reaping the amazing benefits of it all!" "
I know there are so many important needs in Israel. It warms my heart to know that CvI Holland has chosen to support us, making it a point to stand with the people of Judea and Samaria. Thank you CvI! Thank you CFOIC Heartland!"