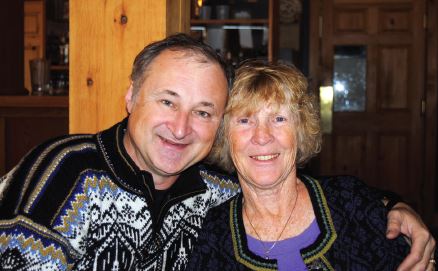 Pastor Rudy Fidel is a Canadian with an enormous heart for Israel. He visited Israel for the first time in 1986 with Dr. Ingrid Bergner, then pastor of Faith Temple in Winnipeg. Dr. Bergner visited Israel in 1967, just two weeks before the Six Day War and returned seared with a passion for this holy land. And her visit came at a time of great fear and tension in the Land followed by the jubilation of victory after the Six Day War. It was Bergner who mentored Rudy through his long years at Faith Temple, and Rudy inherited the leadership of the church after she passed away. But he not only undertook the leadership of the church – he undertook the mantle of leading groups to Israel.
Rudy has been to Israel 18 times and is planning another trip this coming fall. But his devotion to Israel begins with his love for the Jewish people, and that love, in turn, was a direct result of his personal decision to follow God. "It was God who put that desire and love in me, who empowered me to follow His word and His Torah," explains Fidel. "I have a love for Judaism and I believe it's totally wrong to try to convert Jews to Christianity. We believe in the same word. God was first God to Israel, and now we as Christians have also received the same God as our Redeemer. As Christians we have a duty to serve our older brother, the Jewish people, helping them concerning God's promises towards the Land of Israel." Rudy first experienced anti-Semitism while on a visit in Australia where he was invited to speak about Israel. Someone in the audience became angry with his zeal for Israel, reflecting attitudes of British Israel Replacement Theology. Rudy was incredulous that anyone who reads the Bible could believe that God was done with the Jewish people, that He would renounce the promises He had made to them so many years ago.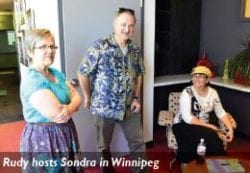 And perhaps it was that brush with anti-Semitism that propelled him to connect with Jewish people all over the world. In 2003, Rudy was visiting Turkey when two synagogues were attacked by Muslim terrorists. Rudy was deeply moved by this event and upon his return to Winnipeg, he celebrated the 50th anniversary of his church by hosting a kosher brunch to which he invited the Winnipeg Jewish community to help raise funds for the Turkish Jewish community. In 2005, Rudy personally delivered the funds raised at that event to the Neve Shalom Synagogue in Istanbul. Rudy serves as the Christian head of the Jewish-Christian Roundtable in Winnipeg and has also helped Jews who are still in Cuba.
But when Rudy becomes most passionate about Jews and Judaism, it is when he begins talking about the Holocaust. For years, Rudy has been involved in Holocaust education in Winnipeg. Rudy's wife, Gina, is of German descent but her parents were always pro-Israel. "They were actually German Christian Zionists. Growing up in Germany, during Hitler's reign, Gina's mother was anti-Hitler, recognized the evil and rejoiced in the fact that Israel was created. It was something they preached."
A life-changing event in Rudy's life was his trip to Poland on a Jewish- Christian Holocaust Education mission. Accompanying them on that trip was a Holocaust survivor named Felix Opatowski and he shared his terrible story with the members of that mission. "Felix and I connected in a very special way on that trip," says Rudy. "We have become like brothers. And I was so honored when Felix asked me to accompany him to Israel last September."
And that trip was a special one indeed. Rudy asked Sondra Oster Baras to guide him and Felix in Judea and they spent a wonderful day together. They visited Gevaot and met with Tamar Heksher, director of the Sadna program for special needs children. "Gevaot really inspired me. You could really tell that the kids were really being helped," notes Rudy. And then they traveled south to Hebron, city of the Patriarchs and Matriarchs and first capital of Israel under King David. "I first visited Hebron in 1986 with Dr. Ingrid Bergner. I had an amazing spiritual experience there, as I envisioned the angels coming to speak to Abraham in the hills of Mamre." When Rudy visited Hebron again with Sondra and Felix, he encouraged Felix to offer a prayer that would express his attachment to the place. For Rudy, Hebron is the key to it all. "It's the burial site of the forefathers and foremothers. Isn't that enough? It is the title deed of the land – Hebron in Judea and the Tomb of Joseph in Samaria."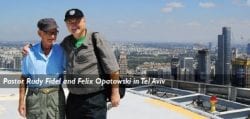 Rudy first became aware of CFOIC Heartland in 2007, when a Jewish friend in Canada put him in touch with Dror Vanunu of the Gush Katif Committee. Rudy was eager to contribute to a worthwhile cause in Israel and his friend recommended the Gush Katif refugees. He visited the temporary Gush Katif refugee area in Nitzan and met Sondra and Dror during that trip. On a subsequent trip to Israel, in 2008, Sondra met Rudy's tour group and introduced them to the work of CFOIC Heartland. A few months later, Rudy hosted Sondra at Faith Temple in Winnipeg where she was able to share her work with Rudy's entire congregation. And Rudy hosted Sondra again in Winnipeg last summer.
"If anything, I feel very honored to have been given the heart for Israel that God gave me. It's nice that there's no agenda because a lot of Christians do have an agenda but that's not a part of me. I just want to work to help the cause of Zion. The
greatest thing is to see Israel fully inhabited. A lot of Jewish lives are in danger. Anti-Semitism is on the rise. If I could help in any way to bring in a small Exodus, to encourage them
to go to Israel, that would fulfill a deep desire of mine." Pastor Rudy's next trip to Israel is planned for this fall and he is hoping to be able to connect with Sondra and CFOIC Heartland at that time. He is praying for enough people to fill his group and we are joining him in that prayer. Pastor Rudy
Fidel is a man on fire for Israel and we want to help him and encourage him in any way we can.