Leave it to Mike Isley to have incorporated a blue and white Menorah and Star of David in his holiday décor this season. At an early age, Mike was introduced to the Jewish culture, and quickly developed a great appreciation and respect for his Jewish brethren.
Mike is a tried and true Texan. Having grown up in Amarillo, he attended West Texas A&M in Canyon. He always loved studying Bible, so when his good friends had the opportunity to study under Biblical scholar Dr. Roy Blizzard at the University of Texas, Mike was all ears. Dr. Blizzard spent much of his time in Israel in study and research, and directed numerous historical and archaeological study seminars there, one of which Mike's friends attended.
Hearing about their extraordinary experiences at an archaeological dig in Israel, Mike longed to visit the holy land. His first trip to Israel was during his college years. He later returned with a church group. This was back in the mid-1980s, and rather than fly into Ben Gurion International Airport, Mike recalls entering into Israel from Jordan, just as the ancient Israelites had done after forty long years in the desert. Mike fell in love with the land the moment he got there. He felt comfortable, and knew he was home. "From that moment on, I knew I was a Zionist," he recalls.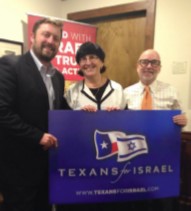 Returning home after this life-changing trip, Mike worked for Texas Congressman Eldon Beau Boulter and continued working in the family business for many years, before selling it. As Mike became more interested in Israel, he read whatever he could get his hands on about the land, and became friendly with two Israel Defense Force soldiers, Jeremy Gimpel and Ari Abramowitz. Out of these relationships grew Texans for Israel, an organization founded by Mike to focus his Israel-related activities. Through Texans for Israel, Mike tells the story of Israel, and supports its people. He maintains, "biblically it's a mandate to support Israel, and the Jewish people, so I do everything I can to support Israel, and get my friends to do the same."
As Mike became increasingly involved with Israel advocacy work, he met CFOIC Heartland Israel Director Sondra Oster Baras, even hosting Sondra at his home in Amarillo. "Sondra
is one of my great heroes." In July, Mike and Sondra spent a lot of time together in Washington DC brainstorming about how to help Israel. The result was the fabulously successful "Taste of Shabbat" dinner, which Mike hosted this past November in Amarillo.
About 130 people were in attendance and applauded thunderously as Sondra Baras, Margy Pezdirtz, and Kim Troup presented the founders of God's Learning Channel, Al and Tommie Copper, with an award for their pioneering work for Israel. Mike credits GLC for so much of his own understanding and enthusiasm for Israel. Sondra has recently begun to teach the weekly Torah portion on GLC and was able to share thoughts about the Torah portion at the Shabbat Dinner as well.
Today, Mike spends much of his time advocating for Israel, all the while continuing to be a successful businessman. He is heavily invested in the United States, while also making it a point to invest more and more in Israel's economy. He gets others to do the same by promoting Our Crowd, a leading equity-based crowdfunding platform, built exclusively for accredited investors to fund or invest in Israeli technology startups. Mike is also a supporter of Israeli wines, having a collection of Shomron, Tishbi, Psagot, and Har Bracha wines in his office on any given day. He goes out of his way to buy and use products from Israel, particularly from Judea and Samaria. He sends Israeli flowers and uses only Israeli olive oil in his kitchen. He feels these are his way of combating the Boycott, Divestments, and Sanctions (BDS) Movement. "We want everyone to buy products from Israel,  particularly from Judea and Samaria."
Mike is not afraid to speak his mind. Although it has become taboo to talk publicly about Judea and Samaria, even in the most pro-Israel circles, Mike does not hesitate. "One of our goals is to teach and tell our Christian friends to support Judea and Samaria. It is the road on which the patriarchs walked. It is the Cave of the Patriarchs bought by Abraham." He stresses, "I love Tel Aviv, and Jerusalem, but I really love Judea and Samaria. There will never be a two-state solution. That is land that God gave to the Jews."
Since his first trip to Israel, Mike has been back nearly twenty times. While there, he splits his time between travel, spending time in Jerusalem, and Judea and Samaria. He is always looking to lend a helping hand. During his last trip Mike traveled with a chiropractor friend who gave free treatment to Israeli soldiers post-Operation Protective Edge. In Samaria he visited friends Tommy and Sherrie Waller of HaYovel, helping harvest grapes in the fields of Har Bracha.
While he was there Sondra joined him, and they all harvested grapes together. "I'm so thankful for what Sondra Baras does. It's a joy to be a part of her work. I'm a blessed person for