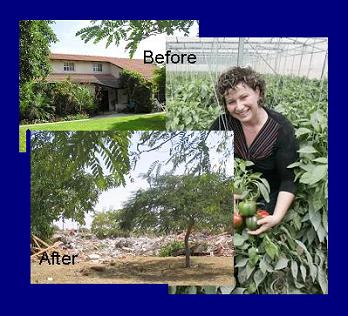 The voice of Gush Katif can be heard from the scattered exile of hotel rooms, dormitories, tent cities and high-rise apartment buildings all over Israel. Not a voice of divisive political mudslinging or baseless hatred, but the strong and mighty "orange" voice of faith, creativity and innovation that made the desert bloom. The voice of Gush Katif can be heard from the small, temporary pre- fabricated home of Laurence and Sylvain Beziz, farmers from Gadid, currently living in Nitzan.
Laurence and Sylvain Beziz were born and raised in France. In 1986, they settled in Gadid, a small farming community in the heart of Gush Katif — to contribute to Israel's future by building a strong community and raising their family imbued with values.
They began with 4 dunams of greenhouses and over time, their farm blossomed. When they were expelled from their home they were working 30 dunams of their own greenhouses and leasing an additional 20. Sylvain became a renowned expert in organic farming, and his expertise is much sought-after. In addition, the family runs an organic product import business and manages an export company for organic produce.
The Beziz family planted more than productive greenhouses in Gadid; they planted their family's roots. Laurence worked in the local health clinic, in the Social Welfare Department and as manager of the local absorption center for new immigrants and, she joined the Katif Development Fund. In her fluent French, English and Hebrew, Laurence greeted visitors to the area and spread the message of these close-knit, productive farming communities.
As a leading spokesperson and representative for the Gush Katif communities, Laurence was on the front line of the struggle against the Disengagement Plan. She met visitors from abroad, and spent hours in vital outreach work in Israel. As the date of the Disengagement Plan approached, the Beziz family found themselves on the ultimate divide. As a member of Gadid's management committee, Sylvain had to make crucial decisions on behalf of the moshav's members. For Laurence, it was simply impossible to conceive of the destruction of everything she treasured. Together with their four children, they decided to move to a small, pre-fabricated temporary home in Nitzan the day before the forced expulsion began. Laurence returned to witness the destruction firsthand: "It was the only way to achieve some sense of closure. Witnessing the physical destruction was the only thing that could make something as outrageous as my whole life coming apart real for me."
Today, the Beziz family is in the final stages of building their home in Beer Ganim, just north of Ashkelon. This is where many of the farming communities from Gush Katif have relocated. Since the expulsion, two of their children have married and Laurence and Sylvain are now grandparents.
In the face of all this, Laurence believes that the true voice of Gush Katif will rise above the anguish, and the "orange" spirit will prevail. "In time, the forces of good will overcome and we will rebuild a stronger, more united Israel. An Israel that will blossom – as it did in Gush Katif – so we can fulfill God's prophecy of the Chosen People returning to settle our Biblical homeland."