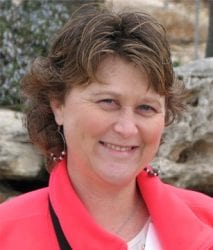 Kimberly Troup was born in California, but moved to rural Kentucky at the age of 7. She was brought up in a Christian home and was home-schooled from 1984 – 1993, a home-school pioneer! From a very young age, her parents imbued her with Christian values which included a deep love of God and a great interest and respect for the Jewish people. The first time Kim actually met a Jew in person was as a young woman, but the truths about God's chosen people that were planted in her since early childhood played a major role in her life-long passion for Israel.
Kim moved to Colorado at the age of 18 to care for her ailing grandmother. In 1996, she moved to Colorado Springs to attend Charis Bible College, from which she graduated with a ministerial license in 1998. She joined Christian Friends of Israeli Communities in March of 1998, as a ministry coordinator, and in 2002, became the director of the US office.
Kim has been on ministry trips to Mexico, England, Ireland, and Scotland and has also traveled several times to Israel, in 2003 as the leader of a CFOIC Heartland tour. In 2011, Kim spent two weeks in Israel on an extensive tour of the communities assisted by CFOIC Heartland.  Since 2013 she has led an annual CFOIC Heartland tour to Israel every March.
Kim is passionate about Israel and committed to the settlement movement. Her faith in God's promises to Israel fuel her passion and initiative as the leader of CFOIC Heartland's North American office. She also shares truths that she has gleaned from God's Word about His people through speaking engagements and articles.
Kim lives in Colorado Springs with her husband Greg and their 3 children.