When COVID-19 descended, it hit the families of the Heart of Benjamin program in Ofra especially hard. If this had been a normal year, the special-needs children of Samaria's Benjamin region would have attended after-school programming and daycare at the Heart of Benjamin campus during the school months, and camps over the summer and during holiday break. Camp counselors and supervisors would mentor and watch over the children and young adults who attend the Heart of Benjamin camps, and activities, games, and exercises would be held in large groups. Special-needs adults live in Heart of Benjamin hostels and work in sheltered employment environments. But not this year. Not during coronavirus.
"For the families of Heart of Benjamin," said Heart of Benjamin's director Shlomit Kahan, "it was an incredibly difficult time." The first wave of lockdowns occurred over the Passover break, and meant that special-needs adults living in Heart of Benjamin hostels had to shelter in place while their sheltered employment was cancelled. They could not be sent home to their parents, even for the holidays, and Heart of Benjamin had to recruit extra staff to supervise them instead of the daytime activities which had been cancelled. Schools for special-needs children closed and the children were home with families struggling to meet their needs. Some parents lost their jobs, others were forced to stay home to care for their special-needs children. Many suffered financially, as Corona imposed a financial burden on families already burdened.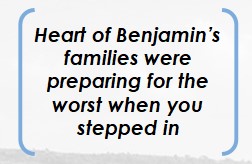 Heart of Benjamin's families were anxiously preparing for the worst when you stepped in. Thanks to the wonderful contributions of you and others like you, Heart of Benjamin was able to buy equipment and arrange activities for their young adult residents during lockdown. To the families that were now confined to their homes with special-needs children (in addition to their own neurotypical children), you provided food vouchers for much-needed groceries. With your help, huge burdens of anxiety were lifted from the shoulders of these Heart of Benjamin families.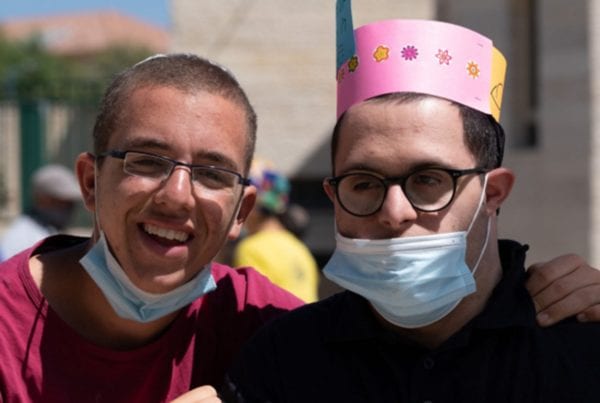 Many thought that the summer camps would have to be cancelled as well, just as the Passover camps had been. But again, you came through: thanks to you, Heart of Benjamin was able to hire extra aids and counselors to assist in a one-of-a-kind summer camp that catered not just to the special needs of their participants, but also to the tough coronavirus restrictions. Volunteer counselors came from all over the country to help out, young Israelis who understood, as you did, how important it was for these special-needs children and young adults to be cared for and occupied during such a stressful period.
You brought love to the most vulnerable members of Israeli society in a time of great need, and their gratitude knows no bounds. "We have no words to thank you for these gifts," said another Heart of Benjamin parent, "From the bottom of my heart, thank you! You are truly messengers of God!"