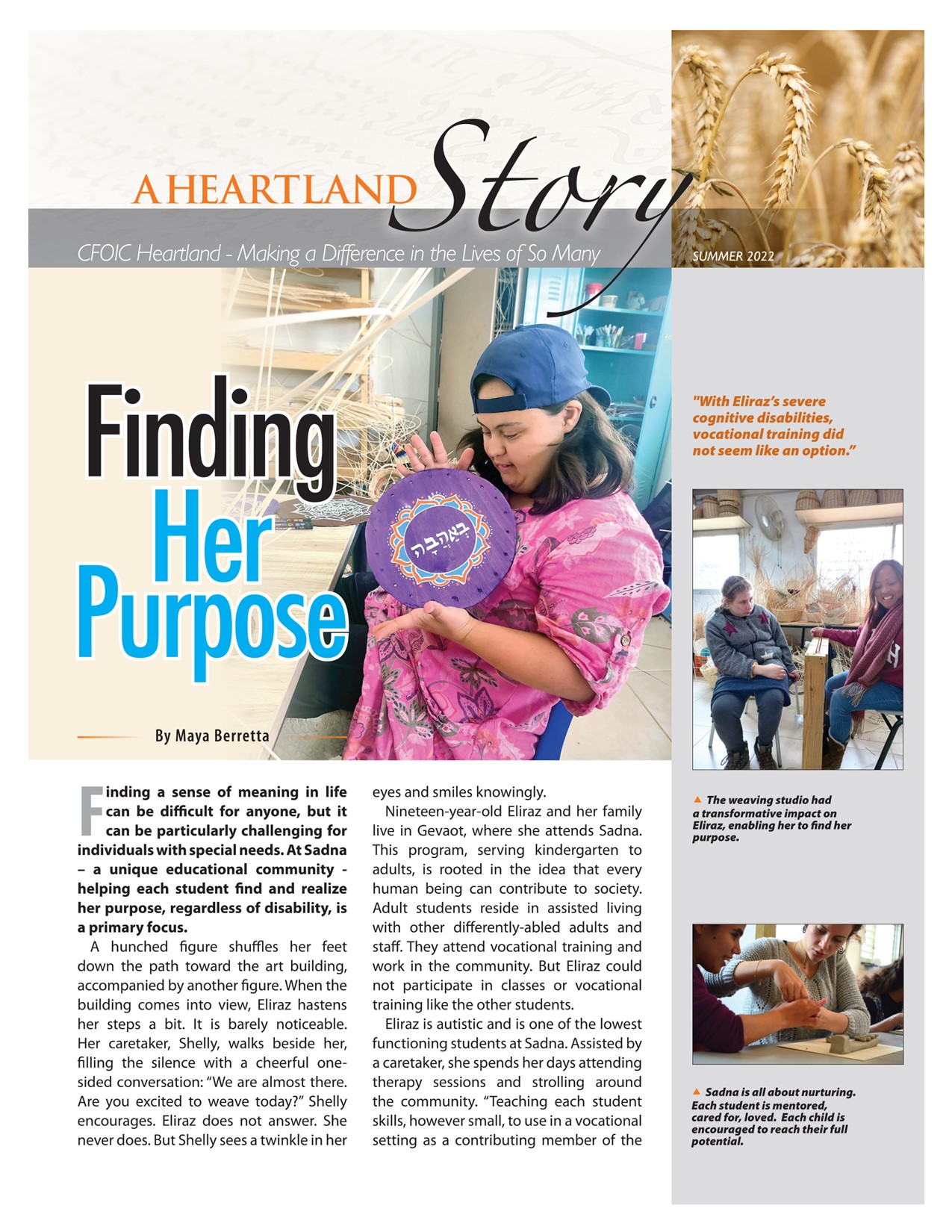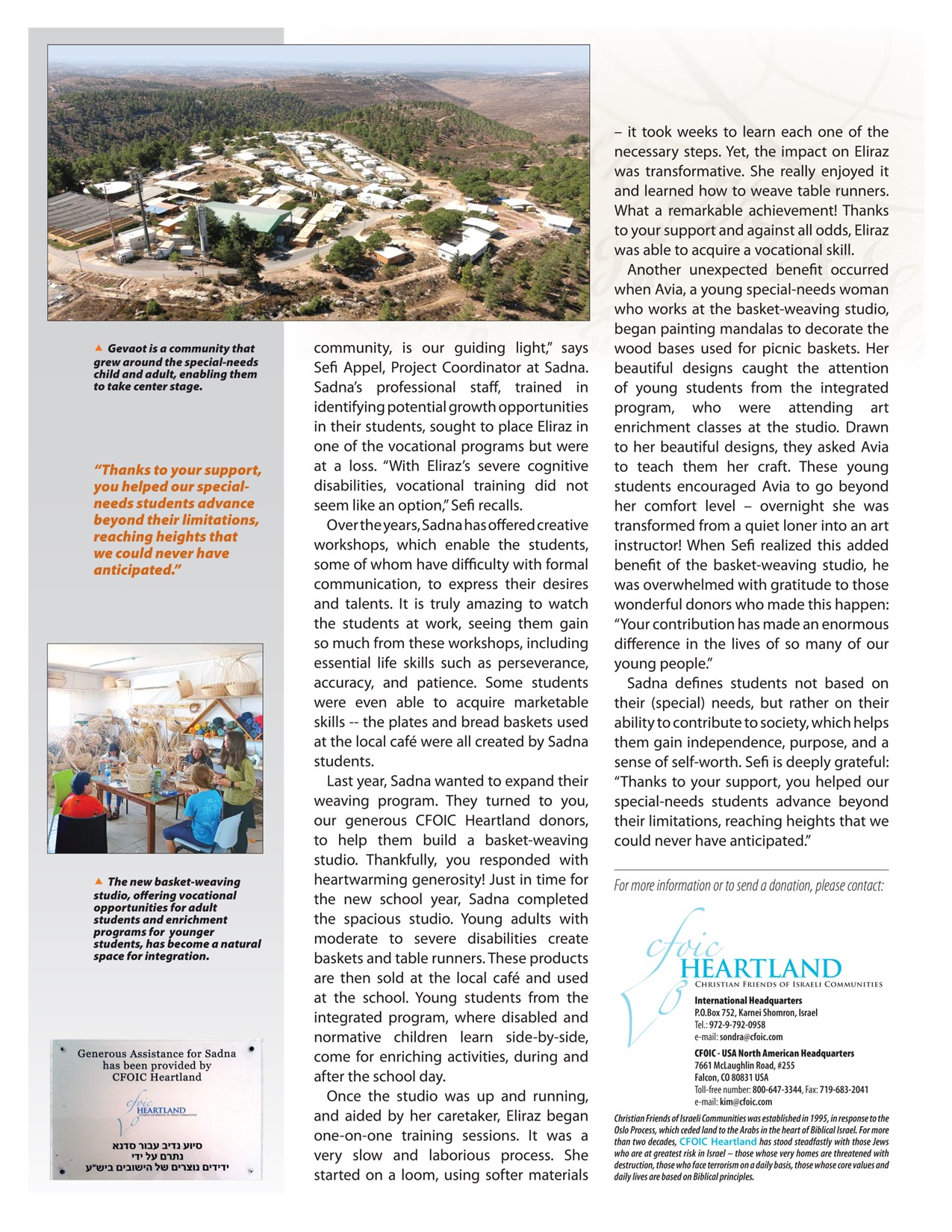 Finding a sense of meaning in life can be difficult for anyone, but it can be particularity challenging for individuals with special needs. At Sadna – a unique educational community- helping each student find and realize her purpose, regardless of disability, is a primary focus. 
A hunched figure shuffles her feet down the path toward the art building, accompanied by another figure. When the building comes into view, Eliraz hastens her steps a bit. It is barely noticeable. Her caretaker, Shelly, walks beside her, filling the silence with a cheerful, one-sided conversation: "We are almost there. Are you excited to weave today?" Shelly encourages. Eliraz does not answer. She never does. But Shelly sees a twinkle in her eyes and smiles knowingly.
Nineteen-year-old Eliraz and her family live in Gevaot, where she attends Sadna. This program, serving kindergarten to adults, is rooted in the idea that every human being can contribute to society. Adult students reside in assisted living with other differently abled adults and staff. They attend vocational training and work in the community. But Eliraz could not participate in classes or vocational training like the other students. 
Eliraz is autistic and is one of the lowest functioning students at Sadna. Assisted by a caretaker, she spends her days attending therapy sessions and strolling around the community. "Teaching each student skills, however small to use in a vocational setting as a contributing member of the community is our guiding light," says Sefi Appel, Project Coordinator at Sadna. Sadna's professional staff, trained in identifying potential growth opportunities in their students, sought to place Eliraz in one of their vocational programs but were at a loss. "With Eliraz's severe cognitive disabilities, vocational training did not seem like an option," Safi recalls.  
Over the years, Sadna has offered creative workshops, which enable students, some of whom have difficulty with formal communication, to express their desires and talents. It is truly amazing, to watch the students at work, seeing them gain so much from these workshops, including essential life skills such as perseverance, accuracy, and patience. Some students were even able to acquire marketable skills-the plates and bread baskets used at the local café were all created by Sadna students.

Last year, Sadna wanted to expand their weaving program. They turned to you, our generous CFOIC Heartland donors, to help them build a basket weaving studio. Thankfully, you responded with heart-warming generosity! Just in time for the new school year, Sadna completed the spacious studio. Young adults with moderate to severe disabilities create baskets and table runners. These products are then sold at the local café and used at the school. Young students from the integrated program, where disabled and normative children learn side-by-side, come for enriching activities during and after the school day.
Once the studio was up and running, and aided by her caretaker, Eliraz began one-on-one training sessions. It was a very slow and laborious process. She started on a loom, using sifter materials -it took weeks to learn each one of the necessary steps. Yet, the impact on Eliraz was transformative. She really enjoyed it and learned how to weave table runners, What a remarkable achievement! Thanks to your support and against all odds, Eliraz was able to acquire a vocational skill.

Another unexpected benefit occurred when Avia, a young special-needs women who works at the basket weaving studio, began painting mandalas to decorate the wood bases used for picnic baskets. Her beautiful designs caught the attention of young students from the integrated program, who were attending art enrichment classes at the studio. Drawn to her beautiful designs they asked Avia to teach them her craft. These young students encouraged Avia to go beyond her comfort level-overnight she was transformed from a quiet loner into an art instructor! When Sefi realized this added benefit of the basket weaving studio, he was overwhelmed with gratitude to those who made this happen: "Your contribution has made an enormous difference in the lives of so many of our young people." Sadna defines students not based on their (special) needs, but rather on their ability to contribute to society, which helps them gain independence, purpose, and a sense of self-worth. Sefi is deeply grateful: "Thanks to your support, you helped our special-needs students advance beyond their limitations, reaching heights that we could never have anticipated."