An Update From Our Communities in Israel
In September 2011, Kim Troup, the US Director of CFOIC Heartland, traveled to Israel. While there, she visited some 30 different communities in less than two weeks. It was an intense visit and included meetings with mayors, community representatives, and residents to hear firsthand how the efforts of Christian Friends of Israeli Communities are helping them. In addition, Kim shared the blessings and support of our Christian supporters and friends with everyone she met, spreading a message of solidarity and hope in the future of Biblical Israel.
In this series she takes a moment to share with you some of the highlights of her journey and invites you to join her as she re-visits these precious communities in Judea and Samaria.
Shalom,
Sondra Oster Baras
Director, Israel Office
CFOIC Heartland
Karnei Shomron 
Fruit Trees and Honey Bees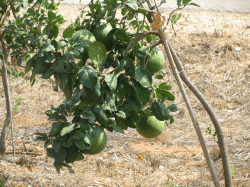 On my first full day in Israel, I was blessed to visit one of the tree groves that have been planted by our supporters. Many people have taken advantage of the opportunity to honor a loved one by planting a tree in the heart of Biblical Israel. As I walked among this particular grove of trees in the community of Karnei Shomron, I was deeply moved by the abundance of fruit on the branches and the variety of different citrus trees.  It was truly the promise from Ezekiel coming to life in front of me, and I was able to reach out and physically touch it.
Ezekiel 34:26 – 27   "I will make them and the places all around My hill a blessing; and I will cause showers to come down in their season; there shall be showers of blessing." Then the trees of the field shall yield their fruit, and the earth shall yield her increase. They shall be safe in their land…
As I stood there and soaked up the miracle of an ordinary tree, I could not help but imagine what this area looked like before — barren, rocky, and devoid of life. To see it now brimming with life, overflowing with abundance helped me connect with the modern-day miracle of Israel on a deep, spiritual level.
From the trees, we moved on to visit with Daniella who showed us her family's bee hives located just down the hill from the fruit trees. She was excited about the new grove of trees, because it means that in coming years their bee hives will yield citrus flower honey produced from the spring blossoms. It all ties together in the circle of life here on this Samarian mountaintop. We hiked down a long hill to see where the actual beehives are located, as Daniella pointed out the flowers and shrubs that bloom at different times of the year to provide the various flavors of honey. After a strenuous hike back up the hill we were treated to a taste of the most delicious honey I've ever had. Perhaps, it was because of the fresh mountain air, the hike, or just the joy of being alive in the land of Israel, but tasting that honey was like savoring the Bible.
 Ofra
Heart of Benjamin 
Towards the end of my time in Israel, we went to the Benjamin Region, just north of Jerusalem. For many years, I've heard Sondra talk about Heart of Benjamin, but nothing prepared me for seeing this amazing project in person. Getting to meet Mali and feel her passion to help families who have special needs children, and her compassion for the children themselves, changed my life forever. Just seeing the vision she has for the new Heart of Benjamin facility, walking through the half-finished building as she points out what each room is designed for, and how a specific kind of therapy will be accomplished there, gives you hope. Heart of Benjamin is aptly named, for there is so much heart that goes out to these children and to their families.
As we walked among the children who were enjoying musical therapy, it was energizing to watch the therapist interact with the children and get them involved in making music, using so many different percussion instruments. Since it was a week before the holiday of Sukkot, he was teaching them songs for the holiday festivities. The look of joy on their young faces was delightful to watch — you could see how much they enjoyed banging on drums, shaking rattles, and strumming on chimes. For Mali and all of the teachers and therapists at Heart of Benjamin, their goal is to bring enhancement to the life of each child, allowing them to enjoy life to its fullest. They are making sure that not one child suffers alone because of a disability. You truly experience the spirit of the people from Biblical Israel when you visit the Heart of Benjamin.
We invite you to visit the communities of Judea and Samaria and meet the people who make this area so special. We work hard to make that possible, whether you have an hour or a day to spend in the heart of Biblical Israel you won't regret taking the time to meet the amazing people who call this area home. Just call us and we can help plan your itinerary on your next trip to Israel.
Shalom from Colorful Colorado,
Kimberly Troup
Director, USA