by Avital Buchnick
April 18, 2017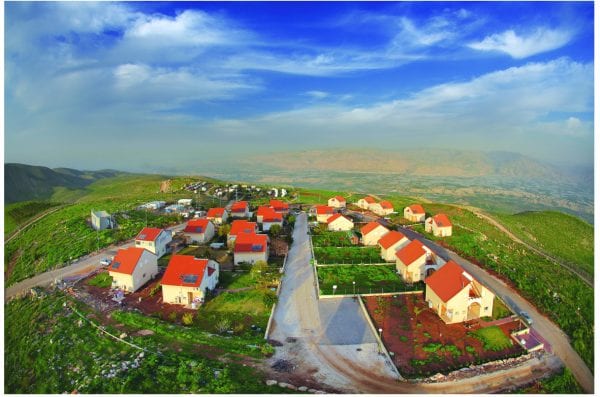 The Community of Hemdat
This month, we are highlighting the Jordan Valley community of Hemdat. I visited the community in November with a Christian tour group from California and we met with residents and planted trees in the community. We were blown away by the stunning views from the community, which unlike other communities in the area, sits on the mountain ridge overlooking the valley. From the lookout point we could clearly see Jordan and the very place that the Children of Israel entered the Land.
Standing there it was obvious to us just how vital this place is strategically, biblically and historically. We learned that Hemdat was originally established as a "Nahal" military outpost by the Israel Defense Forces (IDF) in 1979. In 1997, a group of young graduates from the religious pre-military academy in Eli undertook to renew the community, setting up a rotation of students who would stay on the site until permanent arrangements were made.
In 1998, this group established their own pre-military academy in Hemdat and laid the foundations for the surrounding community.  This religious pre-military academy is still the central institution in Hemdat which attracts young men from all over the country, providing Biblical studies and intensive physical training before joining the Israeli army. Unlike most Jordan Valley agricultural communities, Hemdat was founded as an educational center.
The community has expanded quickly with 34 families living there today, including over 150 children, and 50 young men who study at the academy. The community is now undergoing tremendous growth, building many new homes, and absorbing many new families. It has become such an attractive place to live, that today there are applicants who wish to join the community, but must wait for housing to become available.
A Hemdat resident by the name of Michel Haikkin shared with me a beautiful piece that he wrote about why he was drawn to Hemdat. I would like to share it with you:
I grew up singing this beautiful song, written by Yoram Tarlev.
Arise and walk the land
With a bag and with a walking stick,
Surely we'll meet again
Our faithful Land of Israel
The paths will embrace you gently,
Of the good land
She will call you to her entry
To a cradle full of love
 It is still the same land,
It is still the same soil
And the same rocks
By the sun each summer burnt
However under asphalt,
Buildings coated with glass
Modest and shy native land
She conceals herself from us
Arise and walk the land…
And her old olive groves,
Cozy place near the spring
Still are keeping her old dream
Our old dream
Small roofs redden on the mountains,
Children walking on the paths,
The same paths we walked together
With military belt and satchel
Arise and walk the land…
The last stanza has accompanied me for almost 20 years. In 1997, I joined the Golani Brigade of the IDF. During my service we were stationed between northern Samaria and the Jordan Valley.
Back then, we were young, energetic soldiers. As we walked the length and breadth of the Jordan Valley, we could never have imagined that one day we would be living here; building our homes here, raising our sweet children here.
Today in Hemdat there are many like me who also spent their army service here in the Jordan Valley. They served in many different army units, doing different jobs. After years of serving here, for one reason or another, we all came to this community, because of (or perhaps despite) our army service in the region.
Raphi Moalem served as a paratrooper in the Jordan Valley from 1984 to 1987. During his army service, he says he never could have imagined that he would one day be living here. He and his wife have been living in Hemdat from its establishment. They have raised four children here.
Tzachi Gur is originally from Bnei Brak. He served in an elite combat unit in the Jordan Valley from 1990 to 1992. He says that he came to live in Hemdat despite the hardships of his army service. Even though he remembers how hard it was serving in the desert, his memories are all positive.
Eyal Ben Nevat served in the Nahal Brigade from 1983 to 1987. He started his service in the lush Golan Heights, but his unit proved "tough enough" to move to the scorching Jordan Valley desert. His unit worked in cooperation with Israel's Department of Agriculture harvesting corn and cotton and working on what would become Israel's renowned drip irrigation system. As he worked in the valley, he fantasized about the cool breezes on the mountain ridge. He knew that there was land to be settled there: "I must say that waking up here each day is the fulfillment of a dream for us. We are privileged to have settled this land, and now we are raising our five children in this wonderful community that we helped build."
Dror Levi served in the Nahal Brigade from 1989 to 1994. He served alongside 50 other soldiers who were all members of the Bnei Akiva religious Zionist youth movement. "We were all very idealistic," he says. Most of his service was comprised of doing routine security checks. During his service he dreamed of settling the Jordan Valley: "When I signed up for the Nahal Brigade, I did so with the intention of settling the land and living on it. We believe that this is the ultimate Zionist mission."
Itamar Shauli is one of ten students in the first graduating class of Hemdat's religious pre-military academy. He served in the Golani Brigade in the Jordan Valley from 1999 to 2002.  During his time in the pre-military academy he felt that he was a part of something big, helping to settle a community. After getting married he moved back to Hemdat and is now raising his six children here.
The men who did their army service in the Jordan Valley were all drawn back to the region not out of comfort, but out of ideology. Hemdat is made up of so many people like this, who came wanting to fulfill the Zionist dream of settling God's land. Their lives may not always be easy, but they will always have purpose.
This month CFOIC Heartland is asking you to help this special community expand their library.
The library serves all age groups of Hemdat as well as residents from the neighboring communities of Maskiot, Roi, Bekaot, and Hamra. Since the regional library is a half hour drive away, the Hemdat library has become an important gathering place. It has become a center for cultural events, and has hosted musical performances, guest lectures, and symposiums. The community has happily outgrown their small space, and is now beginning the process of renovating and expanding the existing building.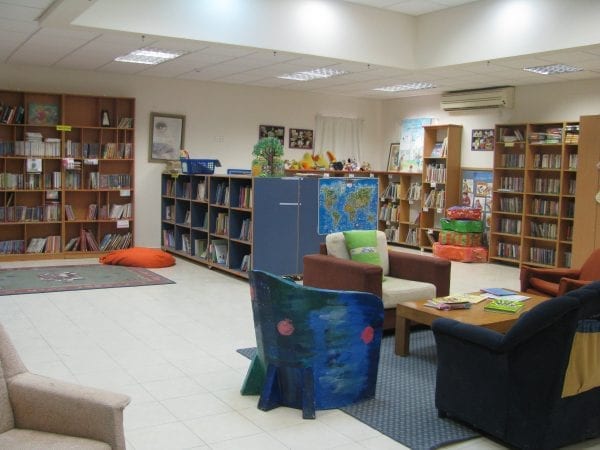 The people of Hemdat have asked for your help in purchasing library equipment and furnishings. They are in need of a computer system, children's center equipment including a puppet theater, more shelving, and of course, books! With your help we can give the pioneering residents of Hemdat what they need to enjoy the library for years to come!