Spring 2015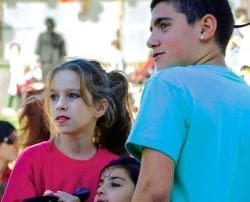 We remember the events of last June all too well. Three teenage boys were kidnapped and murdered by Palestinian terrorists while traveling home from Gush Etzion. These events have caused parents in the region to become fearful for their teenage children. "If it happened once, who's to say it won't happen again" says Yossi's mother, a resident of the Gush Etzion community of Har Gilo. As we know, violent attacks have indeed happened since, and parents are limiting their children's' travel. As a result, fifteen year old Yossi has felt cooped up at times.
Parents in Har Gilo have been looking for ways to keep their children occupied within the community where they are safe and close to home. "The teenagers of Har Gilo deserve the right to enjoy the simple pleasures and freedoms of young adulthood. The least we could give them is a space to unwind and release their energies; a space they can call their own, but that is still within the confines of the community," continued Yossi's mother.
Since its establishment in 1968, Har Gilo has grown to over 400 families, including 535 children and youth under the age of eighteen. They have experienced rapid
growth in recent years. The community is technically defined as a secular community; however, over the years more and more religious families have moved in.
Today there is a wide representation of people who call the community home; secular and religious, young and old, homeowners and renters. The diversity creates a unique challenge and is a great opportunity for innovative thinking. But one thing unites them: they have all come to Har Gilo with the hope of creating a rich communal life for themselves and their children in the heart of Judea.
It was a combination of heightened safety concerns, rapid growth and growing religious diversity that highlighted the community's need for a space dedicated to the youth. Residents of the community envisioned a space where all the community's teenagers might come together and bond. They realized that it would have to be attractive. Their vision for the center was a warm, welcoming home, and it would reflect that by providing comfortable seating arrangements and fun games for the teens to fill their time constructively.
Adults and children alike celebrate the opening of the Youth Center
In 2014 Har Gilo focused its efforts on establishing a youth center. They had designated a space for the center, but needed help purchasing furniture and equipment. That is when they turned to CFOIC Heartland for help. Thanks to our dedicated supporters, we were able to help the community acquire everything necessary to make it the very place they had envisioned. Thanks to you, the center is now colorful and inviting, and boasts a pool table, audio-visual aids, a sound system, a screen for films, and comfortable seating arrangements.
For its opening event, there was a party which all the youth attended. Har Gilo Council Head, Pamela Allman invited CFOIC Heartland Director, Sondra Oster Baras to an official inauguration that took place later that week. About thirty guests were in attendance. Davidi Pearl, Director of the Gush Etzion Regional Council was present, as well as representatives of the Community Center, and even the new Rabbi of the community. Unfortunately Sondra was unable to be there, but sent a heartfelt message to the people of Har Gilo which was read at the event: "I am so happy that we could help you with this important project and hope that we will be able to continue helping you in the future. The donations that we provided for this project came from Christian donors the world over – good people who believe that the return of the Nation of Israel to their land represents the fulfillment of prophecy as written in our Bible. They love us and they want to help us. And I send to you today a message of love and support in their name."
Yossi's mother represents all of the parents in Har Gilo when she explains how grateful she is for what CFOIC Heartland has contributed. "The youth center gives us parents real peace of mind. Knowing that our children are off the dangerous roads and doing something constructive is a tremendous gift. Not to mention, the kids are just thrilled to finally have a space to call their own!"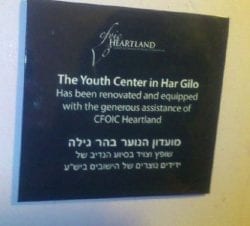 In just over a month, the youth center has become a wonderfully active and busy nucleus. Activities try to answer the needs of this mixed population, religious and secular. The shared space enables the teens to connect to one another and encourages them to become a unit; a unit that can in turn contribute to the community.
Today the youth center is used for regular youth meetings and organized activities three times a week. "It has been so successful, that the community has decided that we want to use it even more regularly," insists Pamela Allman. "It is currently used by youth ages 14-16, but we would like to open it to younger age groups as well." Perhaps in the summer it will be open all week long, in order to keep the youth busy with positive recreation, avoiding boredom which can lead to mischief.
Whether warming their hands on cups of hot cocoa and having heart-to-hearts with friends during chilly winter nights or packing up tents and outdoor supplies for a summer camping trip, thanks to you, this youth center promises to be a hub of happy, healthy, safe recreation.