Editor's Note: Because you've been with us through so much, we've joyfully included some of the pictures from the Baras wedding for you, a part of our family. The first is of the bridegroom being escorted by his dad, the bride's dad, and friends to verify that the bride is truly his chosen. The second is the acknowledgement that this is indeed, his betrothed. Sondra and husband, Ed, with their son – the groom – as he puts on his wedding kittel, the breaking of the glass or goblet in remembrance of the Temple, and the new Mr. and Mrs. Baras.
This has been a very exciting time for me. My youngest son is getting married on Thursday, the first of our five children to find the "right one." I am assuming that every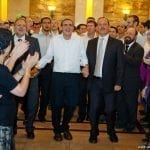 parent is thrilled when their children are happy and in love and I am no different. But since this is such a special time for me, I thought I would share some of my thoughts and feelings with you.
I have five children and they are all adults today, although some more independent than others. I have watched them grow from babyhood to responsibility, taken them from nursery school to university, seen them relish at their studies, devote themselves to their people and seek G-d in all they do. They are each different and yet so much binds them together.
As parents, we have loved our children passionately from the very moment of their birth and want only the best for them. But there is also something else. As Jews, as people who have entered into a covenant with G-d, it is so important to us that we carry that covenant on to the next generation, as our parents and grandparents and ancestors all the way back to Abraham have done for us. My four sons were all circumcised on the 8th day in the traditional Jewish ceremony for baby boys. During that ceremony, the rabbi blesses the baby and declares that he has entered into the covenant of Abraham. The traditional response to the blessing by the members of the congregation is that this child should grow to be immersed in Torah and good deeds, and reach the marriage canopy.
Marriage in traditional Judaism, therefore, is not just about falling in love. Indeed, as we all know from "Fiddler on the Roof", love was a relative latecomer in the Jewish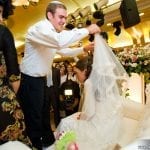 marriage scene. Marriage has always been about creating a family which would take its place in the Jewish community, as a part of the Jewish people. The Book of Numbers begins with a census and the hundreds of thousands of Israelites are counted by family, conveying the message to us that it is the family that is our most fundamental unit and the key to our identity as Jews.
For that reason, bringing your children to the marriage canopy is not only an expression of parental love but a national and religious one, as well. Through this marriage canopy, our people will carry on, children will be born and will be taught about G-d and His Torah. The couple is greeted with the traditional blessing – may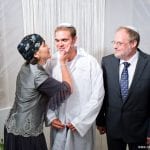 they build a faithful house in Israel. And for our soon to be wed children, it is not only about love, but about joining together in common cause to build a home that is filled with the love of G-d and His Torah.
As I anticipate the ceremony and accompanying party, I am so excited. But it has also made me totally incapable of doing something that has always been an integral part of my work – read the paper and listen to the news. I am not really a news junkie, but I always keep on top of the news, especially on all issues relating to Israeli foreign policy and the settlement movement. And even at the worst of times in Israel, when busses were blowing up every day, I was watching the news. While I was often terribly sad and even depressed at the daily horror we were watching, it never occurred to me to turn it off. I had friends who would declare a moratorium on news, just so they could carry on their lives with a modicum of normalcy. I never did that.
Two weeks ago, there was a terrible terrorist attack in Israel in which 7 people lost their lives. Following a minor IDF response to this attack, missiles began raining down on Southern Israel, driving families to bomb shelters. I heard about the attacks on the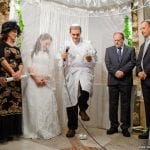 radio as I was driving home and did make sure to get the bare bones information. But then I just turned it off. I stopped watching the TV news, stopped listening to news radio, and stopped reading my daily newspaper. I didn't really make a conscious decision to do so, but that is what happened.
A few days ago, I realized that it had been quite some time since I had listened to a single news broadcast. While I felt momentarily guilty, I made no move to rectify the situation. All I could think of was that I was making a wedding, that my head and heart were full of wedding plans, dreams and imaginings and I did not want to crowd all that wonderfulness with the news. No one was going to be saved because I listened, and no one was going to be hurt if I didn't.
But when I analyze why it is that I have such a resistance to hearing the news just now, I really believe that I am so filled with happiness, so engrossed in loving and caring for my family, that neither my head nor my heart can absorb anything else, certainly not bad news. Am I burying my head in the sand? Absolutely not. I am well aware that I have taken a vacation from it all, from a reality that is a central part of life in Israel. And it is just a vacation, because as a responsible citizen and someone who has undertaken to communicate the message of Israel to people all over the world, I know that I will be back listening to the news before long. And I will be ready for it. But for now I'm on vacation.
I also realize though, that it really isn't a vacation from my work or for my passion for the Land and People of Israel. As my son embarks on his new venture to build his own home with his lovely new wife, he is laying the foundations for his own private house of Israel within the greater House of Israel. In this one amazing event, my passions for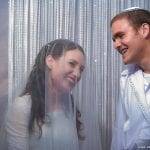 my family and my people come together as never before. So, as I become so intensely involved in this building up of Israel, I have no room for anyone who would destroy us. I know they are out there, but I am part of the building process and want to stay there. I want to revel in G-d's wonderful generosity to me and my family and understand that He has been similarly generous to us, His people, in all that He has granted in building our national house. And, frankly, that is really all that matters.
Shalom, Sondra Baras Director, CFOIC Israel
You can donate online via Pay Pal, call our office at 800-647-3344 to give a credit card donation over the phone, or send your check or money order to:
US & Canada: PO Box 50833 Colorado Springs, CO 80949-0833
All Other Countries: P.O. Box 752, Ginot Shomron, Karnei Shomron, Israel
Thank you for Blessing Israel!