By: Tessy Agassi
We have just finished another school year and as my children look forward to a summer vacation filled with fun activities I have to take a moment and reflect on the year that went by so quickly. As I have shared in the past, I have four amazing children. The oldest, Keren, has just finished first grade and my youngest, Hadar, is a year and a half. In the middle I have Assaf, age five and Matan age four. Four children means four graduation parties.  (In Israel there are graduation parties for every year of pre-school and every grade in elementary school.)  I was glad to attend each and every one of them, but as you can imagine, it was pretty busy.  I love it when my kids come home from school on the day of the party, running to take a shower (usually I need to explain to them that showers are mandatory) and change into nice clothes. They get all excited and explain to whomever will listen that today they have a party. For those few hours of party time, it's only me and my child. Siblings are not allowed to join and I leave my cellphone at home.
The Israeli Ministry of Education (the government office responsible for all education in Israel) chooses a theme each year that becomes a focus of activities in all schools throughout the year. It is no surprise that this year's subject was "Celebrating Israel's 70 years".  But that means that all of the graduation parties focused on this theme.  The parties were wonderful, well organized and for me, very emotional. The children sang songs celebrating Israel.  They danced and recited poems and showed off all they had learned this year about Israel.  The decorations were all blue and white.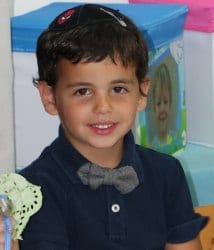 These parties are also an amazing opportunity to see just how much my child has grown in just ten months. One party was especially moving to me because it reflected the greatest transformation in my son Matan. A few days before his party, Matan, age 4, asked me if he could invite the whole family to his party. I must say I was surprised. Having the "alone time" at the party, just me and him, is what I thought he was looking forward to. "Mommy I worked really hard on this party," he explained. "I want everyone to be proud of me."  I smiled and gave him a big hug.   "We are always proud of you my love," I said. Unfortunately, as per the teacher's request, no siblings are allowed but I did manage to get my husband to come home early from work and join us for the party.
As Matan arrived home from school that day I could sense that something about him was different. It was as if this party matured him in a way. After he showered on his own (wouldn't let me help) he chose the clothes he wanted and insisted on wearing a bow tie. He didn't care that it didn't match or that he would be the only kid wearing one. "I need to wear my best clothes!" he declared and I smiled as I looked at my little prince.
We arrived at the party fifteen minutes early because he wouldn't let us be late and he stood by the door greeting his friends and their parents as they walked in. I was amazed.  He is usually such a whirlwind, jumping off the walls, bumping into things and basically all over the place. But on that day there was nothing of that frenetic energy. The party started and he was amazing. Standing in the middle, the tallest in the class, he knew all the words to the songs and sang loud and clear. Actually, he was the loudest, and so off key! My husband wondered who Matan takes after but I knew right away – I laughed and told him that he is just like my grandfather.
As I was looking at my son performing with such confidence, I felt transported to my childhood. Standing in my grandfather's synagogue, I would hear him singing, louder than anyone else, and those prayers became the soundtrack of my Shabbat. As a child, I might have been embarrassed to be the granddaughter of "the guy with the loud voice" but these days, I am just proud: Proud of my grandfather and of my son who both have such strength in their singing.  Matan, like his great-grandfather before him, will never be ignored.
When the show was over and it was time to leave I told my beautiful son, in case he didn't already know, that I was honored to be his Mommy. And together we walked back home, proud parents with one happy child wearing a bow tie.