The community of Sde Boaz has recently become the target of pro-Palestinian groups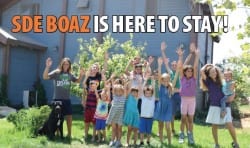 trying to force the community off its land. Now is the time to stand with this fledgling community showing our support by helping them build a playground for their young children. Let's show these hateful groups that the people of Sde Boaz are not only staying put, but will continue to build, grow and thrive in God's Promised Land!
Stand Up for Israel
Faithful to Zion: Tom and Maria Leannah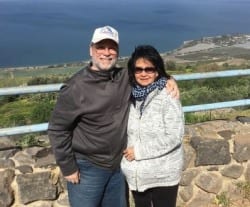 Tom and Maria Leannah are great friends of Israel and great friends of CFOIC Heartland. Their journey has not been simple, but it is one paved by their love of God and His word. Both Tom and Maria grew up in Wisconsin. They met in the early 1970s as young adults working in a department store in downtown Milwaukee. Although both were raised Catholic, neither felt connected to their religion. They eventually moved to Lubbock, Texas and, in the late seventies, had two beautiful daughters Tina, now 38 and Kate, 37. Unfortunately life got complicated for the couple and they separated for a number of years. While the separation was very difficult for the family, it allowed them to reexamine their lives. In the mid- 1990s Maria began watching Christian television which sparked her interest in God and the Bible. She started taking her daughters, now teenagers, to church. It was their eldest daughter Tina who led Tom to God. While the couple was still separated Tina gifted her dad with a Bible. Tom had never read the Bible from beginning to end and was embarrassed that his daughter was the one teaching him. It was the death of his beloved father in 1998 that Tom says solidified his commitment to his faith. "As I eulogized my father, I compared my life to his and realized I needed to change." That was when Tom began reevaluating his life through a Biblical lens. Tom and Maria took separate paths to God but it is God that ultimately brought them back together. After years of separation, Tom and Maria mended their marriage. They were reunited in faith and their reunion represented God's involvement in their lives. They dedicated themselves to their shared Biblical worldview. Tom explains, "We believe in the Bible and not just the second half, but the first half." For years they looked for a way to bless Israel and then in February of 2007 it happened. Maria explains: "We had been watching Sondra Baras' Bible teachings on God's Learning Channel when we were invited to hear her speak at someone's home. Sondra impressed us with her vast knowledge of the Bible and her explanation of the needs of the people of Judea and Samaria." The couple have been generously supporting the work of CFOIC Heartland ever since. Over the years they have gone to hear Sondra speak when she came to their community, and have even hosted Sondra in their own home several times. "The Jewish people have to take possession of the land and in order to do that, they must settle," Tom explains. As Christians the Leannahs see it as their duty to help the people of Judea and Samaria and to encourage fellow Christians to become involved in supporting the settlement movement. In 2009 the Leannahs hosted a dinner to spread this message and expand CFOIC Heartland's reach. They rented a hall at a nearby hotel and invited friends, family and acquaintances from near and far to learn about Judea and Samaria and support the Jewish people of the Biblical heartland in a practical way. Sondra and CFOIC Heartland U.S. Director, Kim Troup both participated in the event. For years, Kim had been encouraging Tom and Maria to join CFOIC Heartland's annual Israel tour. In 2014 the couple decided that it was time to make their pilgrimage. They felt God's calling. After years of faithful support, it was time to experience Israel for themselves and see the fruits of their labor.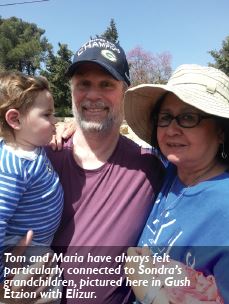 The experience was life-altering. "Our first trip was special" Tom explains. "Just being in Israel is being in God's presence." Maria felt the energy even before landing. She recalls the palpable excitement of being on the plane to the holy land with other likeminded people of faith. They recall the satisfaction of seeing the projects that they helped support. That first Israel trip made such an impression that they are now gearing up to come on their third CFOIC Heartland tour in five years. The Leannahs encourage everyone to visit Israel, especially those who are afraid to make the trip. "You shouldn't let fear keep you from visiting," they insist. "Visiting the communities and the people of Judea and Samaria, we really see what a difference we make and how appreciative the people are, not just for our financial support, but also for visiting." Since their very first trip, they have seen amazing developments, one example being Heart of Benjamin. "When we first started coming to Israel, Heart of Benjamin functioned out of mobile homes. The next time we visited they had just moved into their beautiful new facility. It was amazing to see the growth that had taken place in such a short period of time." They appreciate that life in Judea and Samaria has not always been easy, but that the people living in the communities are fulfilling God's promise. They see God's hand in the miraculous return of the Jewish people to the Land of Israel. The exile and subsequent restoration of the Jewish people in their homeland is something that resonates with them on a more personal level seeing that their personal experience is in some ways reflected in this national ethos. After all, they too experienced a separation and a miraculous reunion that can only be explained as being steered by the hand of God.
Pioneers in our day
Oren Gilad: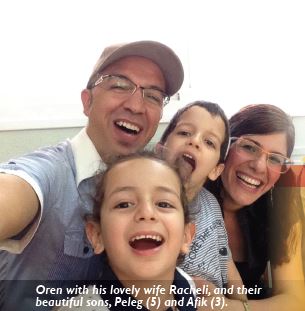 Anyone who has ever visited "Ach Sheli Gibor" knows that it is a special place. Hebrew for "my brother, the hero", Ach Sheli Gibor is a sandwich shop-minimartrest stop all rolled into one. Located at the junction between Shechem and the community of Itamar, the stop is decorated with flags, army hats, tags and memorabilia and is furnished with couches and a television, giving soldiers a comfortable place to hang out during their time off from the adjacent army base. Soldiers and tourists alike can expect to be warmly greeted by the friendly owner, Oren Gilad. Despite the perpetual smile on Oren's face, life has not always been easy for him. His story begins in Afula where he was born in 1973. Oren's father taught physical education and his mother worked as a cook in a school cafeteria. In the winter of 1986, after befriending Gershon Mesika, one of the original pioneers of the settlement movement, the Gilad family visited Mesika's hometown of Elon Moreh. Inspired by their visit, and guided by their faith in God and His Bible, they decided to move to Elon Moreh the following summer. In 1992, Oren began his army service in the elite Golani Brigade of the Israel Defense Forces. As a soldier he traveled all over the country and it was during this time that he first noticed the lack of rest stops for soldiers. He dreamed that one day he would open a welcoming place for soldiers, a place where soldiers could visit, relax and feel at home, a place where they would be greeted with an appreciative smile, a positive word, a "how are you?" or "Shabbat Shalom". He dreamt of opening a place he wished he had had as a soldier. It was a summer night in 1995 that changed his life forever. Oren was home on a routine break from the army when he and a friend decided to drive from Elon Moreh to Netanya. As they passed Shechem, they noticed a group of Arabs standing in the middle of the road. Trying not to hit the Arabs, the pair swerved, crashing into a ditch. As it were, the Arabs had purposely stood on the road waiting for a Jewish car to fall into their trap so that they could quickly surround the car and lynch the people inside. Oren immediately understood what was happening and responded quickly, shooting his rifle in the air. He managed to successfully frighten away the terrorists; unfortunately, nearby IDF forces heard the gunshots and thinking it was a terrorist shooting, shot Oren in the leg. Oren's leg was permanently damaged in the terrifying incident, making him unfit to continue his service in a combat unit. After recovering from his wound, he was honorably discharged. Devastated, Oren spent three years in San Diego, California where he worked at a 99 cent store. It was there that Oren learned the nuts and bolts of running a business and the importance of customer service. Returning to Israel in 1998, Oren bought a minimart in the Samaria community of Maale Levonah. He had planned to open a clothing shop, but his plans changed with the outbreak of the second intifada. Remembering his dream as a soldier years earlier, Oren bought the rights to Ach Sheli Gibor. Ach Sheli Gibor was originally established by parents who had lost their child during the first Intifada. In 1987, 8-year-old Rami Chaba was kidnapped from his home in Elon Moreh and brutally murdered by Arab terrorists in a cave just outside the community. After the tragedy, the Israeli Government gave his family a shipping container in which they could set up a store, to help them earn a living. They named the store Ach Sheli Gibor. Sadly, the family never recovered from the loss, and was forced to sell the shop. On November 15, 2000 Oren re-opened the store and has been in business ever since. Over the years, hundreds of CFOIC Heartland groups have visited Ach Sheli Gibor. They have left wonderful souvenirs including American army mementos, and a beautiful sketch which says "Masada will not fall again". One customer bought 200 Israeli flags and another gave Oren $500 to treat the soldiers to sandwiches. Each and every time a group comes Oren is so appreciative. His message to them is simple: "I'm so happy you come to see what it's like here with your own eyes. The media will tell you one thing, but when you come you see that the people here just want to raise their families and live in peace." At the age of 37 Oren was seemingly content. He was living in Samaria, and owned a successful business. He had experienced ups and downs and yet he had done everything he had set out to do in life. He had left religious practice some years earlier, but that changed when he began thinking about his faith in a more serious way and asking existential questions about the world and his purpose in it. He flew to the grave of a famous Rabbi in the Ukraine to look for answers. Soon after, he returned to his faith and decided to start actively looking for a wife. That year Oren met Racheli. She was the daughter of old family friends. On their first phone conversation Oren confidently told her "you are going to be my wife and we are going to have 10 children." She thought he was nuts, but they met in person a week later. Three weeks later Oren invited Racheli to attend an appearance he was making on an Israeli cooking show. He surprised her by calling her to join him on stage and proposing marriage in front of the audience. Shocked, Racheli said yes, and they married that summer. Today Oren and Racheli live in the Samaria city of Ariel. They are parents to three beautiful children: 5 year old Peleg, 3 and half year old Afik and 3 month old Nahal. Each of their children's names is somehow connected to water, symbolizing the importance of the next generation. "My name, Oren, means pine tree. Just as a tree cannot grow without water, we cannot grow and flourish as a people without the next generation."
Give Thanks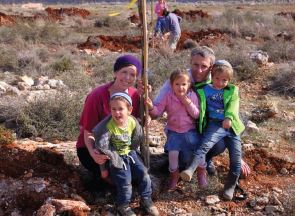 We have received this thank you letter from a community that we recently helped. But you, our donors and supporters, are the ones who really make it all happen. The thanks belong to you.
Dear Sondra,
Thank you so much for CFOIC Heartland's generous donation to our community. Thanks to the support of Christians all over the world, we were able to purchase much-needed emergency equipment including a good first aid kit and defibrillator, a public address system and solar lighting with motion detectors. We are so appreciative of all you have done for us. You have truly made a difference as we continue to raise our children in the heart of Samaria. As you know, Nofei Nechemia is situated in a hostile region. We have recently faced several security threats. One evening, I was sitting down with my wife for a late dinner when we heard our community watchdogs barking. They wouldn't stop and we knew something was wrong – a terrorist had tried to infiltrate the community. We went into lockdown mode. As a member of the community's rapid response team, I helped locate the terrorist and kept him from breaking into the community. We were able to respond quickly and efficiently thanks in part to the address system you helped purchase. The head of our rapid response team is so thankful for the new equipment we received. Through your support of our growing community, you are protecting men, women and children who are committed to settling and building in G-d's Promised Land. Thank you for helping protect me and my family. Thank you from the bottom of our hearts.
Sincerely,
David Grovas, Chairman
Nofei Nehemia Local Council