A Sense of Peace For Mechola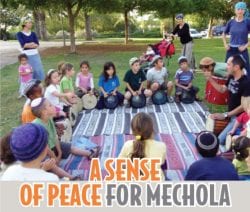 The people of Mechola are no strangers to terror. The community's homes are open to the roads where there is a great deal of Palestinian traffic, leaving residents extremely vulnerable. Years ago, CFOIC Heartland helped set up surveillance cameras at key points in the community. Now Mechola has learned that a surveillance control center would be an indispensable asset to the community. CFOIC Heartland has already helped the neighboring community of Tomer set up a similar center, which has successfully caught trespassers and criminals before damage could be done. The ever-vigilant cameras trained on the area have proven to be an efficient deterrent in Tomer. Let's give the people of Mechola this same peace of mind.
A Texan for Israel: Mike Isley
…Returning home after this life-changing trip, Mike worked for Texas Congressman Eldon Beau Boulter and continued working in the family business for many years, before selling it. As Mike became more interested in Israel, he read whatever he could get his hands on about the land, and became friendly with two Israel Defense Force soldiers, Jeremy Gimpel and Ari Abramowitz. Out of these relationships grew Texans for Israel, an organization founded by Mike to focus his Israel-related activities. Through Texans for Israel, Mike tells the story of Israel, and supports its people. He maintains, "biblically it's a mandate to support Israel, and the Jewish people, so I do everything I can to support Israel, and get my friends to do the same."
In July, Mike and Sondra spent a lot of time together in Washington DC brainstorming about how to help Israel. The result was the fabulously successful "Taste of Shabbat"
dinner, which Mike hosted this past November in Amarillo. About 130 people were in
attendance and applauded thunderously as Sondra Baras, Margy Pezdirtz, and Kim
Troup presented the founders of God's Learning Channel, Al and Tommie Copper, with an award for their pioneering work for Israel. Mike credits GLC for so much of his own understanding and enthusiasm for Israel. Sondra has recently begun to teach the weekly Torah portion on GLC and was able to share thoughts about the Torah portion at the Shabbat Dinner as well…
Pioneers In Our Day
Shulamit Kaminsky: Not Your Average Valley Girl!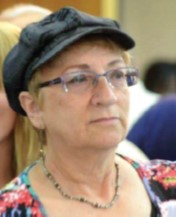 …Today, Shadmot Mechola is the largest community in the Jordan Valley. The area offers a quiet and relaxed atmosphere with wide open spaces, as well as many opportunities to explore and appreciate nature and fresh air. Shulamit loves the sense of community among all settlers of the Jordan Valley. She feels comfortable in each of the communities there. The extraordinary sense of camaraderie among residents is best expressed in an often used expression: The Jordan Valley Family…
Shulamit met Sondra soon after starting to work in the Jordan Valley Municipality nineteen and a half years ago. "I am always amazed by how Christian visitors come here and are so connected to the land, much more than many Jews are." She continued, "I'm
in awe of their connection to the written word, and enjoy seeing their enthusiasm."…
Give Thanks!
…Over the past few years your support for our senior citizen population has been overwhelming. Last year you helped renovate the Senior Citizens Center, and have now helped us buy much needed equipment, as well as expand activities in the center for the benefit and enjoyment of our seniors.
Your latest efforts have ensured that our Educational Farm has gotten off to an amazing start. We are now in the midst of our first year of activity. We are actively building the site and receiving classes daily. We are currently completing the basic structures of the farm. A caravan has been converted to an office space and teacher's room, two Mongolian Yurts have been constructed for classrooms, and three modest hot-houses are being erected…
Sincerely,
Odid Re