"Rise Before the Aged"
For years CFOIC Heartland supporters have taken the lead in helping the senior citizens of Tekoa. From providing much needed dental aid for an elderly immigrant, to assisting the community's "Meals on Wheels" program; you, our devoted supporters, have been there to help. Recently, social workers from the Gush Etzion Regional Council evaluated the specific needs of elderly people in Tekoa and the vicinity. They found that most pressing was adequate transportation for homebound and limited-mobility seniors to doctors' appointments and medical centers. Transportation help is vital for the well-being of this cherished population. The people of Tekoa are turning to you to help them lease a vehicle to provide vital transportation for elderly residents, while using this same vehicle to deliver hot meals to those homebound seniors who cannot prepare food for themselves. This is an amazing opportunity to bless the cherished elderly of this wonderful community!
Request your complimentary paper copy of this Nahala
Stand Up For Israel
Marie-Louise Weissenboch: The Biblical Heartland Strikes a Chord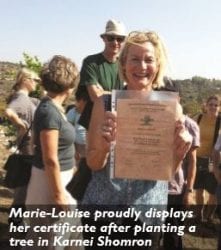 …For Marie-Louise, the opening of C4I Austria was a continuation of her idyllic Christian-Jewish life in South Africa. She made Jewish friends and formed relationships with the Israeli Ambassador and the Israeli Embassy in Vienna.
Marie-Louise is "getting out the message of love of the God of Israel" through Israel advocacy, projects and tours to the Holy Land. Just four months after opening the C4I Austria chapter Marie-Louise launched a bimonthly newspaper called "Israel Actuary" which is circulated throughout Austria. In it, she writes about Israel, and about the projects C4I promotes, including many CFOIC Heartland projects in Judea and Samaria.
Recently, Marie-Louise helped organize an anti-Apartheid week rally.  She spoke of her first-hand experience with Apartheid South Africa and firmly explained that nothing of the kind exists in Israel. Instead of "Boycotting, Divesting, and Sanctioning", Marie-Louise called on good people everywhere to "Buy, Defend, and Support —  Buy from Judea and Samaria, Defend Israel as the only democratic state in the Middle East. Support the Jewish people against anti-Semitism and support Israel wherever you go."
Meet The People Who Are Making a Difference
Danny Ehrlich CFOIC Heartland's Newest Tour Guide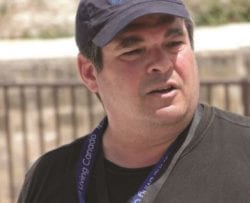 …Danny met Sondra Oster Baras, Director of Christian Friends of Israeli Communities, in the 1990s while guiding. Danny was already living in Efrat, and was asked to become CFOIC Heartland's Efrat liaison. It was on a speaking tour in the United States where Danny met Margy, President of the US Board of CFOIC Heartland.  For years, Danny would guide CFOIC Heartland Feast tours as a volunteer and always was so enthusiastic about the people he met in the group.  But then work caught up with him and for years he was not available to guide CFOIC Heartland groups.
In March 2016 Danny guided the CFOIC Heartland Israel Tour: From Promise to Possession. "It was like a reunion" he says. "It is great to be with Christians that not only love Israel, but understand the importance of Judea and Samaria." Danny relished the time spent guiding the group in Judea and Samaria.
He took them to see the Cave of the Patriarchs in Hebron, as well as Ancient Shiloh where the Tabernacle stood for 369 years. Integrated into these attractions were fascinating community visits where the group got to personally meet with pioneers of Judea and Samaria. Danny even hosted the group in his own home in the community of Efrat, enabling them to connect in a more personal way with him and his family…
Give Thanks!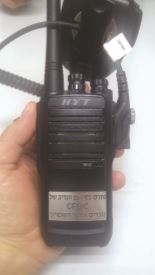 I would like to take this opportunity to express my sincere appreciation and admiration for the ongoing contributions from CFOIC Heartland supporters for the people of Rechalim.  For the past few years, we have been so blessed to receive donations from you for the purchase of much-needed emergency equipment…
…We deeply appreciate your efforts on our behalf, and are indebted to you and our Christian friends for your support and encouragement. It would be our continued pleasure to host you and our Christian supporters in Rechalim so they may see the fruits of their amazing efforts.
Thank you in the name of all our residents
Nadav Marcus
Community Chairman