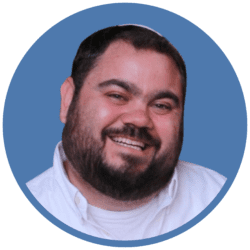 "Sam" Shmuel (Samuel in Hebrew,) Junger (pronounced "Younger") is CFOIC Heartland's Israel Office Director. He is a dynamic young man and travels all over the world bringing the messages of Judea and Samaria to Christian audiences. Sam's dynamic nature and passion shine through every presentation he makes as he connects with his audience in an emotional and moving way.
Shmuel "Sam" was born and raised in Israel, served in the IDF, and has two academic degrees – a BA in law and an MA in Jewish History. Before joining CFOIC Heartland in 2017, he spent 4 years in Hong Kong running the Jewish studies department in the local Jewish school. Shmuel studied Bible and Talmud for 7 years in a Yeshiva (a center for advanced Judaic and rabbinical studies) and is certified to teach Jewish studies.
Shmuel lives in Zufim, a small town in Samaria. Shmuel is married to Michal and together they have been blessed with four wonderful children. Michal's grandparents were among the founders of Kedumim, the first Jewish community in Samaria; Shmuel's family represents the third and fourth generation to have settled in Samaria. Residing in Zufim, Samaria, he embodies a multi-generational commitment to the region. Together with his wife Michal and four children, he stands as a symbol of continuity in the region's history.
If you'd like to say hello to Shmuel, just email him at shmuel@cfoic.com.
Shmuel is available to speak to your church, congregation, Bible study or other group. Please contact us if you would like to schedule Shmuel to speak at your next event!