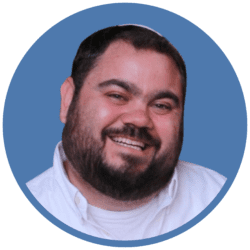 Shmuel (Samuel in Hebrew, but you can call him "Sam") Junger (pronounced "Younger") is a dynamic young man who has joined us as Director of Development.
Shmuel was born and raised in Israel, served in the IDF, completed his first University degree and is now working on his masters, and spent 4 years in Hong Kong running the Jewish studies department in the local Jewish school.
Shmuel lives in Zufim, a small town in Samaria. He holds a degree in Law and is certified to teach Talmud (Jewish law and literature). Shmuel studied Bible and Talmud for 7 years in a Yeshiva (a center for advanced Judaic and rabbinical studies). He is an alumna of 'Stand With Us', a public diplomacy program advocating for Israel and combating Islamist extremism and anti-Semitism. Shmuel has also worked for the Jewish Agency for Israel. Shmuel is married to Michal and together they have been blessed with five wonderful children.
We are fortunate to have Shmuel on board and I hope you will have the opportunity to meet him very soon. If you'd like to say hello to Shmuel, just email him at shmuel@cfoic.com.
Shmuel is available to speak to your church, congregation, Bible study or other group.  Please contact us if you would like to schedule Shmuel or Sondra to speak at your next event!