Prime Minister Netanyahu just completed a very important visit to the US.  He addressed AIPAC, the important pro-Israel lobby organization, and met with President Obama.  Commentators have seen Obama's speech at AIPAC as very pro-Israel, although some have questioned whether that was a function of pre-election strategy.  But the overriding issue of this visit was Iran.  And the question that remains in everyone's mind at the end of this visit is whether Israel or the US or neither will attack Iran.
 I find it particularly telling that Netanyahu presented Obama with a gift of the Book of Esther.  Indeed, I am fasting as I write this letter, for this day is noted on the Jewish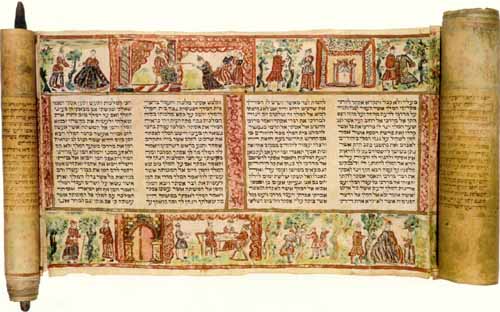 calendar as the fast of Esther.  It is a day which commemorates the fast which Esther undertook so many centuries ago in Persia as she prepared to plead the case of the Jewish people before the Persian King.  Since then, Jews have fasted each year just before the holiday of Purim, to remind ourselves that the amazing victory that we celebrate on Purim, was achieved thanks to the fasting and prayers of Esther.
 Netanyahu gave Obama the Book of Esther because once again the Jewish people are being threatened by a Persian ruler.  I was not present in the room when Netanyahu made his presentation but I would like to imagine that his presentation included words to this effect:  "Many centuries ago, my people were threatened with a holocaust as the wicked Haman plotted the destruction of the Jewish people of Persia, with the approval of the Persian King Ahasuerus.  Thanks to a brave Jewish queen, who was not afraid to stand up for what was right and to take action, our people were saved.  You, too, Mr. Obama, can do what is right and can take action so that our people will be saved from another Persian king."
 What Netanyahu probably did not mention was that Esther had help. For three days prior to her fateful approach to the king, she, her servants and the entire nation of Israel fasted and prayed to G-d for deliverance.   Interestingly, the name of G-d does not
appear at all in the Book of Esther, a unique phenomena in the Bible.  It is a book that describes human actions and motivations – the evil of Haman, the apathetic complicity of Ahasuerus and the righteousness and courage of Mordechai and Esther.  As each character plays his part and Mordechai and Esther mount a bold campaign to save their people, events seem to play themselves out in a natural way.  But it is Esther's praying and fasting that gives us the hint – none of their efforts would have been successful if G-d had not blessed them.
 I cannot imagine the responsibility that is currently resting on the shoulders of Netanyahu and his government ministers.  Netanyahu is well aware of the dangers and he declared on several occasions during these past few days that 2012 will not be 1944 (reference to the Holocaust), and that Israel retains the right to defend itself although it has not yet decided what it will do.  If what we are reading is accurate, sometime in the next few weeks or months, the Iranians will be transferring the bulk of their nuclear activity to an underground facility.  Once that happens, Israel does not have the ability to attack.  The US,
on the other hand, does have the capability of attacking an underground facility.  Hence the pressure:  if Israel passes up the opportunity to attack now while it is able, it becomes totally reliant on the US to take out Iran's nuclear capability.  While Israel would clearly prefer that the US act on this issue, as it is a far more powerful country with much broader support internationally, it is far from clear as to whether we can rely on the US to act in this decisive way.  Furthermore, do we harm our national self-interest if we fail to act to defend ourselves?
 A few weeks ago, there was a film that made the rounds on the internet which depicts the "last day" as a nuclear holocaust descends upon Israel.  It is a frightening film and one that is very difficult to process. Frankly, I can't imagine what such a day would be like and would rather not think about it.  And it is quite clear that at least in Israel people are not thinking about it.  Indeed, if I were to characterize the atmosphere in Israel today it is very much business as usual.  If, indeed, we are on the verge of a nuclear attack or even
conventional war with Iran, you would expect that people would be panicking or at least preparing for the worst, hoarding food and water, undergoing emergency drills.  In fact, we are preparing for the holiday of Purim and most of us are just thinking about what party we will go to and what costume we will wear.  There is a total disconnect between our daily lives and the items that we are reading in the newspaper.
 Someone sent me a sermon that was given by a rabbi in a synagogue in Florida last week.  It was a moving call to action, to prayer and political activity, to help avert whatever disaster may be heading our way, both from Iran and from Israel bashers the world over.  As I read this sermon I agreed with every word.  But when I considered what I might do, I became lost in the magnitude of it all.
 And that is perhaps what the fast of Esther is all about.  How many of us are in the position to put our case before the King of Persia and do something to really save a nation?  This is the job of Netanyahu today, a job that most of us would never want and certainly will never have.  As I fast today,
I pray that G-d will grant Netanyahu the wisdom to decide what needs to be decided, the IDF the fortitude and talent to accomplish what needs to be accomplished and that our people will be spared death and tragedy.  But the Book of Esther teaches us that we cannot just hand it over to G-d.  He removed Himself from that book so that we would understand that we have human responsibility.  That we must make the decisions and take the actions that we can to save the situation. 
 If thinking about a nuclear Iran is too paralyzing, then let's not think about it. But for Iran to succeed, it needs allies and accomplices.  Israel has been begging for crippling sanctions for years and the Europeans have only agreed recently to start sanctions of this sort in July.  Israel-bashing has become a favorite pastime of people all over the world, creating the atmosphere that enables Ahmadinejad to continue his evil plots and pronouncements.  This is where we can get involved and where we can make a difference.  Making the case for Israel is something we can all do.  Sending strong messages of support to your political and religious leaders, creating an environment for Israel in the midst of the hostility will severely weaken the opposition.  Get on facebook, get on the internet, speak up in church and in the workplace.  Let's each become a mini-Esther, pleading our case before our own neighbors and creating a community that can stand effectively for Israel.  And with G-d's help, we will succeed.
Shalom, Sondra Baras Director, CFOIC Israel
You can make a donation to CFOIC Heartland online through PayPal or you can call the Colorado office to make a credit card donation: 1-800-647-3344. If you prefer,  you can mail a check to:
CFOIC Heartland, P O Box 50833, Colorado Springs, CO 80949-0833 for U.S. and Canada
All other countries: CFOIC Heartland, P O Box 752, Ginot Shomron, Israel