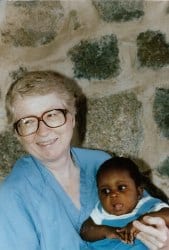 Faye Sinclair was born in Texas in 1929; to a family that always felt the Jews were G-d's special people. After completing a master's degree in Organic Chemistry, Faye decided she was destined to be a medical missionary. At 26 she started medical school and specialized in Pathology – pretty rare for a woman in the 1940's! When she was 48 she took off for Central Africa- to Zaire, now the Democratic Republic of the Congo. Working in the only functional hospital for 500 miles, Faye had no running water and the generator gave them a couple of hours of electricity each day until a dam was built on a nearby river. It was a challenging learning Experience and in 1991, after 13 years of doing great work, Faye sensed the upcoming revolt and decided to go home.
In 1981, during that time in Africa, Faye experienced something that changed her forever: she took her first trip to Israel. She visited museums and unexcavated tels, looking under every rock, and saturating herself with a sense of the people and their ancestors who lived there. Since then, Faye was blessed with eleven more trips to Israel. Her favorite times were spent sitting in a square in the Old City of Jerusalem, chatting with the locals. Faye took it upon herself, to act quite literally according to the verses in Isaiah, where G-d asks us to be watchmen on the walls of Jerusalem. He exhorts us to remind Him of His promises and "never be silent… take no rest and give Him no rest until he establishes Jerusalem." So, every time Faye is in Jerusalem, she walks along the top of the walls from the Jaffa Gate to the Dung Gate and proclaims, out loud, G-d's promises to that city and the land!
One of Faye's best trips was in 1991 when she discovered Christian Friends of Israel and Bridges for Peace, organizations doing good work– work she could be a part of. A full decade later she came back with CFI and was introduced to Sondra Baras Stand up for Israel MEET THE PEOPLE who are "And I will bless those who bless you…" Gen. 12:3 and CFOIC Heartland. Sondra had arranged for them to meet with the former Minister of Tourism, Rechavam Zeevi, only days before he was murdered. Through CFOIC Heartland, Faye was finally exposed to the heart- to the people of Judea and Samaria. She visited a sandbagged home in Psagot; she spoke to people raising prize-winning cows in Beit Yatir and others giving tours of the Tabernacle in Shiloh; she visited the kindergartens of Gush Etzion; and she spoke to the brave pioneers of Hebron.
Impressed with CFOIC's work, Faye arranged for Sondra to be a guest on a Christian TV station in West Texas. The hosts, though outspokenly pro-Israel, had not been previously exposed to CFOIC. Sondra opened their eyes then, and during subsequent interviews, and these TV broadcasts have awakened listeners to the importance of the Biblical Heartland.
Faye is a teacher, a spreader of truth, a motivator, recommending people visit Israel, preferably through CFOIC. "Anyone who is around me for long learns that I have a passion for the people and G-d of the Land of Israel." Faye gets frustrated with a world that doesn't understand that G-d gave custody of His land to the nation of Israel. "It seems very clear to me that now is the time He is restoring them to that land and we need to stand with them once they have returned!!!"
Faye is proud at the changes taking place among Christians today. "G-d-fearing Christians are developing a hunger for a better understanding of the Scriptures, for their Hebraic roots." Faye's fellowship group meets each Shabbat to read and discuss the Torah portion of the week and they celebrate the Biblical feasts. "Keep in mind that it is almost impossible to be doing these things and harbor anti-Semitism", says Faye. "I think it is the beginning of the fulfillment of Zechariah (8:23) where ten men from different languages take hold of a Jew's garment and say, "Let us go with you for we have heard that G-d is with you."