Help Those Who Help Themselves in Sussya

Fall 2011 Sussya,  located on an isolated hilltop in the Hebron Hills, is a community  characterized by incredible warmth and mutua aid. These people know what's important: G-d, His land, and  the future generations who will serve Him. While Israel has weathered the economic crisis better than some, many families are still hurting. The need in Sussya is particularly acute, as families tend to have many children. The Ezra Fund is a community initiative to help with such basics as food, clothing, tutoring, and even pre-school!  And almost from the beginning,  CFOIC Heartland has been there,  together with the Ezra Fund, helping the people of Sussya. "We are not an affluent community ", explains Rabbi Yisroel Feld, the director of Sussya.  "We are laborers, builders, blue-collar workers.  Our young couples work hard to make  ends meet, while getting their university degrees."  Yisroel describes Sussya as a  community of simple people with enormous faith. "Simplicity is important in Sussya. But it's hard to focus on getting close to G-d if you're struggling with poverty. "When someone  suffers a financial crisis—or even a blessing, like a new baby in the family—the additional  monetary burden can make you and even your faith vulnerable. The Ezra Fund has  made it an almost automatic response to scrutinize the family situation after every new birth, and if the situation calls for help, we provide a generous and practical package for the  newborn. The Fund gets them through these times with the right attitude towards G-d: He is with us through times of strife and joy."

An Ezra Fund Wedding in Sussya

The Ezra Fund helped fund two weddings this year. Sometimes, new immigrant couples, as part of their journey back to Israel and Judaism, discover that they had never been married in a religious ceremony. One couple had moved to Sussya from Russia and, with  the backing of the Ezra Fund, arranged a proper religious ceremony with all the age-old rituals. The Ezra Fund provided the supplies and the entire community helped cook, decorate and organize the event. One story really brings home the immediacy of need and the immediate help the Ezra Fund can provide. The local grocery store had given credit to many Sussya residents and  institutions for years, and an enormous sum of money was owed. When the store was pressured to make some safety improvements and renovations while renewing its operating license, it was forced to stop all credit to those with outstanding debts on their accounts, immediately.  It was a difficult but sensible decision. Unfortunately, it was the end of the week. What do people do when strapped for cash with Shabbat to worry about? The Ezra Fund was happy to provide these families with enough money to get through  Shabbat and until their next pay check. This past year, unfortunately,  Sussya was witness to the business failure of two local builders. One had to lay off a number of workers and the other closed operations completely.  A significant number of residents were left unemployed.  Most found jobs  quickly, but the Ezra Fund supplied the others with help until they could get back on their  feet.  Another business crisis occurred when a local carpenter had his entire shop robbed. The tools of his trade…his very livelihood was gone. The Ezra Fund helped reestablish his shop so he could continue respectfully supporting himself.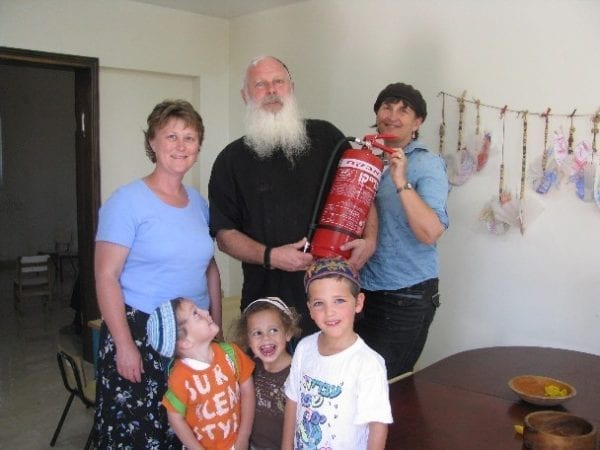 This past spring, in the span of two short months, two mobile homes went up in flames. Thank G-d there was no loss of life, but within minutes these two homes were totally destroyed, the families helplessly standing by as the fires burned their way through everything they owned. They had no insurance, but they did have their neighbors and the  Ezra Fund. It was heart warming to help them rebuild their lives after such catastrophe. Now the Fund has invested in fire extinguishers for all 41 mobile homes, to prevent the recurrence of such a catastrophe. Sussya is like a close-knit family. Ten years ago, Sussya farmer and shepherd, Yair Har Sinai, was taking his flock of sheep out to graze, when he was murdered by local Arabs. Since then, his wife Dalia and her large family have continued his work, his dream, of  living off the land. The community consistently helps with the harvest of the crops on her  organic farm, and when her flock was recently stolen, the Ezra Fund offered aid again. Yisroel Feld puts it plainly.  "People here are honestly trying to improve themselves… to improve their level of observance in this Torah community. They are infusing G-d into the very details of their daily lives of raising their families and building the land. But sometimes they need help. "Sussya and the Ezra Fund feel a partnership with CFOIC Heartland. Without the help of  CFOIC Heartland,  we would not have been able to help as many people as we have. We  welcome your support and especially your friendship." People in Sussya are infusing G-d into the very details of their daily lives of raising their families and building the land.  But sometimes the residents of Sussya need help.
When you make a donation to CFOIC Heartland, you are taking a stand for the right of the Jewish people to live on the land that God gave to them.
You can donate online via Pay Pal, call our office at 800-647-3344 to give a credit card donation over the phone, or send your check or money order to:
US & Canada: PO Box 50833 Colorado Springs, CO 80949-0833
All Other Countries: P.O. Box 752, Ginot Shomron, Karnei Shomron, Israel