January 21, 2020
by Meira Weber
The last thing we were expecting to show up on the doorstep of the CFOIC Heartland Israel Office that day was the rain-soaked and windswept Chief of Security from Har Gilo. He blew in like the storm raging outside, bursting into the office with a huge, exhilarated grin and carrying the biggest bouquet of flowers I'd ever seen.
"Sondra Baras?" he asked, taking in the conference table around which I, Sondra, Shmuel, and a visitor from a nearby community were arranged. We had been in the midst of a meeting; Sondra had been explaining the work of CFOIC Heartland to our visitor, describing the communities and our wonderful donors, but the visitor hadn't yet fully grasped the impact of these donations on the residents of Judea and Samaria.
Sondra rose from the table to meet our wet stranger. "I'm Sondra," she said.
The stranger laughed and held out the flowers. "These are for you, from all the people in Har Gilo!" he said. "I'm the Chief of Security there, and you can't even understand what a difference those cameras have made. You gave us back our lives!"
Our Israeli visitor sat up straighter in his chair, his notes abandoned on the table. "Can you tell me more?"
"Of course!" said the Chief of Security. "We were so vulnerable before. Do you remember Ori Ansbacher? She was killed in a terrible attack at the edge of Jerusalem, just across the valley from Har Gilo. The terrorist was able to reach her because of a surveillance blind spot near Har Gilo. We knew that if we had had cameras monitoring the area, we would have seen the terrorist approaching and could have prevented the attack. Not to mention the terrorists who, because of that same blind spot, actually infiltrated the community before being caught by a random passerby. We came to CFOIC, and they opened their hearts to us – and now the area is secure. Nothing like that will ever happen again. We're safe, and lives have been saved!"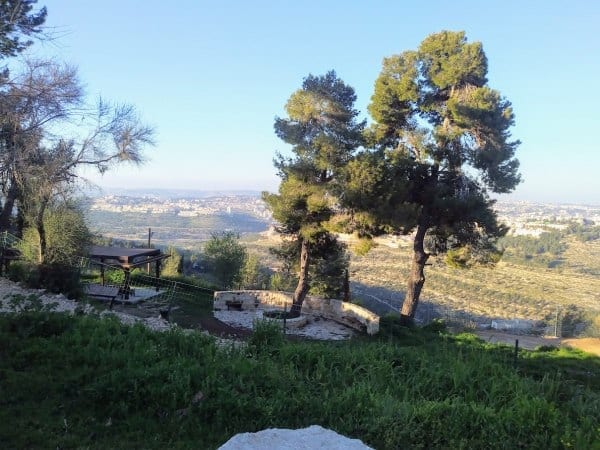 Looking from Har Gilo into the valley Ori Ansbacher's murderer used to enter Jerusalem
A rush of excited conversation pulsed through the office as our visitor questioned the Har Gilo Chief of Security, but just as suddenly as he'd come, he needed to go – "It's a long drive back" – and we all said our goodbyes. The door shut behind him and we sat in the suddenly quiet office, a bit shell-shocked but exhilarated by the encounter. A slow smile spread across the face of our visitor. Almost to himself, he murmured, "Now I understand."
Here is a thank-you letter written by the people of Har Gilo to you, their angels, their wonderful Christian friends.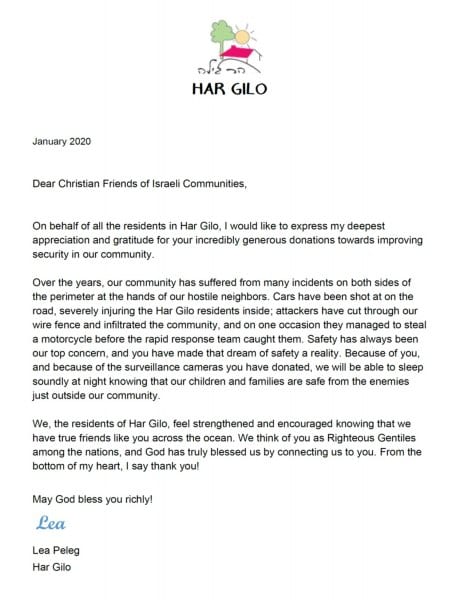 Dear Christian Friends of Israeli Communities,
On behalf of all the residents in Har Gilo, I would like to express my deepest appreciation and gratitude for your incredibly generous donations towards improving security in our community.
Over the years, our community has suffered from many incidents on both sides of the perimeter at the hands of our hostile neighbors. Cars have been shot at on the road, severely injuring the Har Gilo residents inside; attackers have cut through our wire fence and infiltrated the community, and on one occasion they managed to steal a motorcycle before the rapid response team caught them. Safety has always been our top concern, and you have made that dream of safety a reality. Because of you, and because of the surveillance cameras you have donated, we will be able to sleep soundly at night knowing that our children and families are safe from the enemies just outside our community.
We, the residents of Har Gilo, feel strengthened and encouraged knowing that we have true friends like you across the ocean. We think of you as Righteous Gentiles among the nations, and God has truly blessed us by connecting us to you. From the bottom of my heart, I say thank you!
May God bless you richly!
Lea Peleg
Har Gilo
Click here if you would like to donate to help Har Gilo!