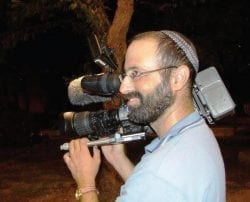 When amatzia was seven, his parents decided to follow a dream. The family of 9 left their home in Jerusalem and joined thirty families on the barren hilltops of Karnei Shomron in Samaria. When they moved their pioneering settlement to nearby Kedumim they exchanged their tents for one large room for the family with a divider down the middle to give some privacy to his parents. They prayed at the army base and shared their meals with the soldiers, later moving into mobile homes. amatzia remembers his class of just six children, first and second graders learning together. Nobody asked amatzia if he wanted to be a pioneer. "I didn't understand ideology. I just knew I loved living with nature, climbing on rocks and boulders, never bound by fences or walls." He remembers traveling through the arab cities of Shechem and Kalkilya, his parents stopping to drink coffee with the local arabs, offering them rides when they saw them on the side of the road. When asked why things are so different today he answers simply, "We did not start the problem with our arab neighbors."
Their family name, Heitner was changed to the fitting "Haeitan", the strong one. amatzia's father was a rabbi with a dynamic personality. With true vision, he saw what was needed in the region. He started a local school and established the Rabbinate and Religious Council of Samaria. He recruited rabbis, enlisting them to provide spiritual aid. He influenced amatzia greatly but died young, just six months after amatzia married.
Amatzia's mother was an educator in every sense of the word. She was the principal of a local elementary school and helped establish the lehava High School in Kedumim—today a prizewinning educational institution of over 800 young women!
"We always had an open house", says amatzia, "with guests to share our Shabbat. My family's motto was to populate Samaria. I adopted that goal and raised my own family in Kedumim." How satisfying to have been at its modest beginnings and to now see Kedumim as a bustling community of 5,000 people! He and his wife Naomi are proud to have passed their pioneering spirit onto their children, who are rehabilitating undeveloped towns, populating outlying areas in the periphery and strengthening religious values in secular cities.
Music was always a part of amatzia's life and he started out as a musician, singing and playing keyboard at different occasions. The move to film was a natural one. amatzia studied journalism and cinematography at a left-wing, secular school. "I wanted to learn with everyone. I was the only Orthodox Jew there. and they accepted me."
at the beginning of his career, amatzia was a freelance news photographer working for Israeli TV stations where he primarily covered stories of terror. "What I learned at that time and from my own experience with film editing is that you really cannot believe anything you see on film! The raw material undergoes so many changes that by the time there is a finished product it's hard to count on the truth!"
Ten years ago, amatzia started a film studio, where he produces films for businesses, individuals, non-profit organizations and educators, working with each client to bring across a message of value or create an emotional memento of a departed loved one.
Amatzia feels fortunate that as part of his work he is invited to visit places of beauty in God's land… especially in the biblical heartland. He films movies for communities, helping them recruit new families and helps municipalities promote new and vital projects. When he produced a film for Har Bracha, the Mountain of Blessing, situated on Mount Gerizim, he was amazed at the steady influx of families, the constant building of neighborhoods and the quality of life. When the Regional Council of Samaria celebrated 20 years, amatzia was there, filming. On the 30th anniversary he was there again, privileged to witness the growth, delighted to see children "
marrying and choosing to raise their families in the communities where they grew up. a few years ago, his wife Naomi left her job as a teacher and joined the business. "I believe she is still teaching, but she now educates in a different way."
With the threat of the Disengagement from Gaza and Northern Samaria more than eight years ago, in an act of solidarity, amatzia moved his family to Homesh, a Samaria community destined to be destroyed. As a journalist for arutz 7, he was given free rein to roam. He used that privilege during the days of the Expulsion, keeping his camera rolling, creating films of memorial, films of farewell. "I documented the faces, the stories, the homes. I had to—I needed to record on film what once was– and what was destroyed and lost."
Every time Sondra calls amatzia to produce a film for CfOIC Heartland, he knows he is going to be inspired. He travels with Sondra, from the breathtaking hills of Judea to strategic outposts of Samaria. And through his wide-view lens he sees the playgrounds, the security rooms, the youth centers and special education programs. And he listens to the pioneering community representatives speak fondly of their Christian friends from all over the world who make all these projects possible.
"I am surrounded by people who are always DOING, just like I was raised to do. I thank God that I have the opportunity to spread the message of the importance of the settlements of Judea and Samaria. I feel like I am part of something great."