CFOIC Heartland Israel
$18,016
of
$100,000
raised
CFOIC Heartland was founded in 1995 to educate Christians about the Jewish pioneers currently living in Biblical Israel – the communities of Judea and Samaria – and the truth behind the movement to settle the Biblical Heartland. In addition, CFOIC Heartland has sought to bridge the two worlds – the Christian world and the Jewish world linking them together in their common love for the Land of Israel.
With the help and encouragement of CFOIC Heartland, Christians have stood up for Israel and have become friends and supporters of the pioneers in Biblical Israel. Through CFOIC Heartland, churches, ministries and individuals have visited the communities of Judea and Samaria, met the people living there, and have generously provided financial support for community projects.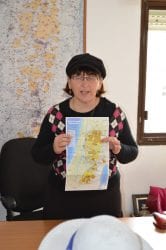 Sondra Oster Baras, Director, CFOIC Israel, has her finger on the pulse of day to day life in Biblical Israel. Many of you have met Sondra personally through your travels to Israel or at one of her speaking engagements. Sondra and her husband, Ed have lived in Karnei Shomron for over 30 years, where they raised their five children. Sondra arranges for tour groups to visit the Biblical sites and the Jewish communities in Judea and Samaria as well as making herself available to speak to any Christian group or individual who is interested in the message of the importance of Biblical Israel – Judea and Samaria. She also writes our monthly letters and newsletters.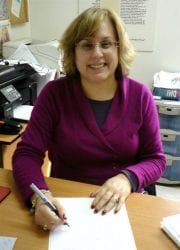 Estelle Lavi, Administrative Assistant, CFOIC Office Manager and go-to person for CFOIC Heartland, Israel, has lived in Karnei Shomron for more than 20 years. She and her husband, Shraga, have five children of their own, including a set of twins. Estelle coordinates personalized tour programs for the thousands of tour groups and individuals who visit Judea and Samaria through CFOIC Heartland.
In addition, our Israeli team produces films, and writes educational material for our informative brochures. It is from our Israel office, that community projects are written, and brought to fruition under a watchful eye as your representatives in the Land.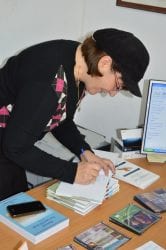 CFOIC Heartland's Israeli staff need your help. In the same way that churches and ministries are asked to adopt a community, CFOIC Heartland is seeking both churches and individuals to adopt CFOIC Heartland in Israel through your generous support to help us keep this office running smoothly and efficiently so that we can continue to represent you and  carry out the projects you've so lovingly chosen as your gift to the people and land of Israel. Without the dedicated staff who work tirelessly to bring us the news from the communities of Judea and Samaria and from the refugees of Gush Katif, we would accomplish very little. The work done by the Israeli staff is often unseen and unacknowledged, but they truly are the heartbeat that keeps this work alive in Israel.
85% of your donation designated for a community project goes directly to that community. No more than 15% of your donation will ever be used for administrative expenses. There is no better way to support the people of Judea and Samaria!
Please note that in order to prevent spammers, all online donations must be at least $10, £10 or €10. To send a smaller donation, please contact our office by phone at 719-683-2041 or by email kim@cfoic.com
---